To the website of Prof. Séralini .
Logo of the European GMO-free Citizens in 3D.
Still very important piece: 17th of Agust 2000: Donella Meadows How It Happened That We Don't Regulate Biotech.
Important Powerpoint Presentation from 2013. "Spraying crops to death".
A GMO (Genetically Modified Organism) is an organism created in a Laboratory by taking genes from one species and forcing them into an entirely unrelated species - in order to achieve a new trait or characteristic that is not possible in nature. From this site.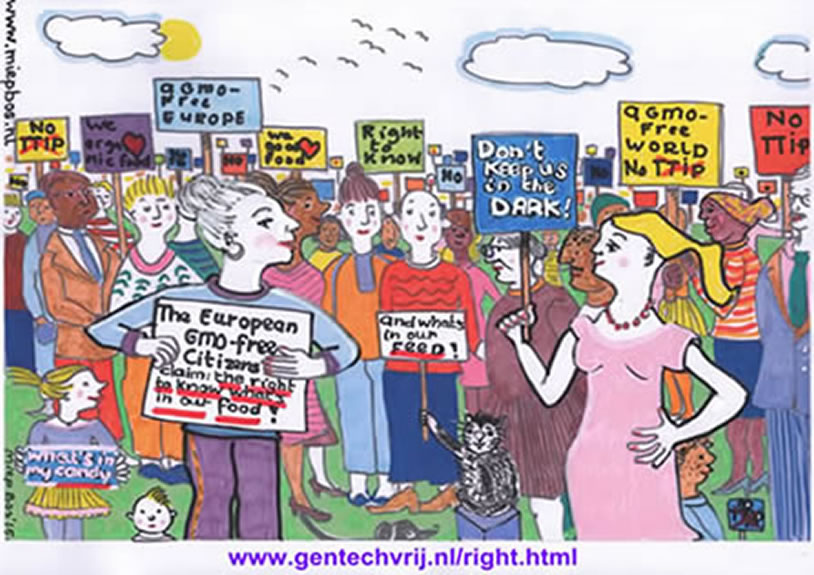 Click on the cartoon "The right to know what's in our food, cartoon by Miep Bos" for more info.
10-02-2015: 19 intentions of EU countries or regions of EU countries of applying for 8 GM opt-out's has been sent to the European Commission in Brussels.

The opt-outs cover all varieties of GM maize developed for use in agriculture.

The opt-out, whose application deadline is October 3rd 2015, enables individual EU Countries to ban GM crop plantings. According to European Commission directives, the grounds for establishing a ban must then be considered by the corporations intending to market GM seeds within European Union Countries.

So far The Netherlands, Germany, France, Greece, Latvia, Austria, Croatia, Greece, Poland, Northen Ireland (UK), Scotland (UK), Wales (UK),
Germany, Hungary, Region of Wallonia, (Belgium), Lithuania, Bulgaria, Italy, Denmark, Luxembourg, Malta, Slovenia and Cypus have applied for the GM opt-out.

29-08-2015 Jumbo, Dutch Supermarket: Pop-tarts label says: GM wheat. Forbidden in the EU.
Again Jumbo is in the news about GMOs in their imported American products.
GMO wheat is forbidden in the EU !!!!
Whether the label is wrong or Dutch supermarket Jumbo sells a product with GMOs thats forbidden in the EU.
At Jumbo:

(American version)

Pop-tarts

Chocolate Fugde

Label says:

GM

wheat meal

is forbidden in the EU.
We have asked Jumbo for an answer, but they didn't answer yet.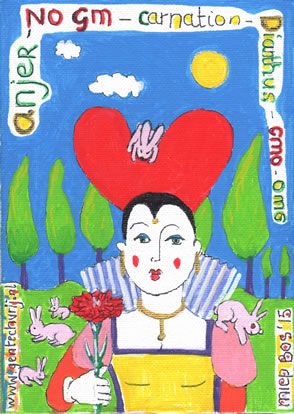 07-31- 2015 Petition against GM spray carnations. Closed.
17-08-2015: An email of the Ministry tells me that the Postbox number 20906 no longer exists and must be Postbus 20901, please forward widely! Real deadline is 25th of August 2015.
22-08-15: Our objections now online (English).
Signature list English Print it out, sign it and sent it to the ministry (address is on the list). Or scan it and send your scanned lists to info(a)gentechvrij.nl
Names of the carnations: FLORIGENE ® MoonberryT and FLORIGENE ® MoonvelvetT . (photos) MORE
Handtekeningenlijst Nederlands MORE
---
Global March against Monsanto 2015 Amsterdam, ABC net (Australia): All around the world.
---
07-05-2015 Dr. Mercola: Monsanto Has Known for Nearly 35 Years That GMOs Promote Cancer.
Fragment:
The Problem with Genetically Engineered Plants
"According to Dr. Samsel, glyphosate is only one-half of a two-part problem. The other half is the genetically engineered plants. For the past two years, he's been conducting field experiments and laboratory analysis of 33 varieties of genetically engineered corn. This year, he's branching into soy. Not only are there Roundup-resistant GE crops, there are also Bt crops, which produce their own internal pesticide called Bacillus thuringiensis (Bt). But there are also glyphosate and glufosinate toxins involved, because in many GM crops, the genes are stacked.
"I'm looking at the untreated [genetically engineered corn], and then I'm spraying it with the herbicide [glyphosate]. I'm analyzing the fatty acids and the mineral content. I'm also looking at the isomers of the vitamins. What I'm finding is that there's a difference between those treated with the herbicide and those that are not treated. The herbicide influences the mineral content of even the genetically engineered resistant varieties , making them particularly more deficient in manganese, cobalt, and copper, but particularly manganese. I'm also finding that the fatty acids are being skewed slightly but also the vitamins, particularly the isomers of vitamin E, tocopherol."
He's found that GE varieties of soy, canola, and corn oil contain mostly gamma-tocopherol opposed to alpha-tocopherol (types of vitamin E). Alpha-tocopherol is really beneficial to our biology whereas gamma-tocopherol induces inflammation, particularly in your lungs. Hence Dr. Samsel believes these GE oils may influence rates of asthma and Chronic Obstructive Pulmonary Disease (COPD). On the whole, it seems clear that hundreds of millions of people could improve their health simply by avoiding glyphosate and genetically engineered foods."
April 2015 Open Letter to the People of China:Ambassador Liu Xiaoming
Embassy of the People's Republic of China
49 Portland Place , London W1B 1JL

Request for urgent letter to be forwarded to President Xi Jin-ping and Premier Li Ke-qiang

OPEN LETTER: The Impact of Glyphosate/Roundup on global health
Institute of Science In Society Report 24/03/15 Glyphosate 'Probably Carcinogenic to Humans' Latest WHO Assessment
The world authority on cancer's evidence-based assessment is pitched against the Monsanto-led corrupt approvals in US and Europe Dr Mae-Wan Ho and Dr Nancy Swanson.
ISIS Report 16/03/15 Goats Fed GM Soybean Produce Abnormal Milk, Reduces Weight of Off-Spring
GM-fed goats milk has significantly reduced antibody, fat and protein content and also contained transgenic DNA Dr Eva Sirinathsinghji
Abstract Published Online: January 31, 2015
---
Jeffrey M. Smith
Jeffrey M. Smith, author of the #1 GMO bestseller Seeds of Deception, talks about his campaign to force mass rejection of genetically modified foods in order to expunge them form the market entirely. Smith explains how the FDA allowed GMO foods to enter the market with no safety testing whatsoever, and that the man primarily responsible for this is now food safety czar in the Obama administration. Smith notes how Obama has broken his pre-election promise that every GMO food should be properly labeled, and also installed pro-GMO executives in the USDA and FDA who have close ties to Monsanto and the biotechnology industry. Smith documents how consumption of genetically modified foods has been directly linked with reproductive problems, immune system deficiencies, accelerated ageing, organ damage and gastrointestinal problems. The immune system problem has been seen consistently in mice and rats who are fed GMO food, explains Smith, and now since humans have started consuming genetically modified foods, auto-immune diseases and allergies have increased. Smith explains how research exposing the dangers of genetically modified food has been censored and shut down by the establishment, with scientists involved in such studies finding themselves blacklisted and shunned by their peers before being fired from their jobs in many cases as big agriculture throws its weight around. Smith covers a plethora of vital issues in this one hour interview, and offers workable solutions to phase GMO out of the market, by pushing for proper labeling standards and an intensive education outreach that will help people realize how big a threat genetically modified food poses to their health.
Important interview Dr. Mercola and Steven Druker because of Drukers new book:
Altered Genes, Twisted Truth-How GMOs Took Over the Food Supply.
March 08, 2015
KEY FDA DOCUMENTS REVEALING HAZARDS OF GENETICALLY ENGINEERED FOODS-AND FLAWS WITH HOW THE AGENCY MADE ITS POLICY
S. Druker:
The biotechnology industry-as irresponsible as they have been by and large-the main guilt lays at the feet of the mainstream molecular biology establishment; the scientists who were doing the research, getting the grants, and wanting to develop this technology. Most of them had altruistic goals. They thought this was going to be used to cure so many ills in the field of medicine... I think they eventually developed an 'end justifies the means' psychology. MORE
Part 2
02-16-15: GMOs invade fruit industry: Apples, pears, cherries and peaches to all become unlabeled GMO.
(NaturalNews) Genetically modified apples (Golden Delicious and Granny Smith, named "Arctic") have been approved by the USDA. They don't turn brown.

ISIS Report 07/01/15
CaMV 35S Promoter in GM Feed that Sickened Rats Transferred into Rat Blood, Liver, and Brain Cells. Full length research paper.
These purple carnations are GMOs, just two of them are legal in the EU.
---
For American and Canadian (who buy USA food) Citizens:
2014: Responsible technology.org:
To the GMO-free Shopping guide and -site.
To the site of Kids right to know (Rachel Parent, Canada.)
10-10-2014: Food Babe, a Must-Read. CONFIRMED! Lab tests show over 30+ popular food products contain GMOs. Are you eating them?
15-11-22014: GOODBYE STARBUCKS!!! by Neil Young.
I used to line up and get my latte everyday, but yesterday was my last one.
Starbucks has teamed up with Monsanto to sue Vermont, and stop accurate food labeling.
Tell Starbucks to withdraw support for the lawsuit -- we have a right to know what we put in our mouths.
Starbucks doesn't think you have the right to know what's in your coffee . So it's teamed up with Monsanto to sue the small U.S. state of Vermont to stop you from finding out.
Hiding behind the shadowy "Grocery Manufacturers Association," Starbucks is supporting a lawsuit that's aiming to block a landmark law that requires genetically-modified ingredients be labeled. Amazingly, it claims that the law is an assault on corporations' right to free speech. MORE.
11-13-2014. Natural Society:A new correlation study published in the Journal of Organic Systems has linked glyphosate, the primary ingredient in Monsanto's best-selling herbicide, Roundup, to an enormous increase in chronic diseases across the United States. - full paper.
In 2013, 93% of soybeans were GE, most of them glyphosate tolerant (6) In 2013, 90% of cotton was GE, with 82% containing HT trait (7). And 90% of corn was GE with 85% containing HT trait (7). Other common GE crops include sugar beets and canola (rapeseed) of which 95% and 93% of which are GE respectively (8), and all are herbicide tolerant (5c). GE varieties of virus resistant squash and papaya are also grown (8). Some drought resistant crops have also been developed (5c). More from Food Safety and Sustainability Center, October 2014, page. 5.
Avoid At-Risk Ingredients (USA).

If it's not labeled organic, or doesn't have a Non-GMO Project Verified Seal , then avoid processed food products ingredients made with these GM crops: Corn, Soybeans, Canola, Cottonseed and Beet sugar.

Corn

Corn flour, meal, oil, starch, gluten, and syrups
Soy
Soy flour, lecithin, protein, isolate, and isoflavone

Vegetable oil* and vegetable protein*
Canola Canola oil (also called rapeseed oil)

Cotton Cottonseed oil

Sugar Avoid anything not listed as 100% cane sugar since GM beet sugar recently entered the food supply. To avoid it, look for organic and non-GMO sweeteners, candy and chocolate made with 100% cane sugar, evaporated cane juice or organic sugar.

Aspartame The artificial sweetener also known as NutraSweet and Equal, which is derived from GM microorganisms.
Become familiar with our list of invisible GM ingredients .
Also, more than 50% of Hawaiian papaya is GM, and a small amount of zucchini and yellow squash.
From here.
---
More on Roundup: ISIS Report 30/03/15 Elsevier Climb Down over Séralini Retraction but IARC Retraction Next for Monsanto
Elsevier has quietly distanced itself from its misdeed, but Monsanto is outrageously calling for another retraction Prof Peter Saunders.
12-11-14 Daily Mail: Hollywood stars sign letter warning British people against GM foods.
---
GM products are creeping into our Dutch and British shops. You can buy them on internet too without proper labeling see http://www.usfoodz.nl

In the UK and the whole of the EU, foods made with GM ingredients need to say so on the label. This is a legal requirement and is one of the main reasons why there is very little GM on our shelves. However some GM foods, mostly highly processed and often from North America, have been gradually creeping onto the shelves of EU supermarkets and discount retailers. More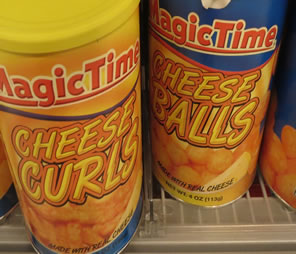 Left: label doesn't say made with GMOs, right: label says made with GMOs.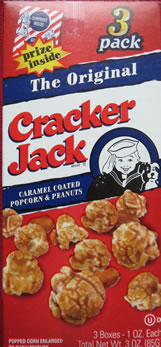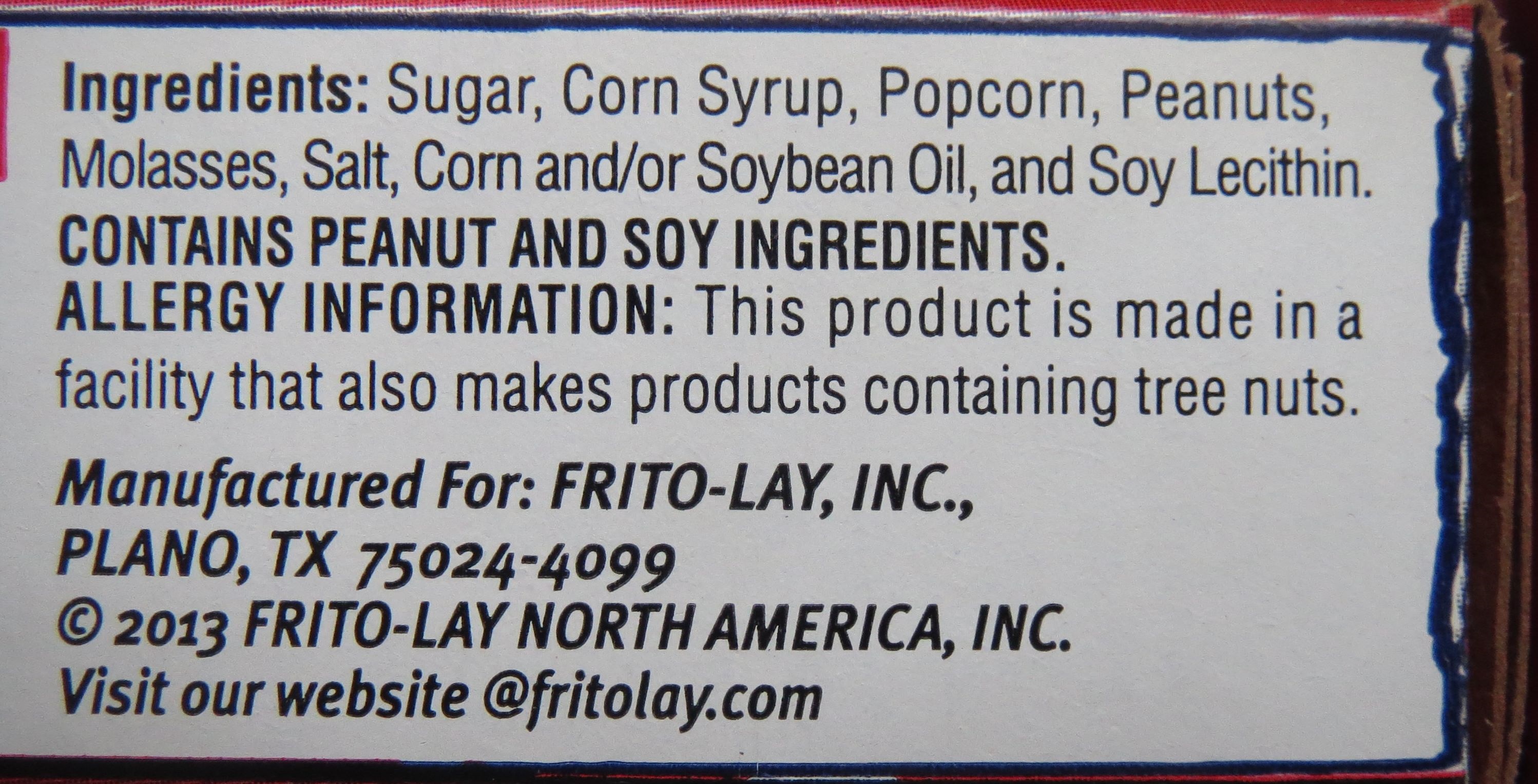 One of the products sold in Dutch supermarkets, full of GMOs. And not proper labeled.
Cracker Jacks hell
Posted on December 12, 2012 by Craig Stellpflug NDC
Childhood memory gone GMO : Good old Cracker Jacks is now loaded with bad stuff and is a GMO nightmare. The first ingredient in the label is sugar. Is that sugar from GMO beets? Doesn't matter because the second ingredient is corn syrup and that one is GMO. This makes sugar and syrup the prime ingredients in Cracker Jacks! Well, you still need popcorn (another GMO plagued product from cross-pollination)............ MORE
More products imported from the USA bought in Dutch supermarkets.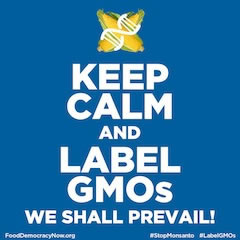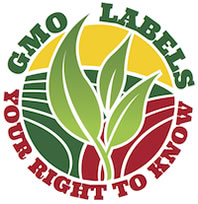 Click on the poster to learn more.
---
Off topic but important:
Dr. Andrew Wakefield speaks out about CDC scientist's admission of vaccine research fraud - video


More importantly, share this video everywhere in the name of saving children from vaccine violence . The corrupt, corporate-controlled mainstream media absolutely refuses to cover this story, hoping they can bury the truth about vaccines in exactly the same way the CDC buried the data.

Learn more.
---
Most comprehensive study reveals glyphosate and AMPA in the environment over 9 years and across 38 states Dr Eva Sirinathsinghji .
---
10-06-2014 : Hearing in The Hague.
Last week, on the 30th of September 2014, Miep Bos, spokeswoman of the European GMO-free Citizens, has attended a hearing organised by the Dutch Ministry of Environment in The Hague because of a notice of appeal we wrote against a test of Intervet.
The subject was a change in testing of little foals from 2 days old and older in the city of Sint Anthonis (Noord Brabant, NL). Intervet asks for permission to change the route of giving the GM vaccine, the changed Rhodococcus equi bacteria by injections among other things with a higher dose.
The manure and hay will be spread in the pasture afterwards. The foals will eventually be killed or sold after the trail.
There will be no investigation re the soil and the bacterium. Intervet says it is not necessary.
The people of Sint Anthonis are not informed. We told some people what is happening and 41 people in that region have undersigned a notice of appeal which we have written. But they are not heard by the Ministry and cannot go to The Council of State (highest Dutch Court , Raad van State) because "They aren't an interested party, because they live too far away" (about one km.)!!!!!
We are waiting for the decision on our appeal, whether the European GMO-free Citizens and the non-profit foundations Vomigen and Ekopark, (Miep Bos wrote an appeal on their behalf) that she represents, are indeed an interested party.
So now people know that the tests are not over yet. In Ireland they did the test too in 2014, but did stop because of the bad results in Germany. In 2013 Intervet did not perform tests in Sint Anthonis. Our question is, are there already results of the test re the soil in Germany ?
Also see the SNIFs:
All about the trail in Ireland.
---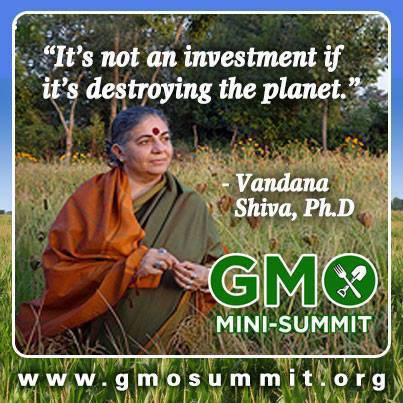 There is evidence of human death and illness. Find out how a genetically modified food supplement killed dozens of Americans and sickened thousands, and how the FDA covered up the full story and kept Congress in the dark. Find out why industry-funded research is faulty and specifically designed to avoid finding problems. Get the startling truth from independent research conducted around the world. Click on the photo for more info.
ISIS Report 01/09/14 Seeds of Truth Vandana Shiva Responds to The New Yorker.
09-07-2014 Glyphosate re-assessment in Europe is corrupt: Toxicology Nancy L. Swanson.
05-11-2014, GM Watch: We must face the harm caused by imported gm-soy chinese military scientist. (original in Chinese). The significance of this paper is also related to the status of the author Mi Zhen-yu, Former Vice President, Academy of Military Science, Doctoral tutor, Lieutenant General; National People's Representative of the 8th National People's Congress, Committee member of the 9th National People's Political Consultancy Committee.
22-04-14 GMO plants, GMO people, and cancer. by Jon Rappoport (Eng.)
2014/04/15 Reuters: French parliament bans cultivation of GM maize.
15-04-14 "If the Americans like to eat GMO products, let them eat it then. We don't need to do that; we have enough space and opportunities to produce organic food." - Medvedev
(Russia).
15-04-'14 USA: Vermont Senate Approves GMO Labeling Bill!
15-04-14 "If the Americans like to eat GMO products, let them eat it then. We don't need to do that; we have enough space and opportunities to produce organic food." - Medvedev
World's Number 1 Herbicide Discovered in U.S. Mothers' Breast Milk. Posted on Apr 6 2014 - 4:19am by Sustainable Pulse.
February 14, 2014 By: Rhonda Brooks, AG Web: Syngenta Defends Seed Corn Traits Banned by China.
01-03-2014 Pesticide toxicity vastly understated, claims new Séralini study (Pdf.)
By Oliver Nieburg+ , 31-Jan-2014
Major pesticides are more toxic to humans than their declared active principles, according to a new study by divisive French scientist Gilles-Eric Séralini.
01-28-2014 Opinion and press release about GMOs in an American work of art during "Yes Naturally" an exhibition in The Hague, Gemeentemuseum NL and a not granted permit. MORE
The European GMO-free Citizens (m.N. Stichting VoMiGEN) protestierten auch !
weil:"Das Europäische Parlament Stimmte dafür, das genetisch veränderter Pollen, ein Teil von Honig geworden ist". D.h., Gentechnik-Honig muss nicht gekennzeichnet werden. Brüssels 15. Januar 2014. Diese Entwicklung verdanken wir der unmoralischen Pseudowissenschaft GENOMICS. " STOP IT!" Dafür müssen individuelle Bürger auf Basis seiner Pflicht (IPbpR), anstelle des Begriffs Aktivist , bei den EU Wahlen kommenden Mai 2014, friedlich die originellen souveränen Menschenrechte vom Jahre 1789 zurück fordern! Oder wir Wählen nicht! MEHR
---
Off topic: 3D Mammograms May Actually TRIPLE Your Radiation Dose!
---
---
"The Whole Paradigm of Genetic Engineering Technology is Based on a Misunderstanding" This misunderstanding is the "one gene, one protein" hypothesis from 70 years ago, which stated that each gene codes for a single protein. However, the Human Genome project completed in 2002 failed dramatically to identify one gene for every one protein in the human body, forcing researchers to look to epigenetic factors -- namely, "factors beyond the control of the gene" - to explain how organisms are formed, and how they work.
According to Vrain: "Genetic engineering is 40 years old. It is based on the naive understanding of the genome based on the One Gene - one protein hypothesis of 70 years ago, that each gene codes for a single protein. The Human Genome project completed in 2002 showed that this hypothesis is wrong. The whole paradigm of the genetic engineering technology is based on a misunderstanding. Every scientist now learns that any gene can give more than one protein and that inserting a gene anywhere in a plant eventually creates rogue proteins. Some of these proteins are obviously allergenic or toxic." In other words, genetic engineering is based on an extremely oversimplified model that suggests that by taking out or adding one or several genes, you can create a particular effect or result. But this premise, which GMO expert Dr. Philip Bereano calls "the Lego model," is not correct. You cannot simply take out a yellow piece and put in a green piece and call the structure identical because there are complex interactions that are still going to take place and be altered, even if the initial structure still stands.
---
16Th of January 2014 STOP THE CROP: We need your help, right now, to stop a new GMO being grown on the fields. During these weeks in January, the EU member states will decide whether Pioneer's GM maize (technical name 1507) will be allowed to be grown in their country. This would be the first GM maize to be allowed for growing on the field in Europe since 1998. Write to your minister today!
Watchman-news: 12-9 Study Links Roundup 'Weedkiller' To Overgrowth of Deadly Fungal Toxins.
6 - 09 - 2013 HPV Vaccine: Israel Health Ministry Considers Canceling Vaccination Due to Side Effects." The Center believes that the poor safety record of the HPV vaccine is due to the fragments of foreign DNA contained in the vaccine.
1rst of September 2013 Herald Scotland: Why has study saying GM could kill been ignored? A scientific study suggesting genetically modified food killed rats has been suppressed because of lobbying by multinational biotech corporations, environmental campaigners claim.
26-08-2013 GMwatch: All GMO approvals in Brazil are illegal and not science-based says regulator.
A new study published in the Journal of Organic System shows very disturbing results regarding pigs that were fed with GMOs. The study was performed on 168 pigs for almost 23 weeks where 84 pigs were fed on a mixture of GM soy and corn diet and other 84 pigs were fed on non-GMO diet. The study showed that the pigs fed with GM corn and soy had a 267% increase in stomach inflammation compared to the ones that were fed with non-GMO diet. (Here is the actual study.)
This woman got severe skin allergy after she for de 2nd time came in contact with het same herbicide that is used on GM-crops. Cattle in EU is fed with those GM-crops. And in the USA people eat it in various meals.
18-07013 Monsanto to withdraw EU approval requests for new GMO crops
18-07-2013: See the Earth Open Source website there are several very strong papers there with lots of footnotes and scientific research that brings out the problems with GMOs.
25-05-2013.Two Million participants at the March Against Monsanto.
27-05-2013: Natural Society: March Against Monsanto A Major Success! Anthony Gucciardi Video Coverage Coming Soon.
Censored on Facebook!

Kids at the March against Monsanto on Saturday 26th of May 2013, a million people attended all over the world.
John Fagan:
Here is an image that was censored by Facebook, evidently in an attempt to muffle the impact of the March Against Monsanto.

Find out more, click on photo.

Question: Does Monsanto own Facebook now?

Please pass this image on to your friends. Charming kids!

Saturday 25th of May: MARCH AGAINST MONSANTO WAGENINGEN (NL) and the rest of the world. Attention there are also GMO vaccines and drugs, (also for animals) to be put on the market or they already are on the market.* Read more(Dutch) here.
* Gardasil is just one example of a vaccine that contains foreign DNA fragments.

Rochester, NY (PRWEB) September 22, 2012 -- In a letter sent by the Center for the Biology of Chronic Disease (CBCD), the Center urges the FDA and CDC to investigate the risk associated with foreign DNA fragments in vaccines such as Gardasil and the MMR II and set clear guidelines that will mitigate this risk.
Gardasil is just one example of a vaccine that contains foreign DNA fragments.
Published May 11, 2013 | By Ocean Robbins
Former Pro-GMO Scientist Speaks Out On The Real Dangers of Genetically Engineered Food: I refute the claims of the biotechnology companies that their engineered crops yield more, that they require less pesticide applications, that they have no impact on the environment and of course that they are safe to eat.
Leak: US Using Taxpayer Dollars To Promote Monsanto GMOs Overseas

Follow us: @naturalsociety on Twitter | NaturalSociety on Facebook
Fragment:The organization Food & Water Watch has released a detailed report on the cables. A representative from the organization explained how this isn't even just the promotion of Monsanto but a truly insane initiative by the US government to bend over backwards for the GMO juggernaut: more

Vermont, USA. On the 10th of May 2013 the House of Representatives passed H.112, this year's GMO labeling law, by a vote of 99-42! This is the furthest any such legislation has made it through the legislative process in the US, and the bill is now set to be taken up by the Senate in January. It was clear that hearing from Vermonters gave our lawmakers the courage to lead the nation on this important issue.
Brussels Soy Declaration Today (8 May 2013) major European retailers from five countries, including Germany's REWE Group, EDEKA and LIDL have released the Brussels Soy Declaration in which they have pledged support for the non-GMO soy production system of Brazil.
22th of Januari 2013 EFSA has discovered: the most common genetic regulatory sequence in commercial GMOs also encodes significant fragment of a viral gene.....more
8th of November 2012 BASF is going to perform GM potato trails with lower amylose content in the Netherlands. You can protest and sign via a Signatures List, print it out, sign and send it to the Ministery click here.
Modern wheat a "perfect, chronic poison," doctor says.
4 October 2012 Earthopensource: EU Commission's draft GMO Regulation: Charter for the GM industry, EU Commission waters down GM regulation just as new research shows "safe" GM maize causes massive tumours and premature death.
Video: CA right to know : Yes on Prop 37 - California Right To Know Truth Ad
Very important video!!!!!! Jeffrey Smith: Labourers in South-Africa dying after eating 100% GMO crops. Cattle dying after eating GMO feed, children almost killed after eating GMO corn, doctors say to their patients to turn to a GMO-free dieet. Scientists of Monsanto don't drink their companies own GMO-milk, one even bought his own cow!
GMO Ticking Time Bomb - Gary Null - Part 1, 14 min. GMO Ticking Time Bomb - Gary Null - Part 1, 14 min.
26th of September 2012: GMO global Alert from Jadwiga Lopata, the Goldman Environmental Prize winner
Sir Julian Rose, President of ICPPC - International Coalition to Protect the Polish Countryside, Poland.
What are chemtrails? Important videos. Attention! some are shocking.
19 September 2012: Monsanto Roundup weedkiller and GM maize implicated in 'shocking' new cancer study.
14 September 2012 VERY IMPORTANT DVD: Genetic Roulette of Jeffrey Smith, you can see it for a week after that you can buy it.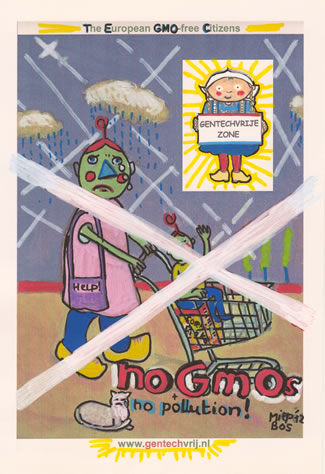 GMO-free Europe Conference 2012 Click on the poster. Brussels, 4th - 5th of September 2012
3 September 2012: The woes of GMOs - Glyphosate and GMOs Impact on Crops, Soils, Animals and Man
Dr. Don M. Huber, Emeritus Professor of Plant Pathology, Purdue University
For the latest news see our Tweets via @MiepBos
Welcome to the European GMO-Free Citizens and other worried GMO-free Citizens of the world!
The site www.nanotechvrij.nl is part of The GMO-free Citizens, European Consumers Platform.
---
As a USA-citizen where to buy GMO-free food: The Non GMO Shopping Guide.
Where to buy GMO-free food and feed (firms): The Non-GMO Sourcebook.
---
HOT
18-08-2012 My cartoon now on video!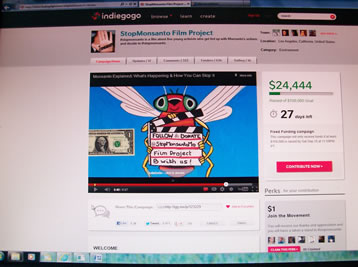 Click on it to see the video.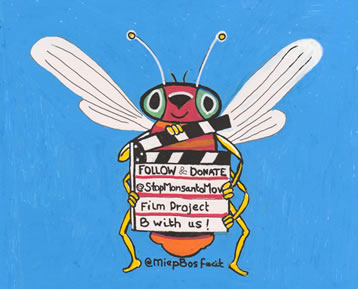 Click on te bee for the Stop Monsanto Movie website.
Listen to dr. Mercola, very important!
1rst of August 2012. GMO Food & Issues, Dramatic Health Recoveries Reported By Patients Who Took Their Doctor's Advice and Stopped Using GMO Foods. by Jeffrey M. Smith
30-07-12: Scientist Draws Possible Connection Between Morgellons Disease And GMOs - Audio

Elizabeth Dougherty Special correspondent, Food Nation Radio Network

July 30, 2012 12:11 PM
22 april 2012: Earthday, Potential introduction of unapproved GM animals and GM products in the Netherlands RIVM report 609021118/2012, H.C.M. van den Akker | A.L.M. Wassenaar
13-03-2012: Peru passes 10 year ban on GM food!!!!!!!!!

06-03-2012 Dr. Mercula: Russian Scientists Find Third Generation of Hamsters Sterilized by GM Soy
The release of this new information provides yet another health risk, and confirmation on earlier problems related to fertility, birth weight of offspring, and infant mortality.
In this feeding study they used hamsters, an animal which has not been previously featured in GM safety studies.
One group of hamsters was fed a normal diet without any soy whatsoever, a second group was fed non-GMO soy, a third ate GM soy, and a fourth group ate an even higher amount of GM soy than the third
May 5th 2012. Treehugger: Vermont Introduces Law Requiring Labels on Genetically Modified Foods.
Proposed legislation in Vermont could soon require foods that contain genetically engineered ingredients to be labeled as such. Known as the Vermont Right to Know Genetically Engineered Food Act , the bill would go into effect in 2014 and apply to food sold in retail stores.
Urgent Alert: Help to STOP Genetically Engineered (GE) Eucalyptus Trees! GE Tree Company ArborGen has been given permission by the USDA to plant 260,000 GE eucalyptus trees across seven states in the U.S. South (Texas, Florida, Georgia, Alabama, Mississippi, Louisiana, and South Carolina). If you live in one of those states and want to get involved in the campaign to stop socially and ecologically destructive GE eucalyptus from being grown there, please contact us . Sign our petition to the USDA to Stop GE eucalyptus trees.
1rst of March 2012: Pressemitteilung/Press Release (German)
Aufatmen bei deutschen Imkern/German bee keepers are happy: Honey may not contain forbidden GMO's its forbidden by the Court of Leipzig. Forbidden Gm-rapeseed must be destroyed in Germany. – Honig bleibt frei von verbotener Gentechnik
Bundesverwaltungsgericht in Leipzig bestätigt: Gentechnisch veränderter Raps muss vernichtet werden.
21-02-2012: Trouthout: Monsanto Found Guilty of Chemical Poisoning in France.
Wednesday 15 February 2012 : U.S. schoolchildren now subjected to sack lunch searches by government agents who enforce nutritional insanity.

Genetically modified mosquitoes may soon be released in Florida
Sunday, February 12th, 2012 by: Ethan A. Huff, staff writer
25-01-12: In Germany (Umwelt Institut München) the same GM-vaccine test on 3-days-old foals on which we protested, earlier and the Council of State did not decide yet, will be held also by Intervet,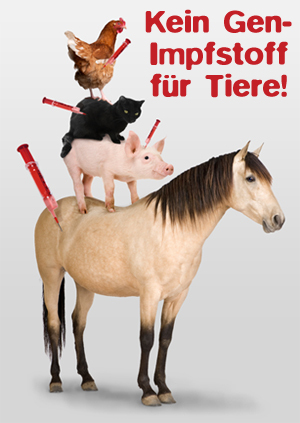 Click on the picture to tell the German Minister Mrs. Aigner to stop this madness.Press Release of the Umwelt Institut München (German language).
17-01-2012: The same GM-vaccine test on 3-days-old foals on which we protested, earlier and the Council of State did not decide yet, will be held in Germany, in Grabow, Gemeinde 19300 Grabow/Ortsteil Heidehof, Landkreis Ludwigslust, Mecklenburg-Vorpommern. but the waste will not be put on the land but will be burned. 120 foals will be used.
16-01-2012: GMWatch: BASF moves GM division out of Europe! BASF has announced on 16 January 2012 that it gives up the development and marketing of new transgenic products intended for the EU.

Parlamentarische Anfragen
24. November 2011
Anfrage zur schriftlichen Beantwortung
an die Kommission
Artikel 117 der Geschäftsordnung
Franz Obermayr (NI)
Betrifft: Unseriöse Gentechnik-Kampagne

Aktuellen Medienberichten ist zu entnehmen, dass Europas Konsumenten jetzt mit einer neuen "Werbekampagne" von den angeblichen Vorzügen der Gentechnik überzeugt werden sollen. Die Biotech-Industrie möchte der Agro-Gentechnik in Europa schon lange ein positives und verkaufsförderliches Image verschaffen. Ein kürzlich an die Medien gelangtes internes Papier der Biotech-Lobby-Organisation EuropaBio zeigt auf, wie die Strategie eventuell aussehen soll: Der Sänger Bob Geldof und andere Prominente sollen als "Testimonials" und Befürworter der Gentechnik gewonnen werden, um die Bevölkerung auf die angeblichen Vorteile der Gentechnik aufmerksam zu machen, um somit für die Genindustrie wertvolle Überzeugungsarbeit zu leisten.

Trotz der weltweiten Aufrufe, der Hungerkrise ein Ende zu setzen, indem man die Nahrungsmittel gerecht verteilt, setzt die Industrie anscheinend nach wie vor auf das Argument, dass gentechnisch veränderte Pflanzen das Hungerproblem lösen könnten. Die für die Kampagne gewonnenen in der Öffentlichkeit bekannten Personen sollen laut den Kampagnenplänen nicht den Anschein geben, als Gentechnik-Botschafter von der Industrie vorgeschickt zu werden.

EuropaBio will zusätzlich auch noch bekannte Umweltaktivisten für sich arbeiten lassen, die sich in der Öffentlichkeit für Gentechnik aussprechen. Bei der Roundup-Ready-Sojabohne von Monsanto kommt auch noch der aufgelegte ökonomische Schaden hinzu, den man offenbar sehenden Auges in Kauf nimmt. Eine mehrjährige Studie der Universität von Kansas weist nach, dass die besagte Gentech-Soja gegenüber konventionellem Saatgut um zehn Prozent weniger Ertrag liefert. Zur angeblichen Hungerproblemlösung gibt es auch skeptische Studien der Welternährungsorganisation FAO. Daraus resultieren folgende Fragen:

| | |
| --- | --- |
| 1. | Sind der Kommission die diesbezüglichen Pläne von EuropaBio bekannt? |
| 2. | Wenn ja, wie steht die Kommission zu diesen Plänen? |
| 3. | Die Studien aus den USA (Universität von Kansas) zeigen auf, dass die Ernteerträge aus gentechnischer Landwirtschaft nachweislich geringer ausfallen als im konventionellen Vergleichsmodell. Wie gedenkt die Kommission zu verhindern, dass mit unseriösen Argumenten die Lösung des Hungerproblems "kampagnisiert" wird? |
Parliamentary questions

24 November 2011

E-010966/2011

Question to the Commission for written answer

Rule 117

Franz Obermayr (NI)

Subject: Questionable genetic engineering campaign

There are currently reports in the media that a new advertising campaign is now to be waged to persuade European consumers of the alleged benefits of genetic engineering. The biotechnology industry has, for some time now, been keen to promote a positive image of agro-genetic engineering in Europe in order to boost sales. The media recently got hold of an internal document from the biotech industry lobby group, EuropaBio, which reveals what form this strategy may take: the singer, Bob Geldof, and other celebrities are to be won over to provide 'testimonials' and endorsements of genetic engineering in order to draw the public's attention to the alleged benefits of genetic engineering, thus carrying out valuable advocacy work for the genetic engineering industry. More....

Biotech group bids to recruit high-profile GM 'ambassadors'
Leaked documents claim Sir Bob Geldof, Kofi Annan and Lord Patten have shown interest in EuropaBio outreach programme
John Vidal and Hanna Gersmann
guardian.co.uk , Thursday 20 October 2011

Europe's largest and most influential biotech industry group, whose members include Monsanto, Bayer and other GM companies,.......More

December 2011: Two papers:

Scrutinizing the current practice of the environmental risk assessment of GM maize
applications for cultivation in the EU
Marion Dolezel1*, Marianne Miklau1, Angelika Hilbeck2, Mathias Otto3, Michael Eckerstorfer1,
Andreas Heissenberger1, Beatrix Tappeser3 and Helmut Gaugitsch1

Systemic risks of genetically modified crops: the need for new approaches to risk assessment
Hartmut Meyer

Biotech giant Monsanto has been declared the Worst Company of 2011 by NaturalSociety for threatening both human health and the environment.

Help Australia to label GM-food!
MADGE: For Immediate Release 4 December 2011
Commonwealth seeks to deny full GM labelling, against the 90%. Read here what's all about and what you can do.

Just label it!

Don't be in the Dark about Genetically Engineered Foods!

12-12-2011: Today 4.951 supporters against a GMO-vaccine test for foals on foals. (From 3 petitions:).
---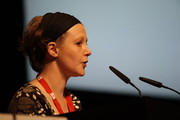 In Memoriam Helen Holder
European GMO Free regions reports : On August 28th 2011 Helen Holder, a leader of the GMO Free movement in Europe, co-organiser of many European GMO Free regions conferences and dear friend passed away. We will remember her spirit and her laughter. More
Photo: Helen at "Food and Democracy" in Lucerne, 2009
---
18-11-11:2 new introductions into the EU market of GM maize of Monsanto and 1 application for cultivation of GM maize of Monsanto.

The general public could make comments on the overall EFSA opinion within 30 days of its publication. Comments should be addressed to the European Commission. Once an EFSA opinion is available, the European Commission opens a consultation on this website. After 30 days of publication of the opinion, the European Commission analyses all the comments received and consults EFSA to determine whether they have an impact on its opinion. MORE
We proutly present our post stamp: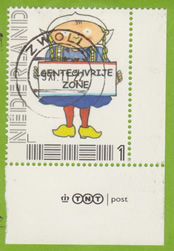 New York Times:
Published: October 30, 2011
These mosquitoes are genetically engineered to kill - their own children.
---
24-10-2011. The European GMO-Free Citizens visit Occupy Amsterdam.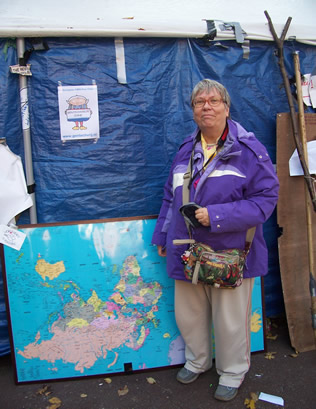 News from USA: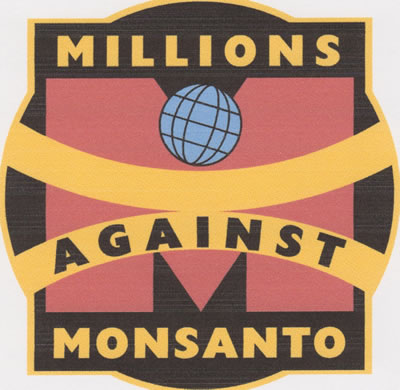 Take Action This Sunday with Millions Against Monsanto!
Join One of More than 100 World Food Day Events Nationwide!
October 16: Biggest U.S. Day of Action Yet for Labels on Genetically Engineered Food!
The Organic Consumers Association's Millions Against Monsanto campaign is marking Non-GMO Month (October) and World Food Day (October 16) with more than 100 World Food Day events nationwide, making it the biggest single day of action for labels on genetically engineered food in U.S. history.
- Map of More than 100 Millions Against Monsanto Events, October 16
Anger and frustration over the problem of unlabeled genetically engineered ingredients in our food reached a high point this year when the Obama Administration approved Monsanto's sweet corn, alfalfa, nd sugar beets without any regulations to prevent contamination of organic varieties and no labeling requirements, and also indicated that it will approve the first genetically engineered animal for human consumption, AquaBounty salmon, again without the labels demanded by 93% of U.S. consumers.
The Millions Against Monsanto World Food Day events take their inspiration from the first wave of protests, the dozens of Right2Know Rallies held on March 26, 2011 .
The events are organized in solidarity with and in support of:
- LabelGMOs.org 's campaign for a 2012 California ballot initiative
- GMOLabeling.webs.com 's campaign for a 2012 Michigan ballot initiative
- Right2KnowMarch.org 's walk from New York City to Washington, D.C.
- JustLabelIt.org 's FDA petition

- Federal & state legislation to label and regulate genetically engineered food

- The WhiteHouse.gov petition asking President Obama to label genetically engineered food

- OccupyWallSt.org and OccupyTogether.org - If we had a real democracy, where the will of the voters - the 93% of us who think genetically engineered foods should be labeled - trumped corporate money, we wouldn't have to fight "Food, Inc." for our right to know what's in our food.

- 350.org - Monsanto has disingenuously promoted its unsustainable crops as biofuels deserving of carbon credits. Transitioning from global industrial food production to local organic farming and ranching, which increase soil organic matter and sequester carbon, is the best way to mitigate and adapt to climate change.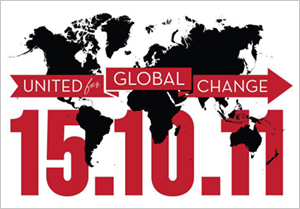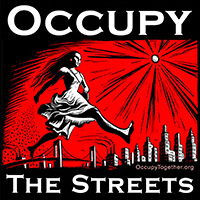 15-10-11: the World vs. Wall Street
Sign the petition of Avaaz.org Live views of Occupy Wall Street on the site.
October 15th International Day of Action.
Occupy WallStreet The resistance continues at Liberty Square and worldwide !
Global change.
Action on the 15th of October 2011 also in Amsterdam and
DenHaag (Dutch)
.
'Natural' breakfast cereals loaded with pesticides and GMOs - explosive new scorecard from Cornucopia reveals all.

The revised Non-GMO Shopping Guide has features over 150 brands currently enrolled in the Non-GMO Project. This purse/pocket-sized guide will help you identify and avoid foods that contain genetically modified organisms (GMOs) foods while you shop. Download here.
Posted: 30 Sep 2011 04:00 PM PDT
2011
- The year Monsanto added sweetcorn, sugar beets and alfalfa to the list of GMO crops that already included field corn, cotton, canola, soy, and papaya - without regulations to protect organic farmers from contamination and no labels to respect consumers' right to know.
- The year Monsanto couldn't hide its failure any longer, as its GMO crops toppled over and were strangled in the fields, attacked by the very insects and weeds they were genetically engineered to resist.
October 2011
- When the non-GMO movement in the US got reenergized, reorganized and started a new strategy to win!
October 2011 is Non-GMO Month, and we can make it the biggest month of action this issue has ever seen in this country. What can you do to make that happen?
Would you collect a thousand signatures? Would you walk from New York City to the White House? Would you join a Millions Against Monsanto Rally for the Right to Know on World Food Day?
What would you do to win our right to know about genetically engineered food?
Get involved:
California - Ongoing - LabelGMOs.org
HOT:
18-10-2011: Today 4.411 supporters against a GMO-vaccine for foals on foals.
Hearing about our protest against the permission of the Dutch minister of Environment to test GM animal vaccine on little foals at the Dutch Council of State on 3rd of October 2011.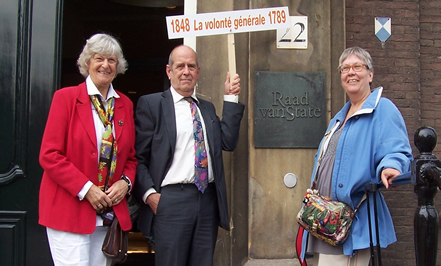 The "volonté générale" became the people's voice and will. A universal right inherent to the universal duties of the Heads of State. This right had been entered in the first France -American Human Rights of 1789, article 2. It had been imposed from the Heads of State and their elite by the people in 1848, again.

The Netherlands, The Hague, Kneuterdijk 22, Dutch Council of State, hearing on the 3rd of October 2011, Number of case 201011273/1/M1. Mrs. Jeanine van Nieukerken of de Natuurwetmoeders, Mr. Rob Verlinden of Stichting VoMiGEN and Mrs. Miep Bos of the European GMO-free Citizens (Gentechvrije Burgers). The hearing was suspended after a time-eating interrogation during 1,5 hours on the activities of the Foundation For The Prevention Against Abuse of Genetic Manipulation by the Dutch Council of State (de Raad van State).

This foundation already conducted several cases at the Council since 2003! And the question whether the Foundation was a concerned party or not came up a couple of days before the hearing. They send us a registered letter about this matter. That's why we came up with 2 other Foundations, that afternoon, Foundations,which already had given us their authorization. The chairman asked me why I did bring these Foundations forward late, but I answered that it just came up because of their sudden question about whether the Foundation VOMiGEN is a concerned party or not.

After we were allowed to enter the court room again, the Council still did't had an answer to their own question. Nevertheless, I was allowed to read my plea out loud and so did the civil servant of the ministry. The next speaker was the advocate of Intervet. He said int. al. everyone can search the premisses where the test is held on Google Earth. So they don't need to present the maps, he said. But this is mandatory according with the DIRECTIVE 2001/18/EC . And on Google Earth there is not stated what their property really is. Verdict in 6 weeks.

4-10-2011: Poland doesn't want GMO's. Video

Please sign my petition on Stop the permission to cultivate GM-potato trial fields in the Netherlands.

Please sign my petition on a GM vet vaccine on little foals.

Please sign my petition on a GM vet vaccine on little calves.

Petition from www.clonefreefood.eu : 2317 people already said NO to food from animal clones on their plates. How about you ?

Breaking news:

See Fahrenheit 911 - The full length movie-Bush cheated in the 2000 election!

1.EU Court Puts Limits on Modified Honey
2.Court ruling on GM contamination blows hole in the myth of coexistence

NOTE: ECJ file available at http://curia.europa.eu/jurisp/cgi-bin/form.pl?lang=FR&Submit=Submit&numaff=C-442/09

EXTRACT: "Zero tolerance must mean just that: traces of GMOs, no matter how small, cannot be tolerated. The European Commission should revise its GM legislation to take account of the interests of consumers and food producers, and not the biotech industry." (item 2) Press release with short explanation.
---
---
1.EU Court Puts Limits on Modified Honey
Associated Press, September 6 2011
http://abcnews.go.com/Business/wireStory?id=14456268

GMO Film Project Sizzler from Compeller Pictures on Vimeo. More...

VANDANA SHIVA: Traditional Knowledge, Biodiversity and Sustainable Living

Technical Announcement:
Widely Used Herbicide Commonly Found in Rain and Streams in the Mississippi River Basin.


Released: 8/29/2011 8:19:35 AM
Contact Information:
U.S. Department of the Interior, U.S. Geological Survey
Office of Communications and Publishing
12201 Sunrise Valley Dr, MS 119
Reston, VA 20192
Paul Capel
Phone: (612) 625-3082

Kara Capelli
Phone: (571) 420-9408
Anthony Gucciardi NaturalSociety:
July 26, 2011 Hungary Destroys All Monsanto GMO Corn Fields
Polish minister calls for Europe-wide ban on GM crops
Monsanto GM Corn in Peril: Beetle develops Bt-resistance
Rady Ananda, People's Voice, August 24 2011.
Good news!
24 August 2011: The News, Poland, President Bronislaw Komorowski vetoes genetically modified seeds law.
17-08-2011 One Penny Sheet:
Michael Taylor was just appointed senior advisor to the commissioner of the FDA. This is the same man that was in charge of FDA policy when GMO's were allowed into the US food supply without undergoing a single test to determine their safety.
Secret letters about safety and hazards of GMOs revealed.
Listen to the great speech of Jeffrey Smith.
Public pressure halts gm trials in Castellón, Spain
by Phil Lee - last modified Aug 12, 2011 04:10 Friends of the Earth Spain celebrates the suspension of GM trials with human genes after mass mobilisations by the general public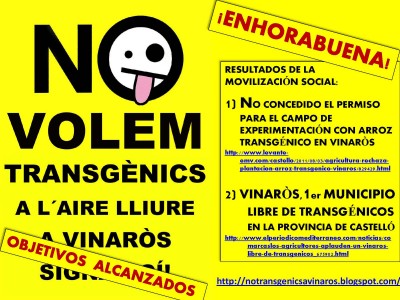 .
8th of august 2011: Petition on little calves and GM-vet-vaccines send to the Minister. Read the press release. Animals don't eat GMOs when having a choice and link to a GMO-free shopping guide.
T'S TIME FOR A FOOD FIGHT from NO GMO on Vimeo.
04082011
SCIENTIFIC OPINION
Guidance on the Post-Market Environmental Monitoring (PMEM) of genetically modified plants
EFSA Panel on Genetically Modified Organisms (GMO)
European Food Safety Authority (EFSA), Parma, Italy
ABSTRACT
The European Commission asked the Panel on Genetically Modified Organisms of the European Food
Safety Authority (EFSA GMO Panel) to update its 2006 scientific opinion on Post-Market
Environmental Monitoring (PMEM) of Genetically Modified Plants (GMPs). More.....
Natural news: Court rules organic farmers can sue conventional, GMO farmers whose pesticides 'trespass' and contaminate their fields
Wednesday, August 03, 2011 by: Ethan A. Huff, staff writer
rd of August: Latest news : Action, last possibility to help keep Poland GMO-free, e-mail the Polish president!8-07-2011 URGENT
Help the Polish people to stay GMO-free!
This letter is a call to action... we need your urgent support!
Once again the ugly face of GMO is rising above the parapet of parliamentary affairs in Poland and a crucial vote is imminent. more......
---
About The European GMO-free Citizens (Pdf) .
You can join this European Consumer Platform for free by sending your name and adress by e-mail to this address. We are an European Consumer Platform of Citizens who don' t want to eat GMOs. We are just starting with the Platform, but this material is familiar to us since 1996.We are writing to our governments to tell them to become a GMO-free country and to stop GMO field trails and introduction into the market. We 've send messages to food stores to remove GMOs from our food, because we don' t want them! We tell other citizens not to buy it. Our Platform originates from the Netherlands and asks citizens all over Europe to perform the same actions as we have done before. We are looking for people in Europe who want to start their own section in their own country and whether they want to share their experiences with us. Write us! To be continued.
NEW in 2011: ROUND UP AND BIRTHDEFECTS. Dr. Huber Explains Science Behind New Organism and Threat from Monsanto's Roundup, GMOs to Disease and Infertility from Food Democracy Now!
Did you know?
In 2010, more than 365 million acres were planted worldwide with genetically engineered (GMO) seeds.
The U.S. leads the world with more than 165 million acres of GMO crops, mostly Roundup Ready® crops.
Monsanto owns patents on the genes of more than 93% of soybeans, 80% of corn, and 95% of sugar beets planted in the U.S. -- all genetically modified to be resistant to the weed killer Roundup.
In 2007, more than 185,000,000 lbs. of Roundup were applied to U.S. crops, the year the Bush administration halted reporting of the herbicide's application rates.
In 1992, U.S. Vice President Dan Quayle announced that GMO foods would not be "hampered by unnecessary regulation", freeing Monsanto of the burden of independent testing or labeling of GMO foods for the American public.
Are you eating GMOs?
Tell the Obama administration to stop the planting of GMO alfalfa & sugar beets
from Food Democracy Now!
---
Russia also worries about GMOs:
Russian text(2007)
Russian text(2006)
Dutch citizens click here.
---
Arpad Pusztai
An ActionBioscience.org original article
---
The widespread use of glyphosate is causing negative impacts on soil and plants as well as possibly animal and human health. These are key findings of Don Huber, emeritus professor of plant pathology, Purdue University. MORE about glyphosate.
---
3rd of August 2011:
Aaron J. Gassmann * , Jennifer L. Petzold-Maxwell , Ryan S. Keweshan , Mike W. Dunbar
Department of Entomology, Iowa State University, Ames, Iowa, United States of America
7 juli 2011: BASF Said to Consider Genetically Modified Crop Exit in Germany
Sheenagh Matthews and Richard Weiss
Bloomberg, July 5 2011


BASF SE (BAS), the world's biggest chemical maker, may withdraw genetically modified crop research from Germany in response to growing political opposition, three people familiar with discussions said.

The maker of the Amflora scientific potato is considering the future of its research facility in rural Limburgerhof in southwestern Germany, said the people, who asked not to be identified because the plans aren't public. A move to the U.S. is possible for the plant biotechnology operations, which employ 700, said one of the people.
EXTRACT: "GMOs may be just like atomic energy," said Ulrike Hoefken, the Green Party's regional environment minister. "The risks are masked and big benefits are claimed. But it's the general public who is left with the costs for any damage."

Consumer rights victory as US ends opposition to GM labelling guidelines
05 Jul 2011
Consumer rights victory as US ends opposition to GM labelling guidelines
Twenty year struggle within global food safety body ends with 'consumer rights milestone'
Move clears way for greater monitoring of the effects of GM organisms
Consumers International (CI) and its member organisations celebrated victory today as regulators from more than 100 countries agreed on long overdue guidance on the labelling of genetically modified (GM) food .
5 juli 2010 1.European Parliament strengthens draft laws to ban GM crops - Greenpeace
2.MEPs vote fo stronger GMO rules - FoEE: The European Parliament voted in favour of:
- A stronger legal backing for national bans
- Mandatory liability systems for contamination cases
- Compulsory measures to prevent contamination in all EU countries
- National and regional level assessments of environmental risk - complementary to EU level assessment - with power to ban GM crops.
The decision on whether to give countries more rights to ban GM crops now goes to the European Council which is currently deadlocked on the issue.
29th of June 2011.The city of Nijmegen, NL has yesterday been declared GMO-free by the council! 23 votes in favour, 16 votes against Watch video of the decission. (Dutch) It was a Citizens initiative "Citizens for GMO-free food" (de werkgroep Burgers voor Gentechvrij Voedsel). The city of Nijmegen is the second city which was declared GMO-free, the city of Culemborg was the first. Mayer Mr. de Graaf congratulated the Citizens with their succes.
27th of June 2011: Also a Dutch GM vaccination study in 4000 little calves. Afterwards they will be killed. You can send the ministery a letter in which you express your opinion, together with your name, address, city and country. Deadline 8th of August 2011. Info some in English.
22nd of June 2011: World Wild Fund thinks GM Soya is good, they get paid by Monsanto. See the docu of ARD.
Scientists reject human trials of GM wheat
Belinda Tasker, National Medical Correspondent
June 27, 2011
AAP (Australian Associated Press Pty Limited) via Sydney Morning Herald
Een groep prominente wetenschappers en onderzoekers uit de hele wereld hebben er bij Australië op aangedrongen niet verder te gaan met gentech tarwe proeven met mensen.

A group of prominent scientists and researchers from around the world has urged Australia not to go ahead with human trials of genetically modified (GM) wheat.

Australia: Human trial of GM wheat crop to go ahead
Posted Sat Jun 25, 2011 10:39am AEST
The CSIRO has been given permission to conduct Australia's first trial in which humans will eat genetically modified wheat.
More News in English, click here:
Published: June 16, 2011
In a potential blow to the future of the biotech industry, a handful of House lawmakers voted last night to bar the Food and Drug Administration from approving any bioengineered salmon for mass consumption.
Petition: Act now! White House needs to act on deadly E. coli NOW! 15th of June 2011
Guardian: GM regulators chose ignorance over science A study showing the presence of GM pesticides in the blood points to the remarkable complacency of global safety regulators.
New film: By Bertram Verhaag (Dtsl.) Scientists Under Attack. Fragment: Statements of scientists prove that 95 % of the scientists in the field of genetic engineering are paid by the industry. Only 5 % are independent. The loss of freedom of thought and democracy is obvious. May the public - may we all - still trust the scientists?
E-coli 0157:H7 (the in 2011 in Germany found one is E coli 0104:H4) was already the source of sickness back in 2001 and 2006.
Michael Pollan in 2006 in The New York Times Magazine; The lethal strain of E. coli known as 0157:H7, responsible for this latest outbreak of food poisoning, was unknown before 1982; it is believed to have evolved in the gut of feedlot cattle. These are animals that stand around in their manure all day long, eating a diet of grain that happens to turn a cow's rumen into an ideal habitat for E. coli 0157:H7. (The bug can't survive long in cattle living on grass.) Industrial animal agriculture produces more than a billion tons of manure every year, manure that, besides being full of nasty microbes like E. coli 0157:H7 (not to mention high concentrations of the pharmaceuticals animals must receive so they can tolerate the feedlot lifestyle), often ends up in places it shouldn't be, rather than in pastures, where it would not only be harmless but also actually do some good. To think of animal manure as pollution rather than fertility is a relatively new (and industrial) idea. Cut, more.
4th of June 2011: ISIS Report - March 21 2001 (already!)
E. coli 0157:H7 and Genetic Engineering
The food-borne pathogen E. coliO157:H7 has been sequenced. Dr. Mae-Wan Ho asks whether genetic engineering might have contributed towards its emergence.
1rst of June 2011:
Genetically Engineered Salmon's Empty Promises
It's not's going to feed more people, be cheaper, or cleaner. So what's it about? A power grab
by Paul Greenberg June 1, 2011
GM food toxins found in the blood of 93% of unborn babies
By Sean Poulter
Last updated at 11:07 AM on 20th May 2011The study can be found here.
17 mei 2011 Dr. D. Huber on Glyphosate. 1 and 2. (Explaining letter Vilsack).
30th of April 2011: The European GMO-free Citizens have written a notice of appeal to the Dutch Council of State on Dutch fieldtrails of GM Blight-resistant Potatoes with antibiotic resistence genes of the Universitiy of Wageningen (WUR).
Our notice of appeal on a GMO vaccin for young foals has been sent long ago and still there hasn't been a sitting of the Court.
18 april 2011 Lawsuit seeks to invalidate Monsanto's GMO patents "A new invention to poison people . is not a patentable invention." Lowell v. Lewis, 1817
By Rady Ananda, Global Research , April 2, 2011.
11th of April 2011: Bt and herbicide found in pregnant women (Quebec, Australia).
21-02-2011, Mae-Wan Ho: Emergency! Pathogen New to Science Found in Roundup Ready GM Crops?
February 2011: Researcher: Roundup or Roundup-Ready Crops May Be Causing Animal Miscarriages and Infertility.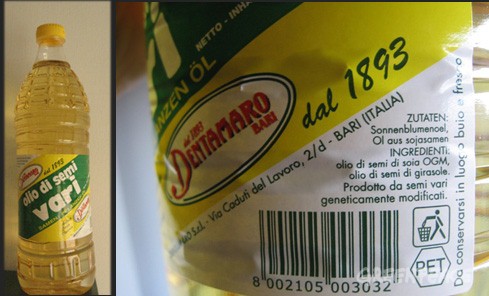 22 februari 2011 :BANDIRE IMMEDIATAMENTE OGM E PESTICIDI DALLE NOTRE TAVOLE !!! (Sunflower oil with GM soya oil to be banned from the Italian table.)
16-02-2011:The French minister of Agriculture Bruno Le Maire says the poster of the France Nature Environnement (FNE) is a provocation.
AGRICULTURE - Le ministre de l'Agriculture considère la campagne d'affichage comme une «provocation»...
La campagne d'affichage des écologistes de France Nature Environnement (FNE), qui dénonce les OGM en utilisant des images fortes, constitue un «scandale» et une «provocation à quelques jours du Salon de l'Agriculture», a dénoncé mercredi le ministre de l'Agriculture, Bruno Le Maire .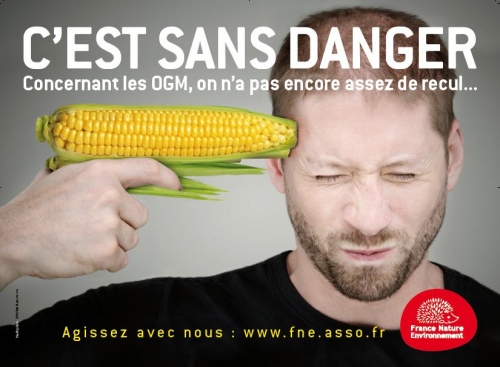 "It is without danger" OGM=GMOs 10th of October 2010: URGENT: YOUR SUPPORT NEEDED for Professor G-E Séralini and colleagues
Court case coming up in Paris, 23 November 2010

GMWatch is joining French activists in appealing for your support for Professor G-E Séralini and his research colleagues, who are based at Criigen, la Fondation Sciences Citoyennes (FSC) and ENSSER (European Network of Scientists for Social and Environmental Responsibility). The public interest research of Séralini and colleagues on GMOs and pesticide/glyphosate toxicity has international significance, especially in India, where it helped in achieving the moratorium for the Bt brinjal, but also in Canada, Europe and the USA.

Now, Séralini and colleagues find themselves under concerted attack from GM promoters, who have resorted to defamation and flawed logic in an attempt to discredit the scientists. Séralini and colleagues have decided that the only way forward is to go to court to defend their professional reputations and their ability to continue to do public interest research.

Please voice your support for Séralini and colleagues and for the cause of open scientific discourse by signing this on-line petition. 14 October 2010: Stichting VoMiGEN geht weiter: Offenes Einschreiben Europäischer Gerichtshof für Menschenrechte wegen die Genetisch Manipulierten Nelken die sind zugelassen in der Niederlande. (Auf Deutsch). 14 oktober 2010: Stichting VoMiGEN gaat door: open brief met beroepschrift aan het Europees Hof voor de Rechten van de Mens vanwege de gentech anjer die goedgekeurd werd door de Raad van State. (In het Duits). ISIS Report 06/10/10

Argentina's Roundup Human Tragedy
########################################################

Ten years of GM soy and glyphosate poisoning have escalated the rates of cancer and birth defects. Claire Robinson

GM soy a death sentence for humans and the environment. 1 oktober 2010: Let the EU know that you have objections against two different GM-maizes to be approved and to be placed on the market, deadline 27th of October. See for all info from the EU (clickable ) and our objections here mostly in English. (May be reproduced while mentioning the sources.) 1 oktober 201
Nieuwsbrief 3 van de Gentechvrije Burgers is uit.
29 september 2010: Avaaz.org: 1 MILLION FOR GM FACTS NOT CROPS today reached! Update 29 Sept : We reached the goal of one million signatures today! Thanks to all that have participated in this extraordinary people's petition! Now it will be delivered to the European Commission and our call for a moratorium will be lodged. More information about the delivery will be posted soon.
16th of September 2010: Leaflet handed out by Mr. Robert Verlinden from VoMiGEN, The Netherlands, he also spoke that day to the Conference participants.
More news from this site click here or here (news from GMWatch) .
Illegal GM potato discovered growing in Sweden
Swedish authorities demand investigations in Germany and the Czech Republic
04 September 2010

Click on the logo and sign against a genetically engineered
(GM)-vaccination study in foals from 3 days old untill 6 months. (Deadline 12-01-2011).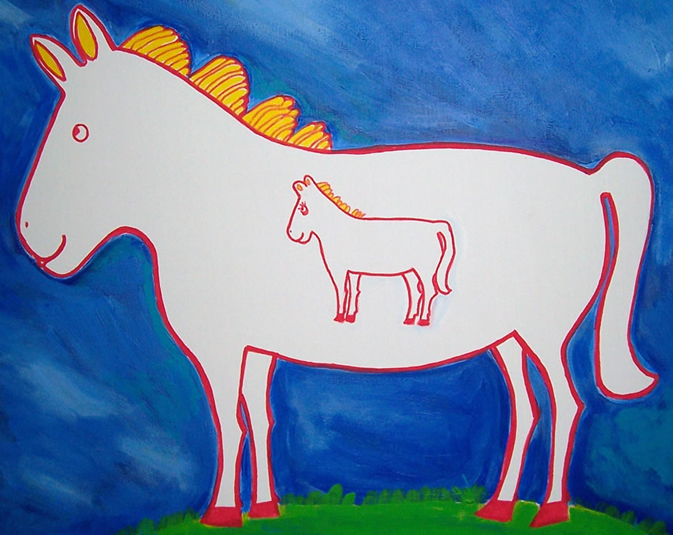 30 of August 2010 SIGN OUR ON-LINE PETITION! We have made a petition to the Minister of Environment on a genetically engineered (GM)-vaccination study in foals from 3 days old untill 6 months. They use a GM-bacterium. The little horses stay in stables and on grassland and the menure with the GMO will be put on the land. The GMO-free Citizens don't want this and have written this petition, which you can sign. Translating the fill-in data on this site: "Ik" is "I", "wonende" means the "city you live in","onderteken de petitie "Bezwaar tegen gentech vaccinproef voor veulens van 3 dg. tot 6 mnd. oud." means "Objection to a GMO-vaccionation study for foals of 3 days to 6 months". "Ja, mijn naam en woonplaats mogen publiek zichtbaar zijn onder de petitie" means: when you click the little box: "Yes, my name and place may be shown under this petition".
Paper: A novel method to generate unmarked gene deletions in the intracellular pathogen Rhodococcus equi using 5-fluorocytosine conditional lethality. R. van der Geize 1 ,* , W. de Jong 1 , G. I. Hessels 1 , A. W. F. Grommen 2 , A. A. C. Jacobs 2 and L. Dijkhuizen 1 . Review article: Rhodococcus equi. Wim G. Meijer.Thank you!
---
India: Safe Food Guide: GMO Free Food by Bhavani Prakash An Update on 9th September, 2010 Greenpeace India have now launched Version 2 of the Safe Food Guide to highlight the companies which guarantee that they do not use genetically modified content, and those who don't give such guarantee. A pocket guide has also been issued by them which show the brands in India that can be safely considered as GM free and those that cannot. According to them, " While over 40 countries including Europe, Australia, New Zealand, China or Japan have opted for mandatory standards, the Indian Government is beating around the bush and not ensuring that labelling of foods containing GMOs is mandatory." According to the guide (Pg 5 of the fuller version), the most common ingredients that are found from large scale cultivation of GE crops such as corn, canola and soy are: Corn:

Corn flour, meal, oil, starch,gluten and syrup
Sweeteners such as fructose, dextrose and glucose
Modified food starch*
Soy:
Soy flour, lecithin, protein, isolate, and isoflavone
Vegetable oil* and vegetable protein*
Canola oil (also known as rapeseed oil)
* These could be derived from other sources. The detailed Version 2 of the Safe Food Guide outlines the companies in the Green List (who have assured they use no GM ingredients) and the Red List (who have not given such an assurance) . It's interesting to see the results are not very different from the first version, however a few additions are to be seen. CUT 8th of September 2010, Italy, Prof. Altieri: Appello al Ministro dell'Agricoltura Galan: "ITALIA LIBERA DA PESTICIDI E OGM"
. Video: GM-free food production: a unique selling point for Ireland - the food island: 17 November 2009 press conference on the business case for Ireland's GM-free label, with Richard Corrigan (Michelin star chef and TV host), Darina Allen (Slow Food Ireland, Good Food Ireland, Free Choice Consumer Group, Artisan Food Forum, and the Farmers Market movement), Malcolm Thompson (Irish Cattle and Sheepfarmers Association), Evan Doyle (the Taste Council, Organic Trust and Euro-Toques Ireland), Dr. John Fagan (Cert ID), and Michael O'Callaghan (GM-free Ireland):
GM-free food production: a unique selling point for Ireland - the food island from justmultimedia on Vimeo.See the video of Jeffrey Smith: Everything you have to know about about Dangerous Genetically Modified Foods.
Everything You HAVE TO KNOW about Dangerous Genetically Modified Foods from Jeffrey Smith on Vimeo.Pique-nique contre la pomme de terre OGM Le 2 mars 2010, la Commission européenne, nouvellement intronisée,et après plusieurs années de report, a décidé d'autoriser une pomme de terre OGM de marque AMFLORA (de BASF) et trois maïs OGM. L'association " OGM dangers" propose à toute personne qui le souhaite d'organiser un pique-nique sur le thème de la pomme de terre , à Paris, en Province ou en Europe les 29/30 mai 2010. http://www.ogmdangers.org/
Le collectif "VOSGES TERRE SANS OGM" organise ce pique-nique sans OGM : SAMEDI 29 MAI à 11h30 au Port d'EPINAL Pour exiger une Lorraine sans OGM Venez nombreux avec votre repas composé de .. pommes de terre "NON OGM" bien sûr ! Invitez vos amis, votre famille, pour un moment convivial et militant !25 August, for Immediate Release, Contact:
Travis English, AGRA Watch
(206) 335-4405
Brenda Biddle, The Evergreen State College & AGRA Watch (360) 878-7833 :
GATES FOUNDATION INVESTS IN MONSANTO!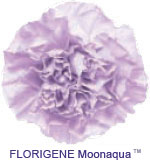 Last week, (the 16th of August 2010), the Foundation for the Prevention of Abuse of Genetic Manipulation 'VoMiGEN' of Mr. R. Verlinden from Rotterdam, the Netherlands, had a case at the Dutch Council of State against the Ministry of Environment about the GMO-carnation "Moonaqua" to be imported in Europe. There is no reason the grow (Colombia in greenhouses) and import these at all, only because of a change in colour. The flower is totally different, shorter stems, less leaves. And to see whether its not toxic for men, they use cells of embryos. I don't want to get these flowers on Mothers Day!Results will follow.
Read the following!
Notification (Reference C/NL/06/01) for the placing on the market of the genetically modified carnation Moonaqua 123.8.12 with a modified colour, for import of cut flowers for ornamental use, under Part C of Directive 2001/18/EC from Florigene1
Scientific Opinion of the Panel on Genetically Modified Organisms
(Question No EFSA-Q-2007-177)
Adopted on 12 March 2008
Fragment:
3.2.3. Agronomic traits and GM phenotype
Carnation Moonaqua 123.8.12 and the parental variety FE123 were grown in field trials in The Netherlands in 2000 and in Australia in 2005 and compared for several morphological characteristics. The comparison of data from these field trials identified significant differences between the GM carnation and the parental variety FE123. The GM carnation has smaller flowers, reduced stem thickness at the 5th node, and reduced numbers of stamens, styles and anthers and stamen length.
19 August 2010, TestBiotech: Traces of genetically engineered maiz and soy in goats, fish and pigs. August 2010: Greenpeace:Important news from India
1.Bt Brinjal could be back - TAKE ACTION !!!!!!!!!!!

Mail on line: Jab that could put a stop to stress without slowing us down, By Rachel Quigley
Last updated at 10:32 AM on 2nd August 2010.
Aaron Dykes, Infowars.com
August 4, 2010
Neuartige DNA-Impfstoffe sind zwar unzureichend am Menschen getestet, trotzdem entwickelt die US-Armee diese Impfungen um jene während eines Notstandes Soldaten und Zivilisten zu verabreichen. Eine gasgetriebene "Gen-Kanone" soll verschiedene DNA-Impfungen direkt ohne Nadeln in die Zellen transportieren und anschließend soll die Dosis von außen durch "Elektroporation" stimuliert werden, eine Art elektrischer Schock. Fragment.
GM FOOD: FACTS NOT CROPS
The European Commission has just approved growing genetically modified crops for the first time in 12 years, putting the GM lobby's profits over public concerns -- 60% of Europeans feel we need more information before growing foods that could threaten our health and environment.

A new initiative allows 1 million EU citizens a unique chance to make official requests of the European Commission. Let's build a million voices for a ban on GM foods until the research is done. Sign the petition below and spread the word.
Don't forget to include your address so that all of our signatures count for the citizens' initiative.

To the President of the European Commission José Manuel Barroso:
We call on you to put a moratorium on the introduction of GM crops into Europe and set up an independent, ethical, scientific body to research the impact of GM crops and determine regulation.
PETITION TO THE EUROPEAN PARLIAMENT: EFSA AND THE FOOD
SAFETY RIGHTS OF CITIZENS Name: Brian John
Postal Address: Trefelin, Cilgwyn, Newport, Pembrokeshire SA42 0QN,
Wales, UK
---
7-06-2010: Genetically modified corn contaminates crops in seven German states
Greenpeace says the corn must be destroyed
A Greenpeace report says seven German states have had seed supplies contaminated by genetically modified corn. Losses for farmers could be in the millions of euros.
May 3rd:
Action Alert - Codex Conference Please send this URGENT message to US Government leaders to protect your right to know which foods are made from genetically modified organisms (GMOs). Send an email today to the Secretaries of State (Clinton), Agriculture (Vilsack), and Health and Human Services (Sebelius).. Wednesday, April 28, 2010 - The Institute of Near Eastern & African Studies (INEAS) in Mass., USA, and other international organizations and individuals from five continents celebrated the International Seed Day (ISD) on April 26 . 23 April 2010 The Hill: Genetically modified crops are not the answer By Dr. Hans Herren and Dr. Marcia Ishii-Eiteman - 04/22/10 06:18 PM ET20th of April 2010: The Voice of Russia:
Russia says genetically modified foods are harmful!
Fragment: Scientists have proved that Genetically Modified Organisms are harmful for mammals. The researchers discovered that animals that eat GM foodstuffs lose their ability to reproduce. Campbell hamsters that have a fast reproduction rate were fed for two years with ordinary soya beans, which are widely used in agriculture and those contain different percentages of GM organisms. Another group of hamsters, the control group, was fed with pure soya, which was found with great difficulty in Serbia because 95 percent of soya in the world is transgenic.
Source: Friends of the Earth Spain

20th of April 2010: 15,000 people have gathered this morning in Madrid under the slogan "For a Food and GE Free Agriculture."Farmers, environmentalists and consumers around the country have toured the city demanding the Government to follow the same path followed by countries like France, Germany or Austria, and ban the cultivation of GM maize in Spain.
See the photos here.

Spain is the only EU country that grows GM a large scale. Last year, 76,000 hectares were planted with genetically modified maize in Spain. This cultivation is carried out under an absolute lack of transparency and control, with numerous cases of contamination of crops and foods. Still, the government is ignoring their social and environmental impacts, and health consequences that have led other countries to ban it.
We are in the Spanish half of the EU Presidency and the Government has, if anything, even more responsibility to drive another model of food and agriculture. However, when the European Commission approved a few weeks ago the cultivation of a transgenic potato, Spain was one of the few countries that supported this decision.

20th of April 2010: 15.000 personas se manifiestan en Madrid "Por una Agricultura y una Alimentación Libres de Transgénicos"
La manifestación contra los transgénicos ha sido un éxito
Convocada por organizaciones ecologistas, de agricultores y consumidores, la sociedad civil ha demostrado su rechazo a los transgénicos
Puedes ver las fotos, pinchando aquí
15.000 personas se han manifestado esta mañana en Madrid bajo el lema "Por una Alimentación y una Agricultura Libre de Transgénicos". Agricultores, ecologistas y consumidores de todo el Estado han recorrido la ciudad exigiendo al Gobierno que siga el mismo camino recorrido por países como Francia, Alemania o Austria, y prohíba el cultivo de maíz transgénico en España.
19th of April 2010 read the letters send by Burgers in Actie (part of the GMO-free Citizens) to Mr Herman A. Van Rompuy Esq. /President Chairman of the EU, and Federal Chancellor of Germany Mrs. Angela Merkel.
7th of April 2010: Breaking News: Organizations in India successfully halt HPV vaccination program.New York Times,
29th of March 2010: Judge Invalidates Human Gene Patent By JOHN SCHWARTZ and ANDREW POLLACK A federal judge on Monday struck down patents on two genes linked to breast and ovarian cancer . The decision, if upheld, could throw into doubt the patents covering thousands of human genes and reshape the law of intellectual property! Learn more....
30. März 2010 Einkaufsnetz: Gen-Kartoffel verbieten! Liebe Marktaktivistin, lieber Marktaktivist,

Politisch und ökologisch betrachtet, hat die Gen-Kartoffel Amflora keine Daseinsberechtigung. Und rechtlich auch nicht! Das zeigt unser neuestes Gutachten: Die Zulassung für den Anbau durch die frisch gebackene EU-Kommission verstößt gegen EU-Recht.

Die Ankündigung aus Brüssel, auch noch zwei neue Gen-Maissorten für den Anbau zulassen zu wollen, lässt Umwelt- und Verbraucherorganisationen aktiv werden. Verbraucher überall in Europa werden aufgerufen, sich an der gemeinsamen Initiative "Stop the crop" zu beteiligen. Auch Du willst, dass die Gen-Kartoffel Amflora in Deutschland verboten wird und die anderen Pflanzen erst gar nicht zugelassen werden? Dann wehre Dich gemeinsam mit Tausenden Verbrauchern und schicke eine Protestmail:
www.greenpeace.de/stoppt-gentechnik

"Wenn ein Netzwerk zur Waffe wird", titelte das Hamburger Abendblatt und beschrieb die Macht der Verbraucher im Internet. Gemeint war unsere Kampagne gegen Nestlé und dessen Nutzung von Palmöl aus Urwaldzerstörung für Produkte wie Kitkat. Gezeigt wurde, wie schnell sich Infos über Produkte im Internet verbreiten und wie sehr auch große Konzerne dies fürchten. So haben wir unseren Kitkat-Film unter anderem auf eine Facebook-Kitkat-Fanseite des Konzerns gepackt. Die Facebook-Nutzer reagierten umgehend und als allerhand Menschen ihren Unmut äußerten, sperrte Nestlé panikartig die Fan-Seite von Kitkat mit über 700.000 Fans. Hier findest Du einen Überblick über die Ereignisse:
http://www.greenpeace.de/themen/waelder/nachrichten/artikel/kitkat_suesses_mit_bitterem_beigeschmack-1

Auch die Süddeutsche Zeitung schrieb jüngst über "die große Macht der kleinen Leute" in der virtuellen Welt. Nun ja, wir wissen schon lange, welche Bedeutung die Marktaktivisten mit ihren Protesten für unsere Kampagnen haben ...

In diesem Sinne sagen wir vielen, vielen Dank und zählen weiterhin auf Deine Unterstützung!

Frohe Ostern vom
EinkaufsNetz-Team

Greenpeace e.V.
Grosse Elbstraße 39
22767 Hamburg

http://www.einkaufsnetz.org
Tel. + 49 40 30618-0
Fax + 49 40 30618-100

24th of March 2010. Testbiotech: Genetically engineered corn causes new plant pest.
Testbiotech warns that fields will turn into battlefields
Munich / Bremen - Large- scale cultivation of genetically engineered corn is causing the spread of a new pest in the US Corn Belt. The western bean cutworm infests the tips of the corncobs. Massive damage is being reported from those regions where the
corn MON810 (sold as YieldGard by company of Monsanto) is grown on large scale.Sent: Friday, March 12, 2010 2:15 PMGM-free victory as trials are scrapped.

The world's largest chemicals company BASF has scrapped plans to conduct trials of genetically modified potatoes in the Netherlands.BASF send only one map where the trails should have been located. So people could not know where both fieldtrails would come.The European GMO-free Citizens did sent a petition to the Ministry of Environment on this. Today spokeswoman Miep Bos got an e-mail from the Ministry BASF had scrapped the two extra trails in Gelderland, the Netherlands. To: 'Miep Bos' Subject: RE: DGM/SAS IM 07-006/02 en DGM/SAS IM 07-007/02 Belgian farmers are very worried about the permission the EU has given to grow gm-potatoes of BASF in the EU.

nos_enfants_nous_accuseront Translating: our childeren will acuse us: a good trailer of a film on the fact that people should never use herbicides again!
by beloutte.
6th of March 2010. the EU asks your opinion on a GMO-carnation (assessment rapport) with changed colour the Moon Shadow, C/NL/97/13. Consent (Dutch authorities. already in1998!). Genetically modified carnation (Dianthus caryophyllus L.) lines 959A, 988A, 1226A, 1351A, 1363A, 1400A (Unique identifier FLO-11363-1) Comments can be send to this e-mail address untill the 21rst of March 00.00 h.1rst of March 2010: EU Commission to dump risk assessment of genetically engineered plants? February 9th 2010 Greenpeace France: Liste des produits avec ou sans OGM.
February 9th 2010: GMW: India puts moratorium on Bt brinjal, Here's the Indian Environment Minister's report on his decision not to give the go ahead to Bt brinjal.
29th of January 2010: Subject: Solidarity with India, Jan 30th
Reply-To: "GMWatch" < gmwatch-weekly(a)gmwatch.eu >


NOTE: People anywhere in the world can register to fast tomorrow (Jan 30), or light a candle, in solidarity with Indian resistance to the imposition of GM brinjal (eggplant/aubergine). More info and sign up at http://www.brinjal.org
Genetic Engineering and the Secret Changes in Your Food
Center for Food Safety
24 april 2008

Andrew Kimbrell, Center for Food Safety director and author of "Your Right to Know: Genetic Engineering and the Secret Changes in Your Food", discusses GMOs and how to eat safely and ecologically.
Secret FDA Memos Reveal Concerns About Genetically Modified Foods (GMOs)
FDA scientists were questioned about the potential health hazards genetically modified (GM) foods would have. Previously secret documents attained by the Alliance for Bio-Integrity's 1998 lawsuit reveal that our food experts were very concerned that GM foods carried "serious health hazards." They unofficially concluded that GM foods lead to "different risks" for consumers than untreated foods. More...
---
MORE NEWS see here.
20 January 2010: Judge asked to halt planting of genetically modified sugarbeet seeds in Oregon.
Important news

: 12 december 2009: Research Paper
A Comparison of the Effects of Three GM Corn Varieties on Mammalian
Health 1. CRIIGEN, 40 rue Monceau, 75008 Paris, France
2. University of Rouen LITIS EA 4108, 76821 Mont-Saint-Aignan, France
3. University of Caen, Institute of Biology, Risk Pole CNRS, EA 2608, 14032 Caen, France Subject: Une décision à l'introduction de GMO dans l'environnent en Pologne/Europe
Date: Mon, 14 Dec 2009 19:23:57 +0100

Une traduction libre d'une lettre anglaise.

A tous les membres du parlement de la République de Pologne.

Dans peu de temps, vous pendrez une décision à l'introduction de GMO (ingénierie génétique des produits végétaux) dans l'environnent, ce dont je vous prie l'attention à suivante :

Dans une société démocratique toutes les décisions concernant des nouvelles lois et des affaires politiques devraient être basées aux procédures de rassembler, de dialogue et d'élection des membres dans toutes les institutions politiques et sociales, qui doit être à l'ancre dans les droits fondamentaux.

Cependant, les droits fondamentaux, combattu par le prolétariat dans l'année révolutionnaire de l'Europe en 1848, ont été abolis du accord d'EU de Lisbonne 2007 [1]

Il semple que ce tromperie peut être possible par l'influence de la système du pouvoir politique invisible, i.e. Le système des familles royales et leur élite politique. Seulement les droits fondamentaux nous peuvent protéger contre ce système « Qui paie les violons, choisit la musique [2] »

Presque 449 millions d'Européens ne savent pas ou on été oublier les critères de nos droits fondamentaux. Cette était causé par le fait que le terme 'populisme' [3] est indiqué comme une semi- vérité dans les dictionnaires. Dans langage populaire on la nomme : Falsification.

Mons. Barroso, qui semble à être un servant de ces pouvoirs politiques, a ete subi une victoire Pyrrhique avec l'accord d'EU de Lisbonne. Sans respect des droits fondamentaux l'accord 'd'EU de Lisbonne n'a pas aucune valeur.

La majorité des Européennes ont dit 'NON' á GMO . Seulement la reine des Pay-Bas, Béatrice, a dit 'OUI' [4] . GMO génère un genre nouveau de fascisme (Latin : fasces). En d'autres mots 'Centralisation'. Centralisation de connaissance par 'pseudoscience' ( Ça c'est GMO en réalité). Centralisation de connaissance et pouvoir, sans respect des critères des droits fondamentaux génère 'Populisme'. Populisme signifie un grand risque pour le fascisme. Dans ce cas un fascisme nouveau de GMO (Codex Alimentarius [5] ). Ça ce signifie quand vous êtes d'accord avec l'introduction de GMO dans l'environnement, les peuples européennes seront opprimé encore. Vois le plan stratégique de Codex Alimentarius 2008-2013)

Dans ce cas je veux attirer l'attention sur le livre 'Spinoza comme une guide pour une monde libre'. (Emis à Amsterdam 2008). Une des déclarations célèbres de Spinoza, d'une société démocratique, était la suivante: D'Armement des habitants sera être la seule manière pour les de ne pas oppressé par leurs dirigeants [6] .

Je veux mettre l'accent sur la réalisation que les droits fondamentaux seraient respecter avant vous votez OUI ou NON à GMO. Il faudrait être nécessaire que les critères des droits fondamentaux seraient équivalents dans les institutions de tous les pays européennes.

Vois l'appel aux habitants européennes comme mentionné ci-dessous et nos lettres à Mons. Barroso. Aussi vois, ci-joint, la lettre de la commission européenne, General Managing Justice, Liberté et Sécurité Section F, signé par Mons. Jaoquim Nunes de Aleida.

Voyant d'avance à votre décision bien pris à considération le 15ieme décembre prochain, veuillez agreer, mesdames et messieurs, l'expression de mes compliments distingués

Robert A. Verlinden

Stichting Ter Voorkoming Misbruik Genetische Manipulatie

(Fondation pour la prévention d'abus de la manipulation génétique)

Van Speykstraat 87-89, 3014 VE Rotterdam. E-mail : burgersinactie@hotmail.com

[1] CHAPITRE 3. COOPÉRATION JUDICIAIRE EN MATIÈRE CIVILE

Article 65, 2.f. « l'élimination des obstacles au bon déroulement des procédures civiles, au besoin en

favorisant la compatibilité des règles de procédure civile applicables dans les États membres ; » a) why if necessary? b) What are the criteria of 'if necessary'? c) Why 'if necessary' if we know that al the laws and political questions are based on the fundamental rights?

[2] Si vous payez pour les services de quelqu'un, vous pouvez dicter exactement ce que vous voulez que cette personne à faire.

[3] Le dictionnaire néerlandais Van Dale: Le populisme: populaire, de la démagogie un peu superficiel. Allons donc! En realite, le populisme est le parler et executer par les autorites des institutions (polittuques) sans de conseiller les membres en avance. Ca ce signifie sans decisions exemplaire autoritées a affirmer son propre intér ê ts.

[4] Les membres de notre famille royale ne goûte pas la différence entre les végétaux OGM et légumes biologiques en tant que prince héritier Willem Alexander a déclaré un jour. Il n'est pas surprenant, parce qu'il a dit dans le même entretien que ses légumes proviennent du jardin royal et celui de la famille donne un bon feeling. (Agd. 14/8/04/p8 fr P9)

[5] Latin: Alimentarius. Tout sur la nourriture. Autant que nous savons que le Codex Alimentarius comprend également des médicaments.

[6] Quote" 'Ook Spinoza onderstreepte herhaaldelijk dat bewapening van de burgers voor hen de enige manier is om niet door hun vorst(en) onderdrukt te worden' (p64/Note 102). The book 'Bestuurlijke vernieuwingen' Dr. Wim Klever.



From: burgersinactie@hotmail.com
To: jose.bove@europarl.europa.eu
Subject: 'GMO': A CALL TO POLAND AND THE WORLD
Date: Thu, 10 Dec 2009 23:46:59 +0100



Dear mr. Jose Bove,


Why did you agree that the fundamental rights, fought by the proletariat in the European revolutionary year 1848, have been silently abolished from the EU Lisbon Treaty 2007? [1] .

European people say no to GMO..

Looking forward to your answer I remain with kind regards,

Robert A. Verlinden .

[1] "CHAPTER 3: JUDICIAL COOPERATION IN CIVIL MATTERS Quote: Article 65.2.f the elimination of obstacles to the proper functioning of civil proceedings, if necessary by promoting the compatibility of the rules on civil procedure applicable in the Member States; End quote . a) why if necessary? b) What are the criteria of 'if necessary'? c) Why 'if necessary' if we know that al the laws and political questions are based on the fundamental rights?


For your information: under mentioned a copy of our Letter to the Polish Parliament. Kind regards. Your servant to serve the general interest.


Robert A. Verlinden.
From: burgersinactie@hotmail.com
To: biuro@bronislawkomorowski.pl
Subject: FW: 'GMO' CALL TO POLAND AND THE WORLD
Date: Wed, 9 Dec 2009 13:38:41 +0100

.

'GMO' CALL FROM THE NETHERLANDS TO POLAND AND THE WORLD


OPEN LETTER TO :

Bronislaw Komorowski

00-325 Warszawa
ul. Krakowskie Przedmiescie 6
e-mail: biuro@bronislawkomorowski.pl Rotterdam, 9th December 2009.

Dear Mr. Bronislaw Komorowski, chairman of the parliament of the People's Republic of Poland,

Kindly we request you to send this letter to all the members of your democratic parliament. Please confirm us the receipt of this e-mail.

Very soon, December 15 th , you will take a decision of the introduction of GMO (genetically engineering of organism like vegetables, flowers, seed etcetera) into the environment for which I like your attention to the following:

In a democratic society all decisions regarding new laws and political questions should be based on procedures of assembling, dialog and voting of the members in all the united political and social institutions, which will be anchored in the fundamental rights.

However, the fundamental rights, fought by the proletariat in the European revolutionary year 1848, have been silently abolished from the EU Lisbon Treaty 2007 [1] .

It seems that such a misleading only will be possible by the influence of the system of the invisible political power. The system of the royal families and their political elite. Only the fundamental rights could protect us against this system as the expression said: 'He who pays the piper calls the tune [2] ' .

Nearly 449 million European people don't know or have forgotten the criteria of our fundamental rights. This was caused by the fact that the term 'populism' is shown in dictionaries as a half truth [3] . In popular parlance we call this forgery. Quote: 'Any truth which is too big to be seen is probably smaller than you can see it' . End quote An anonymous 19th century Dutch poet.

Mr. Barroso, who seems to be a servant of these invisible political powers, has undergone a Pyrrhic victory with the EU treaty Lisbon 2007. It means, he has left with empty hands. Without respect of the fundamental rights the European Lisbon Treaty 2007 has not got any value.

Most Europeans said 'no' to GMO. Only queen Beatrix of the Netherlands said "yes!" [4]

GMO generates a new kind of fascism (Latin: fasces ). In other words: 'centralisation'. Centralisation of knowledge by 'pseudo science', what GMO in fact is, generates power. Centralisation of knowledge and power, without respect for the criteria of the fundamental rights, generates populism. Populism, in political hands, means a huge risk for fascism again. In this case a new kind of fascism of GMO/Alimentarius. [5] It means, when you now agree with the introduction of GMO in the environment, the human being of Europe will be oppressed again in the near future. (See the strategic plan of the Codex Alimentarius 2008-2013) [6] .

In this case I also like to draw your attention to the book 'Spinoza as a guide for a free world' (issued in Amsterdam 2008). We learnt that one of Spinoza's (1632-1677) famous pronouncements about a democratic society was the following: "The armament of citizens will be the only way for them for not being oppressed by their ruler(s)". [7]

I very much like to emphasize, before you vote ' Yes' or ' No' to GMO, that the fundamental rights should be respected by everyone in the European Treaty Lisbon 2007.

It should be necessary that the criteria for the fundamental rights in the institutions of all European countries should be equivalent.

Please see in the attachment our letters to Mr. Barroso. And see also in the attachment the enclosed letter from the European Commission, General managing Justice, Freedom and Security, section F. Signed by Mr. Jaoquim Nunes de Aleida.

Looking forward to your well considered decision on the 15 th of December next.

I remain with kind regards,

Yours faithfully,

Robert A. Verlinden.

STICHTING TER VOORKOMING MISBRUIK GENETISCHE MANIPULATIE (VoMiGEN)

Foundation for the prevention of Abuse of Genetic Manipulation

Van Speykstraat 87-89, 3014 VE Rotterdam. (Netherland) e-mail: burgersinactie@hotmail.com - www.vomigen.nl

[1] "CHAPTER 3: JUDICIAL COOPERATION IN CIVIL MATTERS Quote: Article 65.2.f the elimination of obstacles to the proper functioning of civil proceedings, if necessary by promoting the compatibility of the rules on civil procedure applicable in the Member States; End quote . a) why if necessary? b) What are the criteria of 'if necessary'? c) Why 'if necessary' if we know that al the laws and political questions are based on the fundamental rights?

[2] If you are paying for someone's services, you can dictate exactly what you want that person to do.

[3] The Dutch dictionary Van Dale : Populism: popular, somewhat superficial demagoguery. Nonsense! Populism is on the heads of the authority that means the exemplary acts of the right to meet and unite, the gut feelings of the masses touch, add half truths and concealing key facts.

[4] The members of our Royal family do not taste the difference between GMO vegetables and organic vegetables as Crown Prince Willem Alexander said one day. Not surprisingly, because he said in the same interview that his vegetables come from own royal garden and that gives the family a good feeling. (Agd. 14/8/04/p8 en p9)

[5] Latin: Alimentarius . Everything about food. (medicines?) Fascism has many different faces.

[6] As far as we know the Codex Alimentarius includes also medicines.

[7] Quote" 'Ook Spinoza onderstreepte herhaaldelijk dat bew apening van de burgers voor hen de enige manier is om niet door hun vorst(en) onderdrukt te worden' (p64/Note 102). The book 'Bestuurlijke vernieuwingen' Dr. Wim Klever.
---
10 december 2009: Gentech DNA in bodem ontdekt. Sporen van gentech mais bestendiger dan tot nu toe aangenomen. Abstract

(Duits) Transgene DNA in Bodenorganismen entdeckt
Spuren von Gentech-Mais beständiger als bisher angenommen. Nach Abstract.
December 2009, USA: The Farmer to Farmer Campaign on Genetic Engineering (Farmer to Farmer) is a network of 34 farm organizations from throughout the United States that endorsed the Farmer Declaration on Genetic Engineering released in December 1999. Farmer to Farmer seeks to build a farmer driven campaign focused on concerns around agricultural biotechnology and to provide a national forum for farmer action on these issues.
Presents; Out of Hand
American farmers are feeling the effects of a concentrated seed industry. Seed options are diminishing while prices increase at historic rates. A new report by the Farmer to Farmer Campaign, Out of Hand: Farmers Face the Consequences of a Consolidated Seed Industry , uses industry sources, government data, and personal interviews with farmers and seed industry representatives to document the consequences of concentration in the seed industry.
JOE WHITTINGTON AND ANDREW M. HARRIS
BLOOMBERG NEWS, 5 December 2009

Uitspraak: Bayer CropScience veroordeeld tot het betalen van $2 miljoen, vanwege verliezen die twee boeren uit Missouri leden, betreffende een experiment met een rijstsoort van dit bedrijf dat hun gewas besmette.
$2 million verdict against Bayer CropScience
JOE WHITTINGTON AND ANDREW M. HARRIS
BLOOMBERG NEWS, 5 December 2009
Bayer CropScience LP must pay about $2 million for losses sustained by two Missouri farmers when an experimental variety of rice the company was testing cross-bred with their crops, a federal jury ruled.
The American Lawyer: Litigation Daily, December 4 2009. Fragment: Federal district court judge Catherine Perry is overseeing some 3,000 suits in which rice farmers allege that Bayer CropScience was careless in.....more 5 december 2009 GMWatch: Large concentrations of transgenic DNA in animals from the food web associated with RoundUp Ready corn.
27th of November 2009: Photos and text about the Conference in the Kurhaus Hotel, Scheveningen "GMOs in European Agriculture and Food Production."SWINE FLULatest news:7 Westferry Circus, Canary Wharf, London E14 4HB, UK
Tel. (44-20) 74 18 84 00 Fax (44-20) 74 18 86 68
E-mail: mail@emea.europa.eu http://www.emea.europa.eu
©European Medicines Agency, 2009. Reproduction is authorised provided the source is acknowledged. London, 4 December 2009
Doc. Ref. EMEA/780391/2009

Questions and answers on the risk of fever with Pandemrix in young children
The Committee for Medicinal Products for Human Use (CHMP) at the European Medicines Agency has reviewed data on the use of a second dose of the pandemic flu vaccine Pandemrix in children aged from 6 months to 3 years. The Committee noted that this second dose brings a further immune response, but that there is also an increased risk of fever.
30th november 2009 Swine flu epidemic escaped from lab, Australian scientists say.
Abstract Mitochondrial dysfunction, impaired oxidative-reduction activity, degeneration, and death in human neuronal and fetal cells induced by low-level exposure to thimerosal and other metal compounds. Toxicological & Environmental Chemistry, Volume 91, Issue 4 June 2009 , pages 735 - 749
Authors: D. A. Geier a ; P. G. King b ; M. R. Geier c
A REVIEW OF THIMEROSAL (MERTHIOLATE) AND ITS ETHYLMERCURY
BREAKDOWN PRODUCT: SPECIFIC HISTORICAL CONSIDERATIONS
REGARDING SAFETY AND EFFECTIVENESS
David A. Geier1, Lisa K. Sykes2, Mark R. Geier3
1The Institute of Chronic Illnesses, Inc., 2CoMeD, Inc., and 3The Genetic Centers of America,
Silver Spring, Maryland, USA
18 november 2009 Little heart defect and damadge lungs patient dies after vaccination against Mexican flu. Possible hidden hazards of mass vaccination against new influenza A/H1N1: have the cardiovascular risks been adequately weighed? Sucharit Bhakdi 1 , Karl Lackner 2 and Hans-Wilhelm Doerr 39 november 2009 the Lancet : Yearly influenza vaccinations: a double-edged sword?
9 november 2009 Dr. Mae Wan Ho: Cardiovascular Risks from Swine Flu Vaccines.
Swine Flu -- One of the Most Massive Cover-ups in American History
Posted by: Dr. Mercola
November 03 2009 | 19,597 views. Pregnant Women NOT at Special Risk from Swine Flu.
Nine reasons for you not to get vaccinated against the swine-flu virus A H1N1.
French: Neuf raisins de ne pas vous faire vacciner contre la grippe A H1N1.
1. November 2009 - 18:39 Schweizer wollen keine Schweinegrippe-Impfung. Mitte November wird in der Schweiz die Impfaktion gegen die Schweinegrippe gestartet. Laut einer Umfrage wollen sich 86,4% der Befragten nicht vorsorglich impfen lassen.
Skepsis gegenüber Impfstoff in Deutschland 2009.10.26 In Deutschland startet heute eine Massenimpfung gegen die Schweinegrippe. Doch viele Bundesbürger und selbst Wissenschaftler stehen der Spritze gegen die Schweinegrippe skeptisch gegenüber - nicht zuletzt weil der Impfstoff wegen seinen Nebenwirkungen umstritten ist.
IL VACCINO DALLE UOVA D'ORO
(Fragment: Le particelle di nanodimensioni)
di Rita Pennarola [ 29/10/2009 ]

Sorpresa: nei grandi ospedali per malattie infettive buona parte di medici in servizio non intende vaccinarsi contro il virus della Suina. Succede al Cotugno di Napoli. E non solo. Vediamo perche'.

A well known coorperation already knew about a pandemie in 2006!
31 oktober 2009 Dr Mercola's Update
o NOT Let Your Child And Loved Ones Get Flu Vaccine ( the H1N1 swine flu, GMO-vaccine) -- 18 Reasons (by Bill Sardi) Why. Posted by: Dr. Mercola October 06 2009 | 12,000 views
H1N1 Vaccine to German Soldiers; Different Than Citizens.
Van ISIS: ISIS Report 27/07/09 Fast-tracked Swine Flu Vaccine under
Fire

The vaccines far more deadly than the swine flu; mass vaccinations a recipe for disaster.
Dr. Mae-Wan Ho and Prof. Joe Cummins.

This report has been submitted to Sir Liam Donaldson, Chief Medical Officer of the
UK, and to the US Food and Drugs Administration.

Please circulate widely, with all the hyperlinks included, to your elected
representatives, wherever you are.
First deaths in Sweden from "swine flu" vaccine.
Do NOT Let Your Child And Loved Ones Get Flu GMO-Vaccine ( the H1N1 swine flu )
-- 18 Reasons Why
Posted by: Dr. Mercola
October 06 2009 | 12,000 views
H1N1 Vaccine to German Soldiers; Different Than Citizens.
Package leaflet first vaccin
secund
third
1/6 BELL TOLLING for the Swine Flu (CAMPANAS por la gripe A) subtitled
TERESA FORCADES, doctora en Salut Pública, hace una reflexión sobre
la historia de la GRIPE A, aportando datos científicos, y enumerando las irregularidades relacionadas con el tema.
UPDATE: Polish Health Minister, a family doctor, tells Parliament she will not allow use of untested swine flu jabs: reveals secret contracts violate the law. Polish, English.
Dr Rauni Kilde on Swine Flu Conspiracy
USA: JUST PUT HOT H1N1 Swine Flu "National Emergency" Warning!
More videos here containing:
Gary Null Speaking Out Against Mandatory Vaccination in NYC
Gary Null Speaking Out at the NYS Assembly Hearing | 10-13-2009 | (part 1 of 3)
FRANCE
La face cachée des vaccins - 1
Geüpload door NazzareneAh. - Nieuwscontent direct van de pers.
FORCED FLU VACCINATION BILL PASSES SENATE (Pandemic Preparedness Bill)
Project Camelot interviews Jane Burgermeister
---
Piece on hearing about Moonaqua tm in French. English and German below. Deutsch unten.
---
En Français
Compte rendu de l'audience concernant l'oillet OGM 'Moonaqua'
au ministère de l'environnement des Pays Bas,
La Haye, le 30 septembre 2009
Par Mme Miep Bos, Porte Parole des 'Citoyens sans OGM' des Pays Bas
Miep Bos, porte parole des citoyens sans OGM des Pays Bas, s'est rendue à La Haye le 30 septembre pour se battre contre la mise sur le marché de l'oillet OGM 'Moonaqua', lors d'une audience au Ministère de l'environnement. Dans cette audience, des citoyens ont eu le droit d'exprimer pourquoi ils étaient intéressés/concernés par cette affaire, et pourquoi ils étaient contre certaines mesures. Après cette audience, le ministère va décider si la/les personne(s) sont 'recevables comme personne intéressée' . S'ils jugent que c'est le cas, ces personnes peuvent continuer leur procédure auprès du Conseil d'État. Si le ministère juge que ces personnes ne sont pas 'intéressées', ces citoyens ont le droit de déposer plainte auprès du Conseil d'état.
Miep Bos:
L'audience s'est bien passée. Nous étions 6 personnes ; et il y avait aussi 6 personnes du ministère, dont 2 juristes du ministère, plus un secrétaire indépendant qui a fait le compte- rendu et un enregistrement sur cassette. J'ai pu parler pendant une demi heure, pour lire entre autres les 14 textes que les signataires m'ont envoyés pour cette audience. J'ai pu lire les quelques textes que j'avais reçus en anglais, mais le président de l'audience ne m'a pas permis de lire les textes français, car personne ne les aurait compris. Néanmoins, ces textes seront ajoutés au compte rendu. Vous pouvez lire toutes les textes ici.
J'ai demandé si la décision du Ministère pouvait être traduite en plusieurs langues, mais ça ne sera pas possible ni permis, et ils m'ont demandé d'envoyer moi-même la décision à venir (dans les 10 semaines) à tous les signataires. Alors je dois traduire moi-même, ce qui est bizarre car je ne suis pas un 'prolongement ou employée' du ministère, et je ne maîtrise ni le portugais, ni l'italien, l'espagnol ou le français....
Dans mon exposé j'ai fait référence à la coopération entre Niaba (union néerlandaise de multinationales comme Monsanto, Unilever etc.) et divers ministères et leurs fonctionnaires. L'un d'eux était présent dans la salle. Il m'a demandé après l'audience : 'C'est moi que vous avez mentionné en tant que participant de Niaba ? Je ne me sens pas coupable de quoi que ce soit. ' Une autre question était : quelle personne est intéressée /concernée pour passer devant la cour suprême afin d'arrêter l'introduction sur le marché? Des citoyens 'ordinaires' n'ont plus le droit d'aller devant cette cour s'ils ne sont pas 'concernés/intéressés'. Mais jusque qu'à maintenant il n'y a aucune loi qui décrit ce qu'est exactement 'une personne concernée/intéressée'. Et l'Actio Popularis, la loi qui a donné à chacun la possibilité d'aller au tribunal pour des décisions défavorables du gouvernement, a été abandonnée en silence, et personne ne sait ce qui s'est passé. Il y aura plusieurs OGM de mis sur le marché prochainement, et c'est beaucoup de travail pour nous, citoyens, de nous battre contre ça avec des procédures floues comme celle-ci.
Trois autres personnes ont parlé. Notamment une personne plus âgée, qui était cultivateur de bulbes, qui est maintenant retraité et cultive des bulbes biologiques, a parlé longuement dans un sens plus « spirituel ». L'audience était close au bout d'une heure trente.
Cordialement,
Miep Bos
Porte Parole des 'Citoyens sans OGM' de Pays Bas
(Traduction : Janneke Tops, Ecolonie, Vosges et Aline Read du Centre de l'Environnement France)
2nd of October 2009 About the hearing on Moonaqua tm:
The hearing went well. We were with 6 persons, the ministry too and she had one independent male secretary to take the minutes and he recorded it on a tape. I could speak for half an hour, to read out a.o. the 14 pieces (some in English, one in French, the chair said that I should not read the French piece because nobody could understand but would be recorded in the minutes) from signers who have send me a piece for the hearing.
You can read them here. I have asked whether the decision on the petition from the Ministry could be in other languages. But they stressed that it is not possible and not allowed and they asked me to send the coming (in 10 weeks) decision to all signers of the petition. So I have to translate it myself.
But Portuguese, Italian, Spanish and French is not a language I master. In my plea I have referred to the cooperation between Niaba (Dutch union of multinationals like Monsanto, Unilever etc.) and several ministries and their civil servants and that one was present in the room. He told me afterwards, "You did mean me, but I don't feel addressed, we just can speak to them don't we?"
Furthermore the question was: who is an interested person who can go to a higher court to try to stop the introduction into the market. Ordinairy people cannot go anymore to court when they aren't an interested party according to some judges. But there isn't a law yet that describes what a interesting person or - party really is. nd the Actio Popularis, the law that gave everyone the opportunity to go to court in case of undesired decisions of the government is been abolished silently and nobody knew what had happend. More introductions into the market of GMOs will come up, but all is a lot of work.
Three other persons also spoke. One older person who was a tulip grower and nowadays is a pensioner who grows organic bulbs, spoke long and more in a spiritual way and after an hour and a half the hearing was done.
Scientific papers of Dr. Lotter, (1) and (2).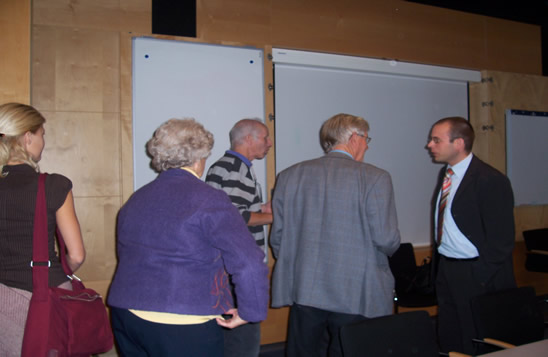 After the hearing in the Hague.
Deutsch
2. Oktober 2009 Über die mündliche Verhandlung vom Moonaqua tm:

Die Anhörung ist gut gelaufen. Wir waren mit 6 Personen, das Ministerium auch und es gab einen unabhängigen männlichen Sekretär der alles auf Band aufnahm. Ich konnte eine halbe Stunde 14 verschiedene Einwende von Unterzeichnern der Petition vorlesen (einige in Englisch, eine in Französisch, der Vorsitzende sagte, dass ich nicht auf Französisch vorlesen sollte, weil niemand es verstehen konnte, aber der Einwand würde in das Protokoll aufgenommen werden). Ich zeigte das Foto der jungen Menschen in Polen.

Sie können die Einwende hier lesen: http://www.gentechvrij.nl/thegmofreecitizens.html .
Ich habe gefragt, ob die Entscheidung über die Petition vom Ministerium auch in anderen Sprachen sein könnte. Aber sie betonten, dass dies nicht möglich ist und nicht erlaubt, und sie baten mich, den kommenden (in 10 Wochen) Beschluss allen Unterzeichnern der Petition zu senden. Also muss ich selbst übersetzen.
Aber Portugiesisch, Italienisch, Spanisch und Französisch sind keine Sprachen, die ich meistere. In meiner Bitte habe ich die Zusammenarbeit zwischen den genannten Niaba (Niederländische Vereinigung von multinationalen Unternehmen wie Monsanto, Unilever usw.) und verschiedenen Ministerien und ihren Beamten genannt und daß einer der Beamten sich im Raum befindet. Er erzählte mir später, "Du hast mich gemeint, aber ich fühle mich nicht angesprochen, wir können mit ihnen reden oder nicht?"

Darüber hinaus war die Frage: Wer ist eine interessierte Person, die sich an ein höheres Gericht wenden könnte, um zu versuchen, die Einführung in den Markt zu verhindern. Nach einigen Richtern können gewöhnliche Menschen nicht mehr vor Gericht gehen, wenn sie nicht eine interessierte Partei sind. Aber es gibt noch kein Gesetz, das beschreibt, was eine interessante Person oder - Partei wirklich ist. Und die Popularklage, das Gesetz, dass jedem die Möglichkeit gab, vor Gericht zu gehen im Falle von unerwünschten Entscheidungen der Regierung, ist im Stillen abgeschafft worden und niemand wußte, was passiert ist. Weitere Einführungen von GVO auf den Markt werden kommen, aber alles ist viel Arbeit.

Drei weitere Personen sprachen ebenfalls. Eine ältere Person, ein früherer Tulpenanbauer und heute ein Rentner, der heute biologischen Zwiebeln anbaut, sprach lange und mehr in einem geistigen Sinne und nach anderthalb Stunden war die Anhörung zu Ende.
Scientific papers of Dr. Lotter, (1) and (2).
---
6th of September: Petition is over!
Press Release
Portuguese - and other European citizens don't like lilac/blue GMO-carnations!
Recently I wrote a petition against a GMO-carnation with changed colour, named Moonaqua TM of Florigene, as a spokeswoman of the European GMO-free Citizens to the Dutch Ministry of Environment. People asked me to translate it into English.
I also asked several people to translate a short text on the carnation into Portuguese, German, Italian and French. A lot of Portuguese reacted on my call, which was put on my website, to undersign my petition. It appears that the carnation is the symbol of Portugal because of the carnation revolution of 1974. In no time I have found 20 Portuguese sites (scroll down) where my petition was mentioned ( "uma petição sobre cravos OGM com a cor alterada"). See also Jornal de Notícias (at the moment, 1rst of September 2009, visited 1370 times). More reactions came from Brazil, Mauritius, USA, New Zealand, Australia, Canada, South-Africa, Cyprus, the Philippines, UK, Scotland, Spain, Italy, France, Belgium, Germany, Sweden, Poland and the Netherlands. People like dr. Mae-Wan Ho (UK, she has put a link of my petition and a story on it with a call up to sign it on the site of ISIS , ) and Prof. R. Cummins (Canada) of ISIS, Institute of Science in Society signed the petition themselves as well as
Mrs. Jadwiga Lopata, from Poland, winner of the Goldman Prize (eco- Nobelprice) and vice president ICPPC , and Sir Julian Rose president of the International Coalition to Protect the Polish Countryside; more signees are Le Centre d'Information sur l'Environnement France; Scarborough Against Genetic Engineering (SAGE) ; Ludovic Desbrus président de Agri Bio Ardèche (Ardèche France); Sebastian Mezger von RAPUNZEL NATURKOST AG; de OGM dangers organisation from France: and la Confédération Paysanne, sa commission OGM ; and Union of International Associations from Brussels . Several Dutch foundations signed, which are un- subsidised and therefore independent.
See my more extensive petition on this site (Dutch).
---
Jornal de Noticias about this petition (Portuguese).
Sign our petition on GMO-carnation Moonaqua (TM).Petition with objections to the intention of placing on the market (no cultivation) a GMO-carnation with altered flower color: Moonaqua™, C/NL/06/01.English petition with list for more signatures (PDF). English petition (PDF). English DIRECTIVE 2001/18/EC English DIRECTIVA 2001/18/CE (Spain)DIRECTIVE 2001/18/CE (France) DIRECTIVA 2001/18/CE (Portugal) Other countries English
July 28, 2009 We have just made a petition on GMO-carnations with changed colour. Named Moonaqua TM. These carnations are not yet available in Europe because they are genetically engineered and are not autorized. But the Dutch Ministry of Environment will in 6 weeks regarding placing on the EU market. You can protest against this flower till than. To test on the safety they use mice and human embryotic cells and that for a change in colour. There are enough ordinairy flowers with beautiful colours on the globe, we don't need artificial ones, I think. Sign my petition by sending an e-mail to this e-mail address by stating: Petition on GMO-carnation Moonaqua T , C/NL/06/01 and your name street town country without commas. More about the GMO carnation you can read here and here (EFSA Summary) . Deadline 1rst of September 2009.
Français
28 juillet 2009 Nous avons une pétition qui vient d'être faite sur les OGM a changé de couleur avec des
oillets. Nommé Moonaqua TM. Ces oeillets sont pas encore disponibles en Europe car ils sont génétiquement modifiés et ne sont pas autorisés. Mais le ministère néerlandais de l'Environnement veut donner l'accord ici 6 semaines. Vous pouvez protester contre cette fleur jusqu'à cette date. Pour tester sur la sécurité ils utilisent des souris et des cellules humaines d'embryon et cela pour un changement de couleur. Il ya suffisamment de fleurs ordinaires avec de belles couleurs dans le monde, nous n'avons pas besoin de fleurs artificielles, je crois. Signez ma pétition en envoyer un e-mail à cette adresse e-mail en précisant: Pétition sur les OGM- oeillet, l'oeillet Moonaqua T, C/NL/06/01 et votre nom rue ville pays sans virgules. Pour en savoir plus sur les OGM- oeillet, vous pouvez lire ici et ici (EFSA Summary). Date limite est le 1er septembre 2009.
Plus en Français

German
July 28, 2009 Wir haben gerade eine Beschwerdeschrift an unserem Ministerium für Umwelt geschreiben gegen die Nelke Moonaqua (TM) mit geänderte Farbe. Diese Nelken sind noch nicht verkäuflich in den EU weil sie gentechnisch geändert sind und jetzt noch nicht zugelassen. Das Holländische Ministerium möchte dass machen nach 6 Wochen für ganz Europa . Sie können dagegen protestieren bis an den ersten September. Mann hat Mäuse misbraucht um die Giftigkeit zu testen. Die Tiere werden am Ende getötet. Auch verwendete man menschliche Fetus Zellen bei ähnliche Nelken. Und dass für eine andere Farbe! Es gibt tausende schöne Blumen ohne die Verwendung vom Gentechnik! Unterschreiben Sie bitte mein Beschwerde durch das Schicken von Ihre Name Hausadresse Wohnort Land und e-mail Adresse ohne Kommas zu diese e-mail Adresse mit folgendem Satz: Beschwerde bezüglich genveränderte Nelken Moonaqua T , C/NL/06/01".
Portuguese
Acabamos de terminar uma petição sobre cravos OGM com a cor alterada. Nomeado Moonaqua (TM). Estes cravos ainda não estão disponíveis na Europa, porque eles são geneticamente modificados e ainda não não estão autorizados. Mas o Ministério do Meio Ambiente Holandês irá autorizar dentro de 6 semanas. Você pode protestar contra esta flor até esse prazo. Para testar sobre a segurança destas flores utilizam ratos e células embrionárias de humanos e tudo isto por uma mudança de cor. Existem uma grande variedade de cravos com belas cores em todo o globo, não precisamos de cores artificiais. Assine a nossa petição, enviando um e-mail para este endereço info(at)gentechvrij.nl, declarando em assunto: Petição sobre cravos-OGM Moonaqua T, C/NL/06/01, inicando no corpo da mensagem seu nome da rua cidade país sem vírgulas. Mais informações sobre os cravos OGM você pode ler aqui e aqui (AESA Síntese) . Prazo até 1 de Setembro de 2009. Veja os links em http://www.gentechvrij.nl/thegmofreecitizens.html
See also: link to Jornal de Noticias.
Italiano
Firma la nostra petizione sul garofano geneticamente modificato Moonaqua TM . 28 luglio 2009. La petizione riguarda i garofani geneticamente modificati per avere un colore nuovo chiamati Moonaqua TM .
Essendo geneticamente modificato questo tipo di garofano non è ancora disponibile in Europa perché non è autorizzato, ma l'autorizzazione verrà concessa dal Ministero dell'Ambiente olandese entro 6 settimane.
Entro tale data sarà possibile protestare contro l'introduzione di questo fiore.
Per studiare la sicurezza di tali fiori vengono usate topi e cellule embrionali umane.
Non abbiamo bisogno di fiori artificiali, ci bastano i fiori con colori bellissimi offerti dalla natura.
Per firmare la mia petizione manda una e -mail a questo indirizzo* scrivendo:
Petizione sul garofano geneticamente modificato Moonaqua TM, C/NL/06/01 e il tuo nome strada città nazione senza virgole.
Ulteriori informazioni sui garofani geneticamente modificati sono reperibili qui e qui (Riassunto EFSA).
Ricordo che il termine ultimo per l'invio della petizione è il 1 settembre 2009.
Per ulteriori informazioni: http://www.gentechvrij.nl/thegmofreecitizens.html
English to Italian translation by Nadia Simonini - ISDE Italia). Grazie tante!
We also thank R. Sanna for helping us with the text and J. Soares for the translating of the text into Portuguese.
Dutch
24 juli 2009: 24 juli 2009: We hebben een bezwaarschrift geschreven over een gentech anjer genaamd Moonaqua C/NL/06/01 goedgekeurd door VROM en NLV voor markttoelating in de hele EU. Je kunt bezwaar maken. Voorbeeldbezwaarschrift hier te downloaden. Je kunt je naam, adres, woonplaats, datum en e-mail adres doorgeven zonder komma's ertussen als je het bezwaarschrift mede wilt ondertekenen. Deadline 1 september 2009. Hoe doe je dat ? 1. Lees het bezwaarschrift. 2. Stuur een e-mail naar dit adres met de vermelding "Bezwaar tegen markttoelating gentech anjer Moonaqua T , C/NL/06/01." en je gegevens. Wij zorgen er voor dat het bezwaarschrift met je gegevens naar VROM gestuurd worden.
---
In the spotlights:
www.biopiraterie.org
Download le PDF
Guaranteeing the rights of owners of traditional knowledge

Biodiversity is a treasure of resources which are unequally distributed around the world. In areas of high biological diversity, indigenous people have contributed to the development and preservation of knowledge of biological resources. But these resources are increasingly necessary to the development of life science-based industries in the cosmetics, pharmaceutical and agribusiness markets.

---
Tell our Dutch ministers or your own ministers that they will vote in favour of GMO-free countries in Europe amongst other things, Go to the on-line Stop The Crop Cyber Action.
Stop The Crop Cyber Action Letter also translated for:
For UK: download the letter and collect signatures.
For Belgium: download the letter and collect signatures.(French language).
For Belgium download the letter and collect signatures.(Dutch language).
For Sweden; download the letter and collect signatures.
With thanks to www.gmo-free-regions.org
---
Publications. All from this site.
Scientific evidence documenting the negative impacts of genetically modified (GM) foods on human and animal health and the environment.
| | | | |
| --- | --- | --- | --- |
| 10 reasons why we don't need GM foods | | | |
If you want to print this article as a leaflet, download a PDF .
With the cost of food recently skyrocketing - hitting not just shoppers but the poor and hungry in the developing world - genetically modified (GM) foods are once again being promoted as the way to feed the world. But this is little short of a confidence trick. Far from needing more GM foods, there are urgent reasons why we need to ban them altogether.
1. GM foods won't solve the food crisis
A 2008 World Bank report concluded that increased biofuel production is the major cause of the increase in food prices.[1] GM giant Monsanto has been at the heart of the lobbying for biofuels (crops grown for fuel rather than food) - while profiting enormously from the resulting food crisis and using it as a PR opportunity to promote GM foods!
"The climate crisis was used to boost biofuels, helping to create the food crisis; and now the food crisis is being used to revive the fortunes of the GM industry." - Daniel Howden, Africa correspondent of The Independent[2]
"The cynic in me thinks that they're just using the current food crisis and the fuel crisis as a springboard to push GM crops back on to the public agenda. I understand why they're doing it, but the danger is that if they're making these claims about GM crops solving the problem of drought or feeding the world, that's bullshit." - Prof Denis Murphy, head of biotechnology at the University of Glamorgan in Wales[3]
2. GM crops do not increase yield potential
Despite the promises, GM has not increased the yield potential of any commercialised crops.[4] In fact, studies show that the most widely grown GM crop, GM soya, has suffered reduced yields.[5]
"Let's be clear. As of this year [2008], there are no commercialized GM crops that inherently increase yield. Similarly, there are no GM crops on the market that were engineered to resist drought, reduce fertilizer pollution or save soil. Not one." - Dr Doug Gurian-Sherman, former biotech specialist for the US Environmental Protection Agency and former advisor on GM to the US Food and Drug Administration[6]
3. GM crops increase pesticide use
Official data shows that in the US, GM crops have produced an overall average increase, not decrease, in pesticide use compared to conventional crops.[7]
"The promise was that you could use less chemicals and produce a greater yield. But let me tell you none of this is true." - Bill Christison, President of the US National Family Farm Coalition[8]
4. There are better ways to feed the world
A major recent UN/World Bank-sponsored report compiled by 400 scientists, and endorsed by 58 countries, concluded that GM crops have little to offer global agriculture and the challenges of poverty, hunger, and climate change, because better alternatives are available.[9]
5. Other farm technologies are more successful
Integrated Pest Management and other innovative low-input or organic methods of controlling pests and boosting yields have proven highly effective, particularly in the developing world.[10] Other plant breeding technologies, such as Marker Assisted Selection (non-GM genetic mapping), are widely expected to boost global agricultural productivity more effectively and safely than GM.[11]
"The quiet revolution is happening in gene mapping, helping us understand crops better. That is up and running and could have a far greater impact on agriculture [than GM]." - Prof John Snape, head of the department of crop genetics, John Innes Centre[12]
6. GM foods have not been shown to be safe to eat
Genetic modification is a crude and imprecise way of incorporating foreign genetic material (e.g. from viruses, bacteria) into crops, with unpredictable consequences. The resulting GM foods have undergone little rigorous and no long-term safety testing, but animal feeding tests have shown worrying health effects.[13] Only one study has been published on the direct effects on humans of eating a GM food.[14] It found unexpected effects on gut bacteria, but was never followed up.
"We are confronted with the most powerful technology the world has ever known, and it is being rapidly deployed with almost no thought whatsoever to its consequences." - Dr Suzanne Wuerthele, US Environmental Protection Agency (EPA) toxicologist
7. Stealth GMOs in animal feed - without consumers' consent
Meat, eggs and dairy products from animals raised on the millions of tons of GM feed imported into Europe do not have to be labelled. Studies have shown that if GM crops are fed to animals, GM material can appear in the resulting products.[15] As GM foods have been shown to affect animals' health, eating such "stealth GMOs" may affect the health of consumers.
8. No one is monitoring the impact of GM foods on health
It is claimed that Americans have eaten GM foods for years with no ill effects. But these foods are unlabeled in the US and no one has monitored the consequences. With other novel foods like trans fats, it has taken decades to realize that they have caused millions of premature deaths.[16]
9. GM and non-GM cannot co-exist
GM contamination of conventional and organic food is increasing. An unapproved GM rice that was grown for only one year in field trials was found to have extensively contaminated the US rice supply and seed stocks.[17] In Canada, the organic oilseed rape industry has been destroyed by contamination from GM rape.[18] In Spain, a study found that GM maize "has caused a drastic reduction in organic cultivations of this grain and is making their coexistence practically impossible".[19]
The time has come to choose between a GM-based, or a non-GM-based, world food supply.
"If some people are allowed to choose to grow, sell and consume GM foods, soon nobody will be able to choose food, or a biosphere, free of GM. It's a one way choice, like the introduction of rabbits or cane toads to Australia; once it's made, it can't be reversed." - Roger Levett, specialist in sustainable development[20]
10. We can't trust GM companies
The big biotech firms pushing their GM foods have a terrible history of toxic contamination and public deception.[21] GM is attractive to them because it gives them patents that allow monopoly control over the world's food supply. They have taken to harassing and intimidating farmers for the "crime" of saving patented seed or "stealing" patented genes - even if those genes got into the farmer's fields through accidental contamination by wind or insects.[22]
"Farmers are being sued for having GMOs on their property that they did not buy, do not want, will not use and cannot sell." - Tom Wiley, North Dakota farmer[23]
If you want to print this article as a leaflet, download a PDF .
References
1. "A Note on Rising Food Prices", Donald Mitchell, World Bank report, 2008.
http://image.guardian.co.uk/sys-files/Environment/documents/2008/07/
10/Biofuels.PDF
2. "Hope for Africa lies in political reforms", Daniel Howden, The Independent, 8 September 2008, http://www.independent.co.uk:80/opinion/commentators/daniel-howden-hope-for-africa-lies-in-political-reforms-922487.html , accessed September 2008
3. "GM: it's safe, but it's not a saviour", Rob Lyons, Spiked Online, 7 July 2008, http://www.spiked-online.com/index.php?/site/article/5438/ , accessed October 2008
4. "The adoption of bioengineered crops", US Department of Agriculture Report, May 2002
5. "Glyphosate-resistant soyabean cultivar yields compared with sister lines", Elmore, R.W. et al., Agronomy Journal, Vol. 93, No. 2, 2001, pp. 408-412
6. "Genetic engineering - a crop of hyperbole", Doug Gurian-Sherman, The San Diego Union Tribune, 18 June 2008,
http://www.signonsandiego.com/uniontrib/20080618/news_lz1e18gurian
.html ,
accessed September 2008
7. "Genetically engineered crops and pesticide use in the United States: The first nine years", Benbrook, C., BioTech InfoNet, Technical Paper No. 7, October 2004,
http://www.biotech-info.net/Full_version_first
_nine.pdf ;
"Agricultural Pesticide Use in US Agriculture", Center for Food Safety, May 2008, using data from US Department of Agriculture
8. "Family Farmers Warn of Dangers of Genetically Engineered Crops", Bill Christison, In Motion magazine, 29 July 1998,
http://www.inmotionmagazine.com/genet1.html ,
accessed October 2008
9. "International Assessment of Agricultural Knowledge, Science and Technology for Development: Global Summary for Decision Makers (IAASTD)", Beintema, N. et al., 2008,
http://www.agassessment.org/index.
cfm?Page=IAASTD%20Reports&ItemID=2713 ;
accessed October 2008
10. See, for example: "International Assessment of Agricultural Knowledge, Science and Technology for Development: Global Summary for Decision Makers (IAASTD)", Beintema, N. et al., 2008,
http://www.agassessment.org/index.cfm?Page=IAASTD%20Reports&
ItemID=2713
accessed October 2008;
"Feeding the world?", J. N. Pretty, SPLICE (magazine of the Genetics Forum), Vol. 4, Issue 6, August/September 1998; "Organic agriculture and food security in Africa", United Nations report, 2008,
http://www.unep-unctad.org/cbtf/publications/UNCTAD_DITC_TED
_2007_15.pdf ,
accessed October 2008
11. "Marker-assisted selection: an approach for precision plant breeding in the twenty-first century", Collard, B.C.Y. and D.J. Mackill, Phil. Trans. R. Soc. B, Vol. 363, 2008, pp. 557-572, 2008; "Breeding for abiotic stresses for sustainable agriculture", Witcombe J.R. et al., Phil. Trans. R. Soc. B, 2008, Vol. 363, pp. 703-716
12. "Gene mapping the friendly face of GM technology", Professor John Snape, Farmers Weekly, 1 March 2002, p. 54
13. Here is just a small selection of these papers: "Genetically modified soya leads to the decrease of weight and high mortality rate of rat pups of the first generation", Ermakova I.V., EcosInform, Vol. 1, 2006, pp. 4-9; "Fine structural analysis of pancreatic acinar cell nuclei from mice fed on GM soybean", Malatesta, M. et al., Eur. J. Histochem., Vol. 47, 2003, pp. 385-388; "Ultrastructural morphometrical and immunocytochemical analyses of hepatocyte nuclei from mice fed on genetically modified soybean", Malatesta, M. et al., Cell Struct Funct., Vol. 27, 2002, pp. 173-180; "Ultrastructural analysis of testes from mice fed on genetically modified soybean", Vecchio L. et al., Eur. J. Histochem., Vol. 48, pp. 448-454, 2004; "A long-term study on female mice fed on a genetically modified soybean: effects on liver ageing", Malatesta M. et al., Histochem Cell Biol., Vol. 130, 2008, pp. 967-977; "Effects of diets containing genetically modified potatoes expressing Galanthus nivalis lectin on rat small intestine", Ewen S.W. and A. Pusztai, The Lancet, Vol. 354, 1999, pp. 1353-1354; "New Analysis of a Rat Feeding Study with a Genetically Modified Maize Reveals Signs of Hepatorenal Toxicity", Séralini, G.-E. et al., Arch. Environ. Contam. Toxicol., Vol. 52, 2007, pp. 596-602.
14. "Assessing the survival of transgenic plant DNA in the human gastrointestinal tract", Netherwood T. et al., Nature Biotechnology, Vol. 22, 2004, pp. 204-209.
15. "Detection of Transgenic and Endogenous Plant DNA in Digesta and Tissues of Sheep and Pigs Fed Roundup Ready Canola Meal", Sharma, R. et al., J. Agric. Food Chem., Vol. 54, No. 5, 2006, pp. 1699-1709; "Assessing the transfer of genetically modified DNA from feed to animal tissues", Mazza, R. et al., Transgenic Res., Vol. 14, No. 5, 2005, pp. 775-784; "Detection of genetically modified DNA sequences in milk from the Italian market", Agodi, A., et al., Int. J. Hyg. Environ. Health, Vol. 209, 2006, pp. 81-88
16. "Trans Fats: The story behind the label", Paula Hartman Cohen, Harvard Public Health Review, 2006,
http://www.hsph.harvard.edu/review/rvw_spring06/rvwspr06_
transfats.html ,
accessed October 2008
17. "Risky business: Economic and regulatory impacts from the unintended release of genetically engineered rice varieties into the rice merchandising system of the US", Blue, Dr E. Neal, report for Greenpeace, 2007,
http://www.greenpeace.org/raw/content/international/press/reports/
risky-business.pdf ,
accessed October 2008
18. "Seeds of doubt: North American farmers' experience of GM crops", Soil Association, 2002,
http://www.soilassociation.org/seedsofdoubt ,
accessed September 2008
19. "Coexistence of plants and coexistence of farmers: Is an individual choice possible?", Binimelis, R., Journal of Agricultural and Environmental Ethics, Vol. 21, No. 2, April 2008
20. "Choice: Less can be more", Roger Levett, Food Ethics magazine, Vol. 3, No. 3, Autumn 2008, p. 11, http://www.foodethicscouncil.org/node/384 , accessed October 2008
21. See, for example, Marie-Monique Robin's documentary film, "Le Monde Selon Monsanto" ("The World According to Monsanto"), ARTE, 2008; and the website of the NGO, Coalition Against Bayer-Dangers,
www.cbgnetwork.org
22. GM company Monsanto has launched many such lawsuits launched against farmers. A famous example is the case of the Canadian farmer Percy Schmeiser. Just one article on this case is "GM firm sues Canadian farmer", BBC News Online, 6 June 2000,
http://news.bbc.co.uk/2/hi/americas/779265.stm ,
accessed October 2008
23. "Monsanto "Seed Police" Scrutinize Farmers", Stephen Leahy, InterPress Service, 15 January 2004,
http://www.commondreams.org/headlines05/0115-04.htm ,
accessed October 2008
All from this site.
The GM 'Human' versus natural animal insulin debate
Disclaimer
All of the information contained within this website has been sourced from books, medical journals, articles and websites to present you with what, at the time of writing, we believe is accurate and relevant information. Any opinions expressed are those of the author. Nothing contained herein is a replacement for medical advice from a competent and well-informed medical professional.
Other topics referring our health:
German site about the dangers of fluor.
---
Creating Worldpeace? Support the Vedic pandits now!