Alle info in de database van het ministerie van IenM. Zoek op "Alle" en "Alle" en op "Appels".
Handtekeningen zetten voor burgers en stichtingen niet meer mogelijk.
Verklaringen over ziekten na het eten van gentech voedsel in de USA, zie onderaan.:
Onze zienswijze zie onder de kennisgeving.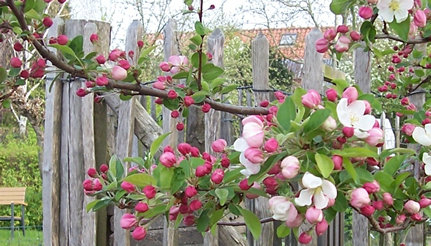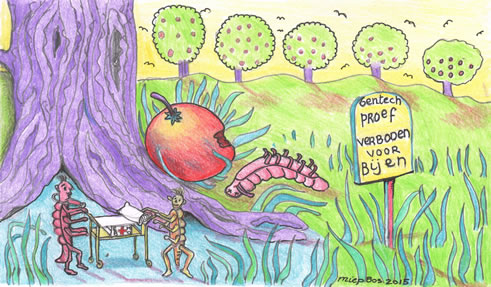 Kennisgeving Besluit genetisch gemodificeerde organismen milieubeheer 2013

Ontwerpbeschikking op de vergunningaanvraag van Stichting DLO te Wageningen voor introductie in het milieu van genetisch gemodificeerde organismen
Vergunningaanvraag

Op 29-07-2015 heeft het Ministerie van Infrastructuur en Milieu (hierna: IenM) van Stichting DLO te Wageningen een vergunningaanvraag op grond van het Besluit genetisch gemodificeerde organismen milieubeheer 2013 (hierna: Besluit ggo) ontvangen voor introductie in het milieu van genetisch gemodificeerde organismen. De aanvraag is geregistreerd met het kenmerk GGO IM-L 15-001.

De aanvraag heeft betrekking op kleinschalige veldwerkzaamheden met appelbomen met een verhoogd anthocyaangehalte. De werkzaamheden zijn voorgenomen plaats te vinden in de gemeente Wageningen. Op grond van het Besluit ggo dient de Staatssecretaris van IenM op deze aanvraag te beslissen. Procedure Voor de behandeling van bovengenoemde aanvraag zal de uniforme openbare voorbereidingsprocedure worden doorlopen, conform afdeling 3.4 van de Algemene wet bestuursrecht. Ontwerpbeschikking Naar aanleiding van de aanvraag is een ontwerpbeschikking opgesteld waarbij met de aanvraag wordt ingestemd.
Inzage aanvraag en ontwerpbeschikking De aanvraag, de ontwerpbeschikking en de overige relevante stukken liggen vanaf 23-09-2015 op werkdagen ter inzage bij het Rijksinstituut voor Volksgezondheid en Milieu, RIVM/VSP/Bureau GGO, Antonie van Leeuwenhoeklaan 9, Postbus 1, 3720 BA, Bilthoven.
De stukken kunnen daar ingezien worden van maandag t/m vrijdag van 10:00 tot 16.00 uur na afspraak via telefoon of e-mail (tel. (030) 274 2793, e-mail bggo@rivm.nl). De bezoeker dient zich met een geldig identiteitsbewijs te melden bij de receptie.

Deze kennisgeving, de ontwerpbeschikking en de bijbehorende stukken zijn ook beschikbaar op de internetpagina


Inspraak
Tot en met 03-11-2015 kan een ieder zijn of haar zienswijzen schriftelijk of mondeling naar voren brengen met betrekking tot de ontwerpbeschikking. Voor mondelinge zienswijzen kan contact opgenomen worden met het Ministerie van IenM / Bureau Genetisch Gemodificeerde Organismen, telefoon 030-2742793.

Schriftelijke zienswijzen dienen, onder vermelding van dossierkenmerk GGO IM-L 15-001, te worden gezonden aan:

De Staatssecretaris van IenM

T.a.v. RIVM/VSP/Bureau GGO

Postbus 1

3720 BA Bilthoven

De zienswijze moet zijn ondertekend en van een datum, naam en adres voorzien zijn. Er worden geen ontvangstbevestigingen op ingediende zienswijzen verstuurd. Zienswijzen die langs elektronische weg worden ingestuurd, worden niet geaccepteerd.
Voor verdere vragen over het indienen van zienswijzen zie het 'veelgestelde vragen' gedeelte op de internetpagina http://www.ggo-vergunningverlening.nl.
---
Onze zienswijze
Aantekenen
Staatssecretaris van IenM, mevrouw W. J. Mansveld
T.a.v. RIVM/VSP/Bureau GGO
Postbus 1
3720 BA Bilthoven
Lelystad, 15 oktober 2015.
Geachte mevrouw Mansveld,
Wij maken via deze zienswijze en open brief, bezwaar tegen een vergunningaanvraag van Stichting DLO.
Vergunningaanvraag
Op 29-07-2015 heeft het Ministerie van Infrastructuur en Milieu (hierna: IenM) van Stichting DLO te Wageningen een vergunningaanvraag op grond van het Besluit genetisch gemodificeerde organismen milieubeheer 2013 (hierna: Besluit ggo) ontvangen voor introductie in het milieu van genetisch gemodificeerde organismen. De aanvraag is geregistreerd met het kenmerk GGO IM-L 15-001.
De aanvraag heeft betrekking op kleinschalige veldwerkzaamheden met appelbomen met een verhoogd anthocyaangehalte. De werkzaamheden zijn voorgenomen plaats te vinden in de gemeente Wageningen. Op grond van het Besluit ggo dient de Staatssecretaris van IenM op deze aanvraag te beslissen. Kennisgevingstekst.
De Gentechvrije Burgers vinden dat deze proef niet mag plaatsvinden. Eenmaal in het milieu losgelaten, is het gentech organisme niet meer terug te halen. Er wordt gebruik gemaakt van cisgenese.
Wij ondersteunen de volgende stelling:
In werkelijkheid is cisgenese, waarbij ook - maar vaak niet uitsluitend - van planteigen materiaal gebruik gemaakt wordt, evenzeer een lokale ingreep in het genoom als transgenese, waarbij men de oneindig complex verweven samenhangen in het organisme negeert. Het is evenzeer een inherent schadelijke praktijk die in geen enkele vorm van landbouw thuishoort . Fragment Plantenveredeling in het belang van de gemeenschap van Jan Storms, uit Amsterdam, witbrief opgesteld voor Stichting Ekopark door storms(ico), wetenschappelijk adviesbureau voor intelligente cultuurontwikkeling. http://www.gentechvrij.nl/plaatjesgen/indemedia/veredeling%20in%20het%20belang%20van%20de%20gemeenschap01a.pdf
'Cisgenese gebruikt dezelfde techniek als transgenese', zegt hoogleraar biologische plantenveredeling Edith Lammerts van Bueren in universiteitsblad Wageningen World . 'Je doet de waarheid geweld aan door te zeggen dat cisgenese dezelfde resultaten oplevert als klassieke veredeling. Cisgenese haalt een gen uit de context. Bij klassieke veredeling komt met een gen een heel stuk chromosoom mee. Dat wordt door voorstanders [van cisgenese] als risico gepresenteerd; je weet niet welke genen je meeneemt. Dat is zo, maar met klassieke veredeling hebben we veel meer ervaring. We weten hoe we planten moeten selecteren. Dat is bij cisgenese niet zo.' https://www.wageningenur.nl/upload_mm/0/8/a/5fb2b5bd-221b-493e-8786-33261834a15d_WageningenWorld0212.pdf
"Niemand staat 's-morgens op met de wens gentech voedsel te gaan kopen."
Andrew Kimbrell - Directeur, Center for Food Safety, auteur. Vertaling : Niemand staat 's-morgens op met de wens gentech voedsel te gaan kopen. Niemand, geen enkel mens die op aarde woont en zegt: "Jongens, ik kan niet wachten om naar de supermarkt te gaan en gentech voedsel te kopen". Nu, waarom is dat? Dat is omdat na 30 jaar, en honderden biljoenen dollars van publiek- en private investering men niet in staat is geweest met één ding in dit voedsel op de proppen te komen dat de consument eigenlijk helpt. Geen betere smaak, geen lagere prijs, niet voedzamer, niets, niks, nul, nada. Zie bijlage 2.
Ook niemand zal er enthousiast van worden om een gentech appel te gaan eten omdat hij een zoetere smaak heeft en het vruchtvlees er rood uitziet. En het is nog maar de vraag of dat rode vruchtvlees gezonder is. Er zijn genoeg appels met een zoete smaak. Helaas zijn deze gentech appels niet te herkennen in een salade, of in een appelgebakje van de banketbakker. Zo wordt ons consumenten, onze keuzevrijheid wederom ontnomen. We hoeven onze gezondheid niet te riskeren met het eten van deze gentech appels. We zullen appels zoals Gala en Jumani links laten liggen. Leest u alleen al het relaas van Melanie Rachel James over de allergieën die ze kreeg na het eten van gentech "voedsel". (Blz. 7). En leest u een aantal voorbeelden van gentech gewassen, waar dieren aan stierven. (bijlage 2.)
Over de eerste gentech appel Arctic die in 2017 in de winkels in de USA en Canada zou kunnen liggen:
Fred Steele of the British Columbia Fruit Growers' Association said that it is going to be too hard for the consumer to make a decision in the grocery store. He predicts that many of us will leave apples out of our daily diet because of the uncertainty of the origin and whether they are safe or not for human consumption.
En:
Apple growers worldwide are opposed against the approval. They think the arctic apple may harm and undermine the healthy and natural image an apple has. Although the apple will be labeled " Arctic" , a label that clearly states the apple is GMO is not mandatory.
En:
"This whole thing is just another big experiment on humans for no good reason," said Ronnie Cummins, director of the Organic Consumers Association, to Reuters.

http://www.naturalnews.com/051456_GMO_apples_USDA_approval_orchards.html#ixzz3oEsYG0pq
Zouden de telers van de appelsoorten Gala en Junami het fijn vinden dat genen van hun rassen gebruikt worden voor de ontwikkeling van gentech appels? We betwijfelen het!
In de aanvraag staat o.a.:
Om MUMYB7O(R6) in te brengen is gebruik gemaakt van Agrobacterium tumefaciens en een binairplasmide wat op het T-DNA alleen MUMYBIO(R6) bevat en geen andere coderende sequenties,zoals antibioticumresistentiegenen .
Toch is het gebruik van Agrobacterium tumefaciens zeer omstreden. Het grootste gevaar bij gentech gewassen is volgens Dr. Mae Wan Ho horizontale genoverdracht. (HGT). Zij waarschuwt ook tegen Agrobacterium & Morgellons disease zie bijlage 1 en 2.
Fragment: A report submitted to MAFF in 1997 had indeed raised the possibility that Agrobacterium tumefaciens could be a vector for gene escape [16, 17].
The researchers found that it was extremely difficult to get rid of the Agrobacterium used in the vector system after transformation.
High rates of gene transfer are known to be associated with the plant root system and the germinating seed [18]. There, Agrobacterium could multiply and transfer transgenic DNA to other bacteria, as well as to the next crop plant. Knip, uitgebreider: bijlage 1.

Fragmenten chapter 3, Ban GMOs Now.
Authors Dr. Mae-Wan Ho Dr. Eva Sirinathsinghji
O.a. over Agrobacterium & Morgellons disease zie bijlage 2.
We lezen:
Anthocyanen uit planten worden niet toxisch geacht .
(Wikipedia;http://de.wikipedia.org/wiki/anthocyaneenLeeetal.1987).
Het verwijzen naar Wikipedia oogt niet erg wetenschappelijk, de waarde en kwaliteit zijn niet getoetst of peer reviewed.
We lezen verder:
De rechtstreekse introductie van dit appeleigen kleurgen in hoogkwalitatieve rassen is
het doel van dit project en de bestudering van kleurvorming, stabiliteit en bepaling van
Anthocyaanniveaus en smaak het doel van de veldproef.
En smaak? Wie gaat ze proeven? Er zou toch niet geproefd worden?
A.6. Geef aan of er consumptie-experimenten of voeder experimenten plaatsvinden.
Antwoord : N.v.t.
http://gmoinfo.jrc.ec.europa.eu/gmp_report.aspx?CurNot=B/NL/15/L01
We lezen:
Environmental Impact and Risk Management

Summary of foreseen field trial studies focused to gain new data on environmental and human health impact from the release:
A secondary goal of this field trial is to gain data on environmental and other aspects required by the Dutch government to be able to prepare for so-called next level field trials with these cisgenic apple lines. Multiplication by generating budwood and preparing for taste panel trials in due time once sufficient appropriate data have been collected in this field trial are additional secondary goals.
De ontwerpers zelf moeten dan maar gaan proeven en geen onwetende burgers proefkonijn laten zijn.
En:
De bomen worden handmatig bestoven met non-GM stuifmeel verzameld op de locatie Randwijk van Wageningen UR.
En:
Er worden geen bijenvolken ter bestuiving ingezet. ..Bordjes 'Verboden Toegang...
Kunnen bijen bordjes lezen?
Het op de markt brengen van deze zoete gentech appels met rood vruchtvlees is een marketingtruc en pure propaganda. Zo wil men er voor zorgen dat gentech geaccepteerd gaat worden. Genetische manipulatie is, volgens het boek "Altered Genes, Twisted Truth " van Dr. Steven Druker, dat hieronder genoemd wordt en dat zeer gedegen onderbouwd is, een zeer riskante, frauduleuze, onvoorspelbare, onbetrouwbare en gevaarlijke pseudowetenschap, die ons allen bedreigt.
Book Review: "Altered Genes, Twisted Truth " zie verder bijlage 3.
En het is niet de eerste kritiek die wordt gehoord, er zijn vele gewetensvolle wetenschappers die telkens opnieuw waarschuwen en die op allerlei mogelijke manieren systematisch bedreigd zijn en beperkt in hun vrije meningsuiting. Zie https://www.youtube.com/watch?v=-7J_bzS6hwY
Slot
De Gentechvrije Burgers dienen het algemeen belang (zie BUPO) door mensen te waarschuwen tegen het gevaar van gentechvoedsel en dienen daarmee hun eigen belang i.v.m. de gezondheid van henzelf, hun familie en van degenen die na hen komen en i.v.m. de gezondheid van de aarde met al haar bewoners als geheel. Wat u uiteindelijk beslist, is voor uw verantwoording.
Laatste nieuws: 14 oktober 2015: Nederland verbiedt samen met 18 andere EU landen en 4 regio's uit EU landen de teelt van 8 gentech maissoorten op hun nationale akkers! http://ec.europa.eu/food/plant/gmo/new/authorisation/cultivation/geographical_scope_en.htm En Rusland heeft zich gentechvrij verklaard. http://journal-neo.org/2015/10/01/victory-worlds-largest-nation-bans-gmo-food-crops/
10 oktober 2015:
Syngenta heeft hierop haar 2 gentech maizen, die dus geweigerd zijn, teruggetrokken. http://ec.europa.eu/food/plant/gmo/new/authorisation/cultivation/geographical_scope_en.htm
Hoogachtend,
Miep Bos, woordvoerster van De Gentechvrije Burgers, een Europees Consumentenplatform (The European GMO-free Citizens), Lelystad, Stichting Ekopark, Lelystad, Mevr. Wieteke Moody - van Dort,
Drs. T. Moody, Den Haag en alle andere Gentechvrije Burgers. Met ondersteuning van Stichting Natuurwetmoeders, Almere.

Lelystad
info@gentechvrij.nl
www.gentechvrij.nl
5 Bijlagen
Dit/deze zienswijze/open brief is ook te vinden via www.gentechvrij.nl/ap.html
Bijlage 1:
We lezen in Recent Evidence Confirms Risks of Horizontal Gene Transfer
ISIS Contribution to ACNFP/Food Standards Agency Open Meeting 13 November 2002
Dr. Mae-Wan Ho, Institute of Science in Society, PO Box 32097, London NW1 0XR
m.w.ho@i-sis.org.uk Tel: 202-7272-5636:
Fragmenten:
Horizontal gene transfer is one of the most serious, if not the most serious hazard of transgenic technology. I have been drawing our regulators' attention to it at least since 1996 [1], when there was already sufficient evidence to suggest that transgenic DNA in GM crops and products can spread by being taken up directly by viruses and bacteria as well as plant and animals cells. .. knip
The oft-repeated refrain that "transgenic DNA is just like ordinary DNA" is false. Transgenic DNA is in many respects optimised for horizontal gene transfer. It is designed to cross species barriers and to jump into genomes, and it has homologies to the DNA of many species and their genetic parasites (plasmids, transposons and viruses), thereby enhancing recombination with all of them [2]. Transgenic constructs contain new combinations of genes that have never existed, and they also amplify gene products that have never been part of our food chain [3].
...Another research project on horizontal gene transfer commissioned by the Ministry of Agriculture, Fisheries and Food (MAFF), the predecessor to the Food Standards Agency, concerns Agrobacterium tumefaciens , the soil bacterium that causes crown gall disease, which has been developed as a major gene transfer vector for making transgenic plants. Foreign genes are typically spliced into T-DNA - part of a plasmid called Ti (tumour-inducing) - that's integrated into plant genome.
It turns out that Agrobacterium injects T-DNA into plant cells in a process that strongly resembles conjugation , ie, mating between bacterial cells; and all the necessary signals and genes involved are interchangeable with those for conjugation [14].
That means transgenic plants created by T-DNA vector system have a ready route for horizontal gene escape, via Agrobacterium , helped by the ordinary conjugative mechanisms of many other bacteria that cause diseases [15].
A report submitted to MAFF in 1997 had indeed raised the possibility that Agrobacterium tumefaciens could be a vector for gene escape [16, 17].
The researchers found that it was extremely difficult to get rid of the Agrobacterium used in the vector system after transformation.
High rates of gene transfer are known to be associated with the plant root system and the germinating seed [18]. There, Agrobacterium could multiply and transfer transgenic DNA to other bacteria, as well as to the next crop plant.
Agrobacterium was also found to transfer genes into several types of human cells [19], and in a manner similar to that which it uses to transform plant cells.
We have submitted two relevant ISIS reports together with some specific questions to the ACNFP for consideration at the November 13 Open Meeting [20].
All the risks of horizontal gene transfer described above are real, and far outweigh any potential benefits that GM crops can offer. There is no case for allowing any commercial release of GM crops and food products. http://www.i-sis.org.uk/FSAopenmeeting.php Einde fragmenten.
Bijlage 2.
Quotes page 28, chapter 3, Ban GMOs Now.
Authors Dr. Mae-Wan Ho Dr. Eva Sirinathsinghji
Box 1 Accumulating evidence on the health hazards of GM food and feed
• A 2-year lab feeding trial reported in 2012 found rats of both sexes exposed to Roundup and/or Roundup-tolerant maize not sprayed with herbicide were 2 to 3 times as likely to die as controls and to develop large tumours, of mammary glands in females and of kidney and skin in males [10] (see [11, 12] (GM Cancer Warning Can No Longer Be Ignored and Excess Cancers and Deaths with GM Feed: the Stats Stand Up, SiS 56). In other words, the GMO without the herbicide was also harmful in every respect.
Pituitary disease was up more than 2 fold in females and liver and kidney diseases up 1.5 to 2 fold in males on GM maize alone.
• A Danish farmer found excessive illnesses and deaths in his pigs fed GM soy meal including chronic diarrhoea, birth defects, reproductive problems, bloating, stomach ulcers, weak and smaller piglets, and reduced litter size. These were entirely reversed when he put them on a GM-free diet [13] (GM Soy Linked to Illnesses in Farm Pigs, SiS 55).
• A meta-analysis pooling all available data on 19 feeding trials carried out for 90 days on GM soybean and maize, both glyphosate tolerant and Bt crops representing 83 % of commercialized GMOs, found significant disruption of liver and kidney functions [14, 15] (GM Feed Toxic, New Meta-Analysis Confirms, SiS 52).
• Professor emeritus Don Huber at Purdue University warned of "pathogen new to science" associated with glyphosate tolerant GM crops and livestock fed on them, causing unprecedented deaths and infertility [16, 17] (Emergency! Pathogen New to Science Found in Roundup Ready GM Crops and Scientist Defends Claim of New Pathogen Linked to GM Crops, SiS 50).
• Between 2005 and 2006, senior scientist Irina Ermakova at the Russian Academy of Sciences reported that female rats fed glyphosate-tolerant GM soybeans produced excessive numbers of severely stunted pups and more than half of the litter dying within three weeks, while the surviving pups were completely sterile [18, 19] (GM Soya Fed Rats: Stunted, Dead, or Sterile, SiS 33).
• Between 2004 and 2005, hundreds of farm workers and cotton handlers in Madhya Pradesh, India, reported allergy symptoms from exposure to Bt cotton containing Cry1Ac or both Cry1Ac and Cry1Ab proteins [20] (More Illnesses Linked to Bt Crops, SiS 30).
• Between 2005 and 2006, thousands of sheep died after grazing on Bt cotton crop residues in four villages in the Warangal district of Andhra Pradesh in India [21] (Mass Deaths in Sheep Grazing on Bt Cotton, SiS 30)
• In 2005, scientists at the Commonwealth Scientific and Industrial Research Organization in Canberra Australia tested a transgenic pea containing a normally harmless protein in bean (alpha-amylase inhibitor 1), and found it caused inflammation in the lungs of mice and provoked sensitivities to other proteins in the diet [22, 23] (Transgenic Pea that Made Mice ill, SiS 29).
• From 2002 to 2005, scientists at the Universities of Urbino, Perugia and Pavia in Italy published reports indicating that GM-soya fed to young mice affected cells in the pancreas, liver and testes [24-28].
• In 2003, villagers in the south of the Philippines suffered mysterious illnesses when a Monsanto Bt maize hybrid containing Cry1Ab protein came into flower; antibodies to the Cry1Ab protein were found in the villagers, there have been at least five unexplained deaths and some remain ill to this day [29] (GM Ban Long Overdue, SiS 29).
• In 2004, Monsanto's secret research dossier showed that rats fed MON863 GM maize containing Cry3Bb protein developed serious kidney and blood abnormalities [30].
• Between 2001 and 2002, a dozen cows died in Hesse Germany after eating Syngenta GM maize Bt176 containing Cry1Ab/Cry1Ac plus glufosinate-tolerance; and more in the herd had to be slaughtered from illnesses [31] (Cows Ate GM Maize & Died, SiS 21). In 2012, biotech giant Syngenta was criminally charged with denying knowledge it had since 1996 that its GM maize kills livestock during a civil court case brought by the farmer that ended in 2007 [32] (Syngenta Charged for Covering up Livestock Deaths from GM Corn, SiS 55) (see Figure 5).
• In 1998, senior scientist Arpad Pusztai and colleagues formerly of the Rowett Institute in Scotland reported damage in every organ system of young rats fed GM potatoes containing snowdrop lectin, including a stomach lining twice as thick as controls [33].
• Also in 1998, scientists in Egypt found similar effects in the gut of mice fed Bt potato containing a Cry1A protein [34].
• In 2002, Aventis company (later Bayer Cropscience) submitted data to UK regulators showing that chickens fed glufosinate-tolerant GM maize Chardon LL were twice as likely to die compared with controls [35] (Animals Avoid GM Food, for Good Reasons, SiS 21).
Quotes page 36, chapter 3:
8.1 Agrobacterium & Morgellons disease
The Centers for Disease Control (CDC) in the United States launched an investigation on 'Morgellons disease' in January 2008 [99, 100] (see [101] Agrobacterium & Morgellons Disease, A GM Connection?, SiS 38) after receiving thousands of complaints from people with this bewildering condition described as an unexplained skin condition with a reported range of symptoms including crawling, biting and stinging sensations; granules, threads, fibres, or black speck-like materials on or beneath the skin, and/or skin lesions; in some cases also fatigue, mental confusion, short term memory loss, joint pain, and changes in visions.
Morgellons disease first became known in 2001, when Mary Leitao created a web site describing the illness in her young son, which she named after a 17th century medical study in France describing similar symptoms. Until then, people with Morgellons disease have been diagnosed as cases of "delusional parasitosis", in which the symptoms are deemed entirely imaginary, and lesions allegedly due to self-inflicted wounds.
In a paper [102] published in 2006, researchers from the Morgellons Research Foundation (which no longer exists*) identified the states of California, Texas and Florida as having the highest number of cases of Morgellons disease in the United States, but all 50 US states and 15 other nations, including Canada, the UK, Australia, and the Netherlands, have reported cases of the disease.
The two main occupational groups reporting symptoms are nurses and teachers, with nurses outnumbering teachers three to one. The risk factor common to both groups was suspected to be a transmitted infectious agent. Contact with soil or waste products appears to be associated with the disease. Cases have been reported in cats and dogs, as well as horses. The list of people registered with Morgellons disease totalled 12 106 worldwide, as recorded by Morgellons Research Foundation on 12 April 2008.
CDC's investigation was to be carried out in conjunction with Kaiser Permanente's Northern California Division of Research and the US Armed Forces Institute of Pathology. What finally prompted CDC to investigate the disease was probably the discovery in January 2007 of Agrobacterium DNA in fibres of skin biopsies taken from Morgellons patients. The work was carried out by a team that included Vitaly Citovsky, a professor of molecular and cell biology at Stony Brook University in New York (SUNY), the very scientist who discovered Agrobacterium can transfer genes to human cells [97]. The team took scanning electron microscope pictures of the fibres in or extruding from the skin of patients suffering from Morgellons disease, confirming that they are unlike any ordinary natural or synthetic fibres (Figure 9).
The team also analysed patients for Agrobacterium DNA. Skin biopsy samples from Morgellons patients were subjected to highstringency polymerase chain reaction (PCR) tests for genes encoded by the Agrobacterium chromosome and for Agrobacterium virulence (vir) genes and T-DNA on its Ti plasmid.
They found that "all Morgellons patients screened to date have tested positive for the presence of Agrobacterium, whereas this microorganism has not been detected in any of the samples derived from the control, healthy individuals."
Their preliminary conclusion is that "Agrobacterium may be involved in the etiology and/or progression" of Morgellons disease.
The unpublished findings, including electron micrographs, were posted on a website in January 2007 that no longer exists. A brief publication in Journal of Investigative Medicine reported the finding of Agrobacterium genes in two Morgellons patients and the authors including Citovsky explained why they looked for Agrobacterium [103]: "Morgellons skin fibers appear to contain cellulose. This observation indicates possible involvement of pathogenic Agrobacterium, which is known to produce cellulose fibers at infection sites within host tissues."
We wrote a report on the possible connection between the use of Agrobacterium in genetic modification and the widespread release of GM crops contaminated with genetically modified Agrobacterium and Morgellons disease [101], which was sent to the CDC.
We urged the CDC to "clarify the role of Agrobacterium in the aetiology of Morgellons Disease as a matter of urgency." In 2012, after a long delay, the CDC published its verdict [104]: "No common underlying medical condition or infectious source was identified, similar to more commonly recognized conditions such as delusional infestation." They had done no investigations on the Agrobacterium connection; and the list of authors did not include Citovsky or his associates. The case is far from closed.
* Site is weer online http://www.morgellons-research.org/morgellons/
Cut.
Table 1 Hazards of GMOs
1. Uncontrollable, unpredictable impacts on safety due to the genetic modification process* Scrambling the host genome* Widespread mutations* Inactivating genes* Activating genes* Creating new transcripts (RNAs) including those with regultory functions* Creating new proteins* Creating new metabolites or increasing metabolite to toxic levels* Activating dormant viruses* Creating new viruses by recombination of viral genes in GM insert with those in the host genome*
2. Toxicity of transgene protein(s) introduced (intentionally or otherwise) Transgene protein toxic* Transgene protein allergenic or immunogenic* Transgenic protein becoming allergenic or immunogenic due to processing* Unintended protein created by sequence inserted may be toxic or immunogenic
3. Effects due to the GM insert and its instability* Genetic rearrangement with further unpredictable effects* Horizontal gene transfer and recombination* Spreading antibiotic and drug resistance* Creating new viruses and bacteria that cause diseases Creating mutations in genomes of cells to which the GM insert integrate including those associated with cancer*
4. Toxicity of herbicides used with herbicide tolerant GM crops*
*Documented in scientific literature page 29.
http://www.i-sis.org.uk/Ban_GMOs_Now.php
Bijlage 3
Book Review: Altered Genes, Twisted Truth by Dr. Steven Druker.
Altered Genes, Twisted Truth tells the fascinating and frequently astounding story of how the massive enterprise to reconfigure the genetic core of the world's food supply was born, how it has routinely advanced through illicit means, and how it is recklessly subjecting our health and the health of the environment to unacceptable risks. It reveals that the venture is not based on sound science, as its proponents claim, but on the evasion of the standards of science; and it shows how for more than three decades, a host of eminent biologists and esteemed institutions have systematically contorted the truth in order to conceal the unique risks of gene-altered foods - and get them onto our dinner plates.

The book also exposes how the U.S. Food and Drug Administration (FDA) became a key accomplice, in furtherance of its explicit agenda "to foster" biotechnology. Based on documents pried from the FDA's files through a lawsuit that I initiated, it describes how the agency's politically appointed administrators disregarded the extensive warnings of their own scientists about the unusual risks of these novel products and ushered them onto supermarket shelves in violation of the mandates of federal food safety law. It further shows how they concealed their crime by covering up their experts' warnings and persistently lying about the facts, creating the illusion that genetically engineered (GE) foods have undergone rigorous scientific review when, in reality, the standard procedures of science have been circumvented. Consequently, for fifteen years, America's families have been regularly ingesting a group of novel products that are not only being sold illegally, but were determined to be unduly hazardous by the FDA's scientific staff.
By the time you've finished reading this story, it will be clear that the degradation of science it documents has not only been unsavory but unprecedented - and that in no other instance have so many scientists so seriously subverted the standards they were trained to uphold, misled so many people, and imposed such magnitude of risk on both human and environmental health.

More praise for Altered Genes, Twisted Truth :
"Lucid, illuminating, and alarming. As a former New York City prosecutor, I was shocked to discover how the FDA illegally exempted GE foods from the rigorous testing mandated by federal statute. And as the mother of three young kids, I was outraged to learn how America's children are being callously exposed to experimental foods that were deemed abnormally risky by the FDA's own experts." -- Tara-Cook Littman, J.D.
"Druker's brilliant expose catches the promoters of GE food red-handed: falsifying data, corrupting regulators, lying to Congress. He thoroughly demonstrates how distortions and deceptions have been piled one on top of another, year after year, producing a global industry that teeters on a foundation of fraud and denial. This book is sure to send shockwaves around the world." -- Jeffrey M. Smith, international bestselling author of Seeds of Deception & Genetic Roulette
"Steven Druker is a hero. He deserves at least a Nobel Prize." -- Jane Goodall, Ph.D., D.B.E., and U.N. Messenger of Peace (from the Foreword)
https://www.organicconsumers.org/news/book-review-altered-genes-twisted-truth

Fragment van een interview van Dr. Mercula met Dr. Druker 'Disappearing a GMO Disaster'
Powerful, persistent, and successful misinformation was dispensed to disassociate genetic engineering from the toxic contamination of this L-tryptophan supplement. Consequently, most people-including many scientists-do not know that this lethal epidemic was caused by a genetically engineered food supplement.
According to Steven, claims that the toxic contamination was caused by some defect in the manufacturing process, independent of genetic engineering, simply are not true. In his book, Steven details the scientific evidence that strongly suggests the toxin was most likely produced by bacterial enzymes, probably within the bacteria themselves, or in the broth before it was put through the purification system, which would place the blame squarely on the genetic tampering itself; not on some flawed manufacturing process.
"It's just so gross that you will hear from both governments around the world who are promoting this and from scientists a claim that no genetic engineered food has ever been associated with a human health problem. One government official has stated that not so much as a sneeze or a sniffle has ever been associated with the product of genetic engineering. What? There was a major epidemic!"
http://articles.mercola.com/sites/articles/archive/2015/03/08/altered-genes-twisted-truth-gmo.aspx
Bijlage 4
Meer gevallen van allergieën en ziekten door GMO's.

Fragment: Five Routes to Alzheimer's Disease
At present, evidence suggests there are a number of causes promoting Alzheimer's symptoms, including the following:
Gut dysfunction , caused by a combination of excess sugars and processed foods; antibiotic exposure from food and medicine ; genetically engineered (GE) grains, which create foreign proteins; and pesticide exposure, just to name a few well-known culprits.
http://articles.mercola.com/sites/articles/archive/2015/09/24/alzheimers-transmission.aspx?e_cid=20150924Z2_DNL_art_1&utm_source=dnl&utm_medium=email&utm_content=art1&utm_campaign=20150924Z2&et_cid=DM86100&et_rid=1137807853
Een bericht uit 2014 uit Australië:
This is my story, as someone has put it, I am the 'canary in the cage'. . I hope that I could be living proof that genetically modified products are unsafe, I will explain. I emigrated from the United Kingdom to Australia nearly nine years ago. In that time I had developed a severe allergy. On contact with foods, my the skin on my hands would break down and bleed. I was constantly fighting secondary infections and being prescribed antibiotics to fight the infections. I was in constant pain every day. Everything I touched everything I did with my hand (mainly my main hand - my left, I am left handed). It was assumed that I had just developed eczema over time. Even though I had never suffered with eczema in the United Kingdom. However, in September last year (2013) I returned to the UK for the first time since emigrating for a long overdue visit. My visit in the UK lasted 4 weeks. During this time the severe allergy on my hand disappeared. On return back to Australia I was determined to find the trigger to the severe allergy which had such a negative impact on my everyday life here in Australia. Note, I had some allergy testing here in Australia about 1-2 years ago, and food allergies were indicated including wheat, corn and potato. Within hours of arriving home I touched and ate some normal bread. Within 12 hours my hands started to break down and bleed again. First I tried a gluten free diet - this seemed to be inconclusive - the hands did not heal completely like they had done in the UK. Then on further research I discovered that Australia produces genetically modified products, whereas Europe does not. Could this be the cause of my severe allergic reaction? Note, the genetically modified products here in Australia include corn and potato - possibly wheat. See reference to my note earlier on the allergy testing. I experimented and changed my diet to include only organically produced (no genetically modified or roundup ready) foods. The result? My severe allergy has disappeared! My diet consists of foods in Australia that are organically produced and products produced in Europe. Please feel free to use me as living proof that genetically modified products are unsafe. I have spoken to other people who have moved to Australia, who have also developed allergies since moving here. As an individual I feel helpless to do anything about this - but together we can do something to stop genetically modified production .
about a year ago
http://www.todaytonightadelaide.com.au/stories/gm-labelling
By Jeffrey M. Smith , fragment: On May 19 th , the American Academy of Environmental Medicine (AAEM) called on "Physicians to educate their patients, the medical community, and the public to avoid GM (genetically modified) foods when possible and provide educational materials concerning GM foods and health risks." [1 ] http://responsibletechnology.org/doctors-warn/
GM soy and allergic reactions
Zie hier over ook: Genetic Roulette: The Gamble of our Lives ( 2012 ) Director:
Jeffrey Smith (as Jeffrey M Smith )
When the US government ignored repeated warnings by its own scientists and allowed untested genetically modified (GM) crops into our environment and food supply, it was a gamble of unprecedented proportions. The health of all living things and all future generations were put at risk by an infant technology. After two decades, physicians and scientists have uncovered a grave trend. The same serious health problems found in lab animals, livestock, and pets eating GM foods are now on the rise in the US population. And when people and animals stop eating genetically modified organisms (GMOs), their health improves. This seminal documentary provides compelling evidence to help explain the deteriorating health of Americans, especially children, and offers a recipe for protecting ourselves and our future. http://www.imdb.com/title/tt2546394/
Jeffrey Smith : They never checked, if the BT-toxin-gene transfers from, say, corn-chips into our gut-bacteria and continues to function. If it does, it might turn our intestinal flora into living pesticide-factories. This might explain, why 93% of pregnant women tested in Canada had the BT-toxin in their blood as well as in the blood of 80% of their unborn fetuses.
[ first lines ]
Narratress : America... bountiful... innovative... entrepreneurial... diverse... progressive... sick? Americans get sick more often than Europeans and people in other industrialized countries, and they're getting sicker. Since the mid-90s, the number of Americans suffering from at least three chronic illnesses nearly doubled. And America's international ranking for infant-mortality and life-span also plunged. There are many reasons why this is taking place.
[ the title is displayed: GENETIC ROULETTE - THE GAMBLE OF OUR LIVES ]
Narratress : One may be right in front of you .
Jeffrey Smith : There is so much increase in the use of Roundup, it's now found by the US Geographical Survey in 60 to 100% of the air-samples, the rain-samples, and the water-samples. It's in the urine of city-dwellers, it's in the blood of pregnant women, it's in their fetuses. It's everywhere.
Jeffrey Smith : In the U.S., GMO grown side by side with organics show no difference in yield for soy and corn, except in times of drought, when the organic outperforms the GMO.
Jeffrey Smith : The process of insertion plus cloning creates massive collateral damage. There can be hundreds or thousands of mutations up and down the DNA, and hundreds or thousands of genes can change their levels of expression. This creates unpredictable side-effects.
Andrew Kimbrell - Director, Center for Food Safety; Author : No one gets up in the morning wanting to buy a GMO-food. No one, not a single human being on Earth gets up and says, "Boy, I can't wait to go to the supermarket and buy a GMO-food." Now, why is that? That's because after 30 years, and hundreds of billions of Dollars of public and private investment, they have not been able to come up with one thing in this food that actually helps the consumer. No better taste, no lower price, no more nutrition, nothing, zip, zero, nada.
[ last lines ]
Farmer : I set up feeders, side by side, with regular feed-store feed. And the chickens chose the non-GMO feed. Naturally. They emptied the feeder without touching the other one, so I refilled it, and I says, "I'm gonna play a trick on my birds." I flipped it, flipped the two feeders from spot to spot and the birds still chose the non-GMO food. Which is incredible.
Shiv Chopra - Former Health Canada Microbiologist; Author : These companies are parasites. They don't care. They want to make money, they want to run governments, and they are right now running governments. I don't know how long, but I think that time is running out.
http://www.imdb.com/title/tt2546394/trivia?tab=qt&ref_=tt_trv_qu
Zie ook https://www.youtube.com/watch?v=eUd9rRSLY4A
"Apfel gala" by Zyance - Eigen werk. Licensed under CC BY-SA 2.5 via Wikimedia Commons - https://commons.wikimedia.org/wiki/File:Apfel_gala.JPG#/media/File:Apfel_gala.JPG
"Junami" by Rasbak - Eigen werk. Licensed under CC BY-SA 3.0 via Wikimedia Commons - https://commons.wikimedia.org/wiki/File:Junami.jpg#/media/File:Junami.jpg
Bijlage 5:
Handtekeningen van o.a. Stichting Ekopark, Lelystad en Stichting Natuurwetmoeders, Almere en Gentechvrije Burgers.
---
Video verklaringen over ziekten na het eten van gentech voedsel in de USA.