Demonstratie tegen Gentech, 20 januari 2000, Haags Congresgebouw, Den Haag.
Op 20 en 21 januari 2000 was er in het Haagse Congresgebouw een conferentie over biotechnologie, georganiseerd door de Amerikaanse ambassade te Den Haag.
De titel van deze conferentie was "The Science and the Impact".
Er waren eerder artikelen geplaatst in de Telegraaf en NRC Handelsblad, waarin de Amerikaanse ambassadeur mevr. Schneider (gepromoveerd op Rembrandt!) een warm betoog hield ten gunste van de Amerikaanse biotechnologie, waarvan wordt beweerd dat het het wereldvoedselprobleem zou kunnen oplossen.
Samen met vertegenwoordigers van de Natuurwetpartij, Nederlands Platform Gentechnologie en Stichting Natuurwetmoeders heb ik hier tegen geprotesteerd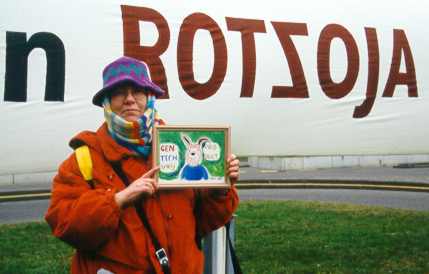 Een kort verslag:
"Demonstratie tegen Gentech bij conferentie The Science and the Impact"." verder lezen