HOT:
4-10-2011: Poland doesn't want GMO's. Video
.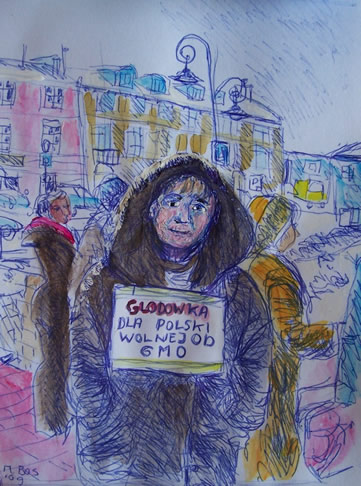 dokumenty-i-raporty/biuletyn Greenpeace Poland
Greenpeace Poland took part in this demonstration.
Website INTERNATIONAL COALITION TO PROTECT THE POLISH COUNTRYSIDE / MIEDZYNARODOWA KOALICJA DLA OCHRONY POLSKIEJ WSI
19 March 2009 This is Edyta Jaroszewska. Drawn after a photo. The sign says; " Hungerstrike for a GMO-free Poland".
Edyta Jaroszewska, 42 year old organic farmer and chairperson of the Organic Farmers Association, started fasting for a GMO Free Poland. Two days ago Danute Pilarska, another organic farmer and chairperson of The Organic Farmer's Union, joined her. Yesterday, both women, together with other members of the Coalition for a GMO Free Poland, joined a meeting of the Polish government's Agricultural Committee in the Senate in Warsaw. The committee was discussing the future of GMO in Poland. After a few hours of debate Edyta concluded "There's no political will within the Polish government to stop corporations from illegal planting of the GM maize variety MON 810 - and to ensure that Poland is kept GMO free. This opens the possibility of the widespread planting of MON 810 during this year. So we don't have another choice other than to stay here and fight!" Today, the fasting ladies, supported by other members of the Coalition, have been protesting in front of the Ministry of Agriculture in Warsaw.
Please send a copy of your letter to:
The Prime Minister - Donald Tusk
The Chancellery of the Prime Minister
Al. Ujazdowskie 1/3
00-583 Warszawa, Poland
e-mail: cirinfo@kprm.gov.pl
fax. +48 22 6252637

and a copy to us, please! biuro@icppc.pl

In Solidarity,
Jadwiga Lopata and Julian Rose

=============
ICPPC - International Coalition to Protect the Polish Countryside,
Miedzynarodowa Koalicja dla Ochrony Polskiej Wsi
34-146 Stryszów 156, Poland tel./fax +48 33 8797114
biuro@icppc.pl www.icppc.pl www.gmo.icppc.pl www.eko-cel.pl
---
Domagamy się od Rządu Rzeczypospolitej Polskiej
zdecydowanych działań dla zablokowania swoistej inwazji
GMO na nasz Kraj i:

1.Wprowadzania całkowitego zakazu stosowania GMO
w rolnictwie i przetwórstwie rolnym, przy czym w trybie
pilnym wprowadzenie całkowitego zakazu uprawy
kukurydzy MON 810.
2.Wprowadzenia bezwzględnego obowiązku znakowania
Ŝywności z GMO i systematycznego wycofywania tej
Ŝywności ze sprzedaŜy.
3.Wprowadzenia, jeszcze w tym roku, zakazu
stosowania pasz z GMO.
4.Przeznaczania społecznych funduszy na wspieranie
i rozwój konwencjonalnego oraz ekologicznego rolnictwa.
Telefony kontaktowe: Edyta Jaroszewska-Nowak -
0609645386, Paweł Połanecki - 0601258789, Jadwiga
Łopata – 033 8797114, Marek Kryda – 0608458011, Danuta
Pilarska 0668527624

---
Voorbeeldbrief Poolse hongerstakers.
Letter to be send to the Polish Prime minister
---
The Prime Minister - Donald Tusk
The Chancellery of the Prime Minister
Al. Ujazdowskie 1/3
00-583 Warszawa, Poland
Your Excellency,
Given that,
a growing body of scientific evidence published in scientific journals over the last few years has established that there will be detrimental environmental effects of GM insect-resistant maize, if it is grown on a large-scale in Europe.*

a record of contamination cases and scientific studies indicate that GM crops will jeopardize conventional and organic farming. Moreover, as no harmonized laws exist in the European Union rendering the agrochemical companies liable for contamination caused to non-GM farmers, polluters never pay damaged farmers;

in December last year, all 27 member states unanimously called for a review of the present GMO approval system. In particular they called for a substantial improvement of the risk assessment of GM crops, the harmonization of GMOs and pesticide risk assessment, the consideration of socio-economic aspects as well as local environmental and agronomic characteristics.

Increasing scientific evidence demonstrates that GMOs pose unpredictable and unexpected consequences for our health and the environment;
That is the reason why we ask you together with Danuta and Edita, who are fasting for our future and are very brave, following
: 1. To reinforce the BAN of all GM plants and - and as a fast-track - ban the
maize MON 810 in Poland. **
2. To introduce labelling of all GM foods and gradually withdraw these foods
from the market.
3. To introduce a BAN of GM animal feeds.
4. To use social/public funds (tax payer's money) to support traditional and
organic farming.
Sincerely, ....................................................
* http://www.gentechvrij.nl/plaatjesgen/wetenschappersnegentigond.pdf
Scientific evidence documenting the negative impacts of genetically modified (GM) foods on human and
animal health and the environment
GM foods and crops were virtually excluded from the European Union in the 1990s by scientific
objections and consumer concerns. But now they are once again being strongly promoted in Europe by
the biotechnology industry, putting our health and environment at risk. cut
**
http://pubs.acs.org/doi/abs/10.1021/jf802059w
Intestinal and Peripheral Immune Response to MON810 Maize Ingestion in Weaning and Old Mice
Alberto Finamore, Marianna Roselli, Serena Britti, Giovanni Monastra, Roberto Ambra, Aida Turrini and Elena Mengheri *
Istituto Nazionale di Ricerca per gli Alimenti e la Nutrizione, Via Ardeatina 546, 00178 Roma, Italy J. Agric. Food Chem. , 2008 , 56 (23), pp 11533-11539 DOI: 10.1021/jf802059w Publication Date (Web): November 14, 2008 Copyright © 2008 American Chemical Society * Corresponding author (e-mail mengheri@inran.it ; telephone +39-06-51494523 ; fax +39-06-51494550 ).

---
dokumenty-i-raporty/biuletyn Greenpeace Poland