Logo of the European GMO-free Citizens in 3D.
GMO Free Canada says:
Emails from an EPA toxicologist to the EPA official in charge of assessing whether glyphosate, the active ingredient of Monsanto's Roundup herbicide, causes cancer, reveal accusations of 'staff intimidation' and 'political conniving games with the science' to favor pesticide corporations. A particular email, made available through a lawsuit against Monsanto, revealed that career EPA toxicologist Marion Copley states unequivocally to EPA bureaucrat and Monsanto supporter Jess Rowland: "It is essentially certain that glyphosate causes cancer." That is the scientific truth. Yet Monsanto, being the disgusting and thoroughly unethical corporation that it is, keeps fighting this truth in order to dupe farmers and the public into buying their carcinogenic Roundup weedkiller - "as safe as table salt" Monsanto says. And then Monsanto influences the pencil-pusher in the EPA, like Jess Rowland, to do their bidding.
READ: http://www.theecologist.org/./suppressed_epa_toxicologist_i.
READ: https://trofire.com/./former-epa-deputy-director-jess-rowla.
READ the letter: http://gmofreeusa.org/./EPA_MarionCopleyCorrespondenceToJes.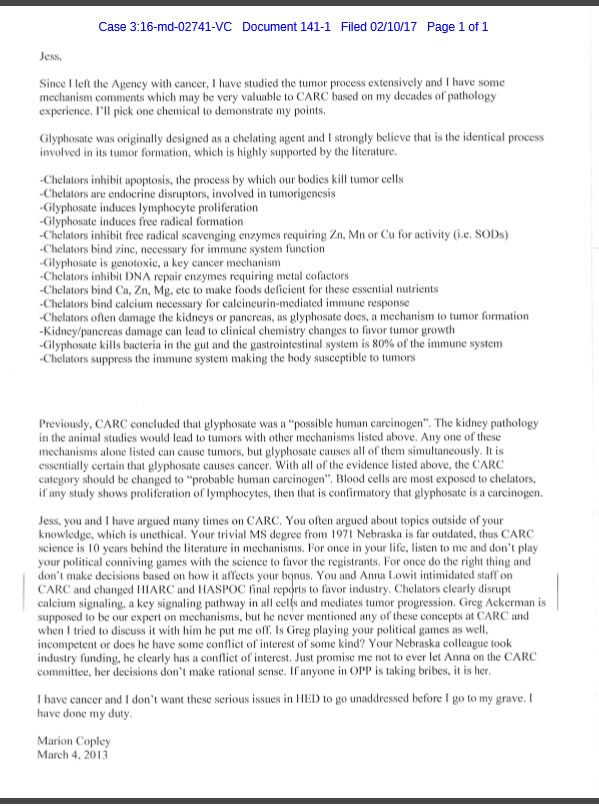 3-4-2017 9and10 news: About three new varieties of GM-potatoes - the Russet Burbank, Ranger Russet and Atlantic.
12-31-2016. Quoted in the New York Times Magazine (October 25, 1998, "Playing God in the Garden" ), Philip Angell, Monsanto's director of corporate communications, famously stated: "Monsanto shouldn't have to vouchsafe the safety of biotech food. Our interest is in selling as much of it as possible. Assuring its safety is the FDA's job." From the Federal Register, Volume 57, No.104, "Statement of [FDA] Policy: Foods Derived from New Plant Varieties," here is what the FDA had to say on this matter: "Ultimately, it is the food producer who is responsible for assuring safety." Source.
28-12-2016, Ocean Robbins: A special Guest post from Institute for Responsible Technology founder Jeffrey Smith.
Editors note: The vast majority of corn, soybeans, canola, cotton, and sugar beets grown in the U.S. are genetically modified (GMOs). Monsanto and its allies claim that GMO crops reduce pesticide use , increase yields , reduce water consumption, and offer foods that are more tasty and more nutritious . But in the nearly 25 years since GM crops first came on the market, studies have found that they have led to higher pesticide use , and no meaningful improvement in flavor , nutrition , yield or water consumption. Instead, what they've created are plants that are engineered to withstand massive dosing of toxic herbicides, and plants that function as living pesticide factories. Monsanto's Bt. corn, for example, is actually registered with the EPA as a pesticide. Many credible scientists have significant concerns about the safety of these crops for human and animal consumption. And the environmental impacts are documented, and alarming. All from the Foodrevolution site.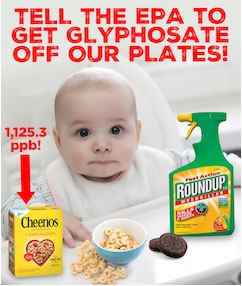 Click on image.

The Hague, the Netherlands, 10 - 14, 15,16, 2016. Click on the logo for more info.
L a t e s t N e w s on Facebook.
Still very important piece: 17th of Agust 2000: Donella Meadows How It Happened That We Don't Regulate Biotech.
Still Very Important Powerpoint Presentation from 2013. "Spraying crops to death". Glyphosate is the most widely used herbicide in the world, found in 750 formulations including Roundup. It is sprayed directly on GMO crops such as corn, soy, canola, sugar and more during the growing season and on non-organic food crops such as wheat, sugar, dried peas, beans, grains and legumes as a drying agent before harvest. It does not wash, dry or cook off and has been shown to destroy gut bacteria and cause series harm at levels far below that which is allowed on our food. Find out more about GMOs and Glyphosate at this important Power Point Presentation. More on glyphosate here.
A GMO (Genetically Modified Organism) is an organism created in a Laboratory by taking genes from one species and forcing them into an entirely unrelated species - in order to achieve a new trait or characteristic that is not possible in nature. From this site.
On May 19th 2009, the American Academy of Environmental Medicine (AAEM) called on "Physicians to educate their patients, the medical community, and the public to avoid GM (genetically modified) foods when possible and provide educational materials concerning GM foods and health risks." From; Spilling The Beans, Jeffrey Smith.
Spanish translation:
El 19 de mayo la American Academy of Environmental Medicine (AAEM) Academia Americana de Mediciana ambiental apeló a "los médicos a educar a sus pacientes; a la comunidad médica y al público a evitar los alimentos GM (genéticamente modificados), si es posible, y a procurar materiales educativos concernientes a los alimentos GM y los riesgos para la salud.
---
1.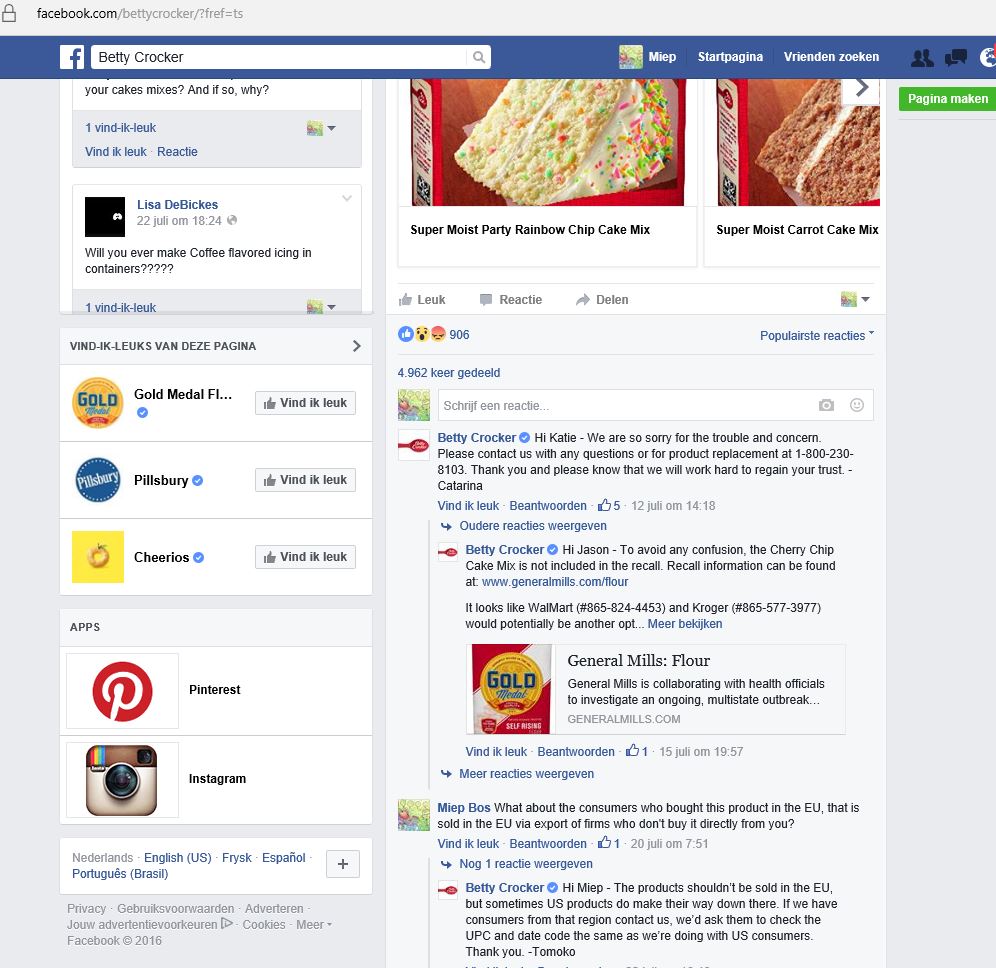 2.
1. GMO products from the USA bought at Dutch supermarkets, almost always sold via parallel imports now labeled as GMOs. (Is mandatory in the EU). The only right thing you can do, is throw them in the trash can.
2. Miep Bos asked Betty Crocker on Facebook (after a recall of 2 cakes mixes with E-coli in it): "What about the consumers who bought this product in the EU, that is sold in the EU via export of firms who don't buy it directly from you? Betty Crocker says :"These products shouldn't be sold in the EU but sometimes US products do make their way down there."
The recalled flavors are: Betty Crocker Delights Super Moist Party Rainbow Chip Cake Mix and Betty Crocker Delights Super Moist Carrot Cake Mix. A General Mills supplier used Wondra flour implicated in the July 1, 2016 recall to manufacture the flavor chips used in these two recalled cake mix flavors. cut.
---
12-07-2016.Click on one of the posters to go to the website of the petition to sign.
08-07-2016 Our comment on the Darkact on the facebook page of Senator Heidi Heitkamp.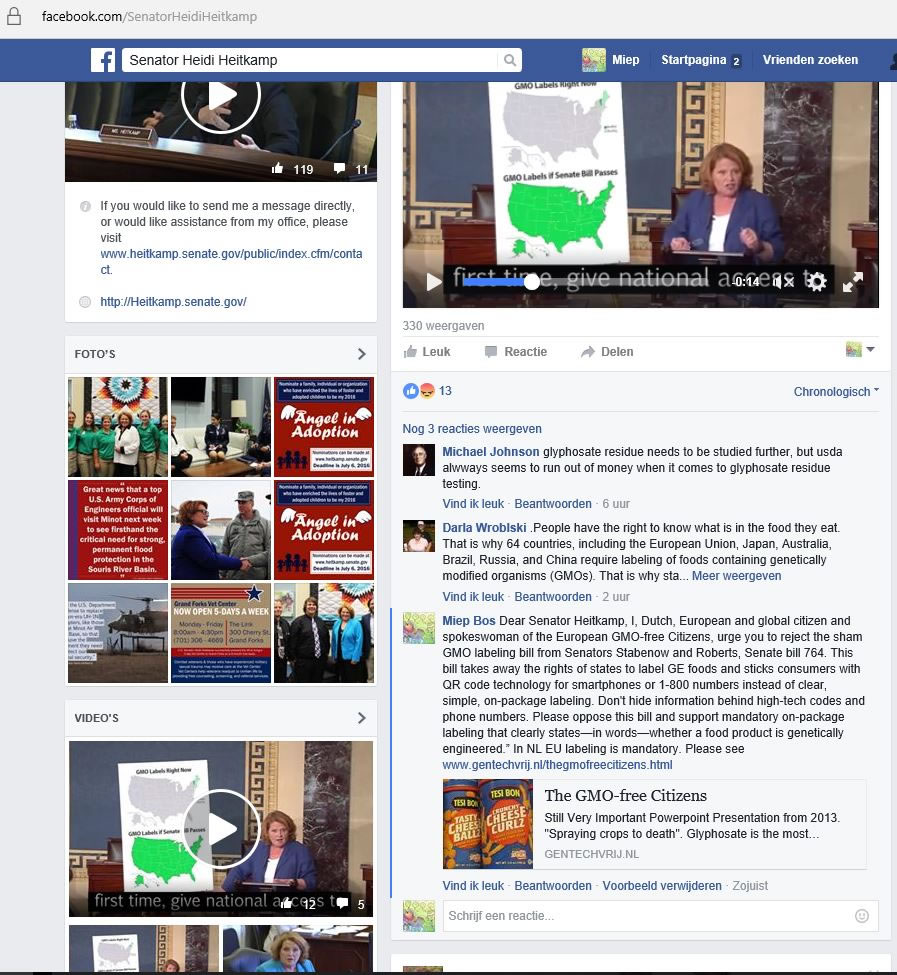 01-07-2016: GMWatch: Pro-GMO campaign exploits Nobel laureates to attack Greenpeace and fool the people.
Greenpeace is being criticized for blocking GMO golden rice - even though the crop is years away from being ready, reports Claire Robinson
.Dr. Mae-Wan Ho on the 24th of March 2016.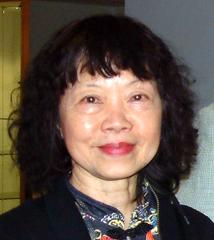 Dr. Ho has been one of the most influential figures of the last decade in the debate within the scientific community regarding the use of genetically modified organisms. We just now have read that this wonderful wife of Prof. Peter Saunders and brave scientist, Dr. Mae-Wan Ho, who never gave up regarding the battle against GMOs, has died on the 24th of April 2016. We always could use her articles with her permission (De Gentechvrije Burgers, Europees Consumentenplatform, The European GMO-free Citizens) when there was a petition to be written to the Dutch Ministry of Environment against a permission to release GMOs in the Dutch environment. Thank you so much, Mae-Wan, for all you have so bravely done! Rest In Peace! She will be greatly missed, and our deep condolences go to her husband and all her nearest and dearest. Click on the photo to read an interview with her (2004).
21 mei 2016: 400 Global Cities Vs. Monsanto.
Netherlands: vote to keep glyphosate out of Europe.
16-05-2016: The European Parliament voted last month to stop the EU approve "probably carcinogenic" glyphosate for most uses. Glyphosate weedkillers like Roundup should be completely banned, but the European Commission still seems determined to put Monsanto's interests before public health concerns.
In March, the Netherlands joined France, Sweden, and Italy to oppose a new 15-year licence for glyphosate. Undeterred, the European Commission has tweaked the glyphosate license proposal a little to win over the Netherlands. We need to come together now to make sure the Netherlands government stands up to the agrochemical lobby and the Commission. Go to the petition.
13 05 2016: What you always wanted to know about GMOs, a book from independent scientists: GMO Myths and Truths. An evidence-based examination of the claims made for the safety and efficacy of genetically modified crops and foods
John Fagan, PhD Michael Antoniou, PhD Claire Robinson, MPhil.
2nd edition, Version 1.0, for the e-book click here. Can also be bought as a book on the internet.
10-05-2016 About Bt Brinjal our commentary on a certain piece in the Volkskrant a Dutch newspaper about Bt Brinjal in Bangladesh. Partly in English (when you scroll down).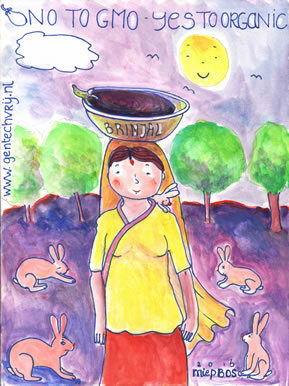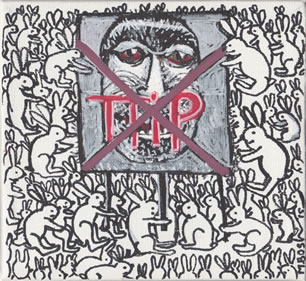 May 1rst 2016: Greenpeace Netherlands has released secret TTIP negotiation documents. We have done so to provide much needed transparency and trigger an informed debate on the treaty. This treaty is threatening to have far reaching implications for the environment and the lives of more than 800 million citizens in the EU and US.
Vaxxed From Cover Up to Catastrophe TRAILER
First GMO-label found on USA product!
April the 18th: The European GMO-free Citizens have found the first labeled USA product in a Dutch supermarket. It was labeled by Nestlé and at last labeled by the Dutch importer. The European GMO-free Citizens asked the Netherlands Food and Consumer Product Safety Authority to see to it that mandatory labels, that say that there are GMOs in it, were placed on the packages. (Although not all products are labeled as such yet.)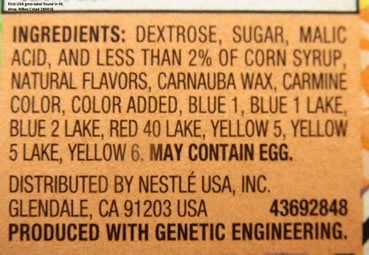 24-03-2016: ConAgra And Kellogg's Join General Mills And Mars To Label GMOs!!!!!!!!!!!!!!!!
A lot of USA products with GMOs in it are not labeled as such on the Dutch labels, but is mandatory in the EU!
16/02/2016: Dr. Mercola: Propaganda Machine Takes Aim at Zika Virus. More>>
by Jon Rappoport
January 31, 2016
Alejandra Paganelli , Victoria Gnazzo , Helena Acosta , Silvia L. López , and Andrés E. Carrasco * Laboratorio de Embriología Molecular, CONICET-UBA, Facultad de Medicina, Universidad de Buenos Aires, Paraguay 2155, 3° piso (1121), Ciudad Autónoma de Buenos Aires, Argentina Chem. Res. Toxicol. , 2010 , 23 (10), pp 1586-1595 DOI: 10.1021/tx1001749 Publication Date (Web): August 9, 2010 Copyright © 2010 American Chemical Society * Corresponding author. Phone: +5411 5950 9500 ext. 2216 . Fax: +5411 5950 9626.
Comment by Jon Rappoport: And if there is any doubt that the authors are talking about the birth defects now being (falsely) attributed to the Zika virus, they follow up with this comment: "There is growing evidence raising concerns about the effects of GBH [glyphosate-based herbicides] on people living in areas where herbicides are intensely used. Women exposed during pregnancy to herbicides delivered offspring with congenital malformations, including microcephaly [small heads], anencephaly [missing major parts of brain and skull in embryos], and cranial malformations."

29-01-2016. The Huffingtonpost published a letter of
Here are Jeffrey Smith's warnings to companies and investors considering financial ties to Monsanto:
Monsanto Company's core business is at risk of collapsing based on technical, scientific, and market trends. Their recently announced plan to cut 16% of their global workforce is just the beginning. Monsanto not only faces declining revenues, they have accumulated unprecedented liabilities that may be passed on to investors and business partners. Here are eight reasons to stay clear Monsanto:
• Sales of Roundup herbicide and Roundup Ready genetically engineered corn, soy and cotton constitute 90% of Monsanto's revenue. Scientific evidence points to significant health impacts of these products on humans.
• For example, the World Health Organization declared Roundup's active ingredient, glyphosate, a probable human carcinogen. Since that announcement in March, 2015, several countries, cities, and retail chains worldwide have banned or severely limited the use of glyphosate products. As of October 2015, at least 700 personal injury non-Hodgkin lymphoma lawsuits were pending against Monsanto.
• Monsanto's liability may persist long into the future. Not only can glyphosate be detected for decades in many types of soil, GMO contamination self-propagates in the gene pool and cannot be fully eradicated.
• Numerous livestock farmers who switch to non-GMO feed report improved livestock health and increased profits. If these claims are validated, Monsanto could lose its biggest GMO market and become liable for extraordinary cumulative losses from an entire industry.
• Monsanto's GMOs-designed to either kill insects or tolerate Roundup herbicide-are failing in the field; as of 2010, superbugs and superweeds are becoming resistant on over 300 million acres worldwide.
• Consumer rejection of GMOs in the United States is prompting food brands to eliminate GMO ingredients and label products "non-GMO." This same trend kicked GMOs out of Europe in 1999 and is now approaching a tipping point in the US, as 58% of consumers are looking for non-GMO products.
• Monsanto's success has been propped up by enormous political clout, especially in the United States. Politics is unstable; it shifts with elections and current events. As the non-GMO movement gains momentum and product safety is questioned, political support may wane, further eroding Monsanto's fortunes.
• Monsanto's negative reputation adds political and economic instability. Referred to as the "World's Most Hated company," their unpopularity was illustrated when hundreds of Moms Across America groups nationwide, and more than 2 million people in 52 countries internationally, took to the streets to "March Against Monsanto."
Combining liabilities for human, animal, and environmental health, Monsanto's legal exposure may far surpass the $206 billion Master Settlement Agreement between the tobacco industry and 46 US states in 1998. Protect your investments. Steer clear of financial entanglements with Monsanto.
---
10/01/2016: GMWatch: Renowned Canadian environmentalist Joe Cummins dies from cancer at age 82.
"Environmentalist waged countless high-profile battles, taking aim at everything from GM crops and water fluoridation to chemical contamination of lakes and rivers. We at GMWatch remember Joe Cummins with huge gratitude for his never-failing patience in explaining the technical aspects of the risks of GMOs and their accompanying pesticides. He was always happy to help - and did so with perfect grace, courtesy, and humility. We will miss him."
03.01.2016 Author: F. William Engdahl: Victory in Paris vs Monsanto GMO Cabal. The Paris High Court has just announced a verdict in favor of Seralini in a libel trial.
19-12-2015: Huffingtonpost Canada: According to a new study by the University of La Plata in Argentina, most tampons (at least 85 per cent), cotton balls and sanitary products contain glyphosate : an ingredient that has been ruled as "probably carcinogenic" by the World Health Organization, notes RT news.

Click on the poster for more info.
29-11-2015 Jeffrey Smith: A new paper in the glyphosate series by Anthony Samsel and Stephanie Seneff shows that it is Monsanto who is out of step, and how their own studies demonstrated unqualified links to cancer for over 30 years. <MORE>
19th of November 2015 Washington Post:
11-08- 2015: Kellogg's Brown Sugar Cinnamon PopTarts from the USA, contain 9 different ingredients with GM corn, - soybeans and - soyoil, - sugar and - cottonseed oil in it, according to mandatory EU labels seen in The Netherlands. But why is the GM canola not mentioned?
Video van bijeenkomst van MADGE in 2015.
Geüpload op 19 apr. 2015
Zen Honeycutt, Moms Across America: 'MADGE Talks: An overview over Genetically Modified Organisms (GMOs) in our food, the herbicide Glyphosate and an increase in health issues', Sydney, 24 March 2015.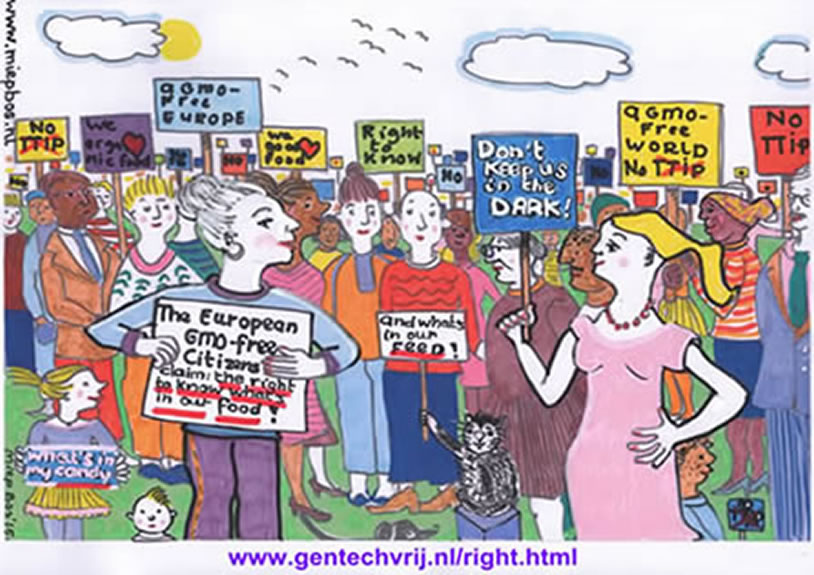 Click on the cartoon "The right to know what's in our food, cartoon by Miep Bos" for more info.
10-02-2015: 19 intentions of EU countries or regions of EU countries of applying for 8 GM opt-out's has been sent to the European Commission in Brussels.

The opt-outs cover all varieties of GM maize developed for use in agriculture.

The opt-out, whose application deadline is October 3rd 2015, enables individual EU Countries to ban GM crop plantings. According to European Commission directives, the grounds for establishing a ban must then be considered by the corporations intending to market GM seeds within European Union Countries.

So far The Netherlands, Germany, France, Greece, Latvia, Austria, Croatia, Greece, Poland, Northen Ireland (UK), Scotland (UK), Wales (UK),
Germany, Hungary, Region of Wallonia, (Belgium), Lithuania, Bulgaria, Italy, Denmark, Luxembourg, Malta, Slovenia and Cypus have applied for the GM opt-out.

29-08-2015 Jumbo, Dutch Supermarket: Pop-tarts label says: GM wheat. Forbidden in the EU.
Again Jumbo is in the news about GMOs in their imported American products.
GMO wheat is forbidden in the EU !!!!
Whether the label is wrong or Dutch supermarket Jumbo sells a product with GMOs thats forbidden in the EU.
At Jumbo:

(American version)

Pop-tarts

Chocolate Fugde

Label says:

GM

wheat meal

is forbidden in the EU.
We have asked Jumbo for an answer, but they didn't answer yet.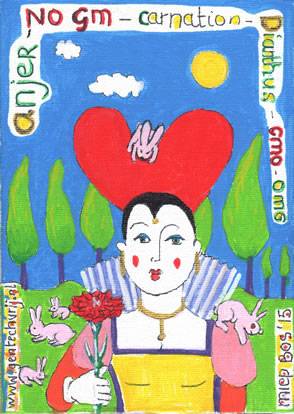 07-31- 2015 Petition against GM spray carnations. Closed.
17-08-2015: An email of the Ministry tells me that the Postbox number 20906 no longer exists and must be Postbus 20901, please forward widely! Real deadline is 25th of August 2015.
22-08-15: Our objections now online (English).
Signature list English Print it out, sign it and sent it to the ministry (address is on the list). Or scan it and send your scanned lists to info(a)gentechvrij.nl
Names of the carnations: FLORIGENE ® MoonberryT and FLORIGENE ® MoonvelvetT . (photos) MORE
Handtekeningenlijst Nederlands MORE
---
Global March against Monsanto 2015 Amsterdam, ABC net (Australia): All around the world.
---
07-05-2015 Dr. Mercola: Monsanto Has Known for Nearly 35 Years That GMOs Promote Cancer.
Fragment:
The Problem with Genetically Engineered Plants
"According to Dr. Samsel, glyphosate is only one-half of a two-part problem. The other half is the genetically engineered plants. For the past two years, he's been conducting field experiments and laboratory analysis of 33 varieties of genetically engineered corn. This year, he's branching into soy. Not only are there Roundup-resistant GE crops, there are also Bt crops, which produce their own internal pesticide called Bacillus thuringiensis (Bt). But there are also glyphosate and glufosinate toxins involved, because in many GM crops, the genes are stacked.
"I'm looking at the untreated [genetically engineered corn], and then I'm spraying it with the herbicide [glyphosate]. I'm analyzing the fatty acids and the mineral content. I'm also looking at the isomers of the vitamins. What I'm finding is that there's a difference between those treated with the herbicide and those that are not treated. The herbicide influences the mineral content of even the genetically engineered resistant varieties , making them particularly more deficient in manganese, cobalt, and copper, but particularly manganese. I'm also finding that the fatty acids are being skewed slightly but also the vitamins, particularly the isomers of vitamin E, tocopherol."
He's found that GE varieties of soy, canola, and corn oil contain mostly gamma-tocopherol opposed to alpha-tocopherol (types of vitamin E). Alpha-tocopherol is really beneficial to our biology whereas gamma-tocopherol induces inflammation, particularly in your lungs. Hence Dr. Samsel believes these GE oils may influence rates of asthma and Chronic Obstructive Pulmonary Disease (COPD). On the whole, it seems clear that hundreds of millions of people could improve their health simply by avoiding glyphosate and genetically engineered foods."
April 2015 Open Letter to the People of China:Ambassador Liu Xiaoming
Embassy of the People's Republic of China
49 Portland Place , London W1B 1JL

Request for urgent letter to be forwarded to President Xi Jin-ping and Premier Li Ke-qiang

OPEN LETTER: The Impact of Glyphosate/Roundup on global health
Institute of Science In Society Report 24/03/15 Glyphosate 'Probably Carcinogenic to Humans' Latest WHO Assessment
The world authority on cancer's evidence-based assessment is pitched against the Monsanto-led corrupt approvals in US and Europe Dr Mae-Wan Ho and Dr Nancy Swanson.
ISIS Report 16/03/15 Goats Fed GM Soybean Produce Abnormal Milk, Reduces Weight of Off-Spring
GM-fed goats milk has significantly reduced antibody, fat and protein content and also contained transgenic DNA Dr Eva Sirinathsinghji
Abstract Published Online: January 31, 2015
---
Jeffrey M. Smith
Jeffrey M. Smith, author of the #1 GMO bestseller Seeds of Deception, talks about his campaign to force mass rejection of genetically modified foods in order to expunge them form the market entirely. Smith explains how the FDA allowed GMO foods to enter the market with no safety testing whatsoever, and that the man primarily responsible for this is now food safety czar in the Obama administration. Smith notes how Obama has broken his pre-election promise that every GMO food should be properly labeled, and also installed pro-GMO executives in the USDA and FDA who have close ties to Monsanto and the biotechnology industry. Smith documents how consumption of genetically modified foods has been directly linked with reproductive problems, immune system deficiencies, accelerated ageing, organ damage and gastrointestinal problems. The immune system problem has been seen consistently in mice and rats who are fed GMO food, explains Smith, and now since humans have started consuming genetically modified foods, auto-immune diseases and allergies have increased. Smith explains how research exposing the dangers of genetically modified food has been censored and shut down by the establishment, with scientists involved in such studies finding themselves blacklisted and shunned by their peers before being fired from their jobs in many cases as big agriculture throws its weight around. Smith covers a plethora of vital issues in this one hour interview, and offers workable solutions to phase GMO out of the market, by pushing for proper labeling standards and an intensive education outreach that will help people realize how big a threat genetically modified food poses to their health.
Important interview Dr. Mercola and Steven Druker because of Drukers new book:
Altered Genes, Twisted Truth-How GMOs Took Over the Food Supply.
March 08, 2015
KEY FDA DOCUMENTS REVEALING HAZARDS OF GENETICALLY ENGINEERED FOODS-AND FLAWS WITH HOW THE AGENCY MADE ITS POLICY
S. Druker:
The biotechnology industry-as irresponsible as they have been by and large-the main guilt lays at the feet of the mainstream molecular biology establishment; the scientists who were doing the research, getting the grants, and wanting to develop this technology. Most of them had altruistic goals. They thought this was going to be used to cure so many ills in the field of medicine... I think they eventually developed an 'end justifies the means' psychology. MORE
Part 2
02-16-15: GMOs invade fruit industry: Apples, pears, cherries and peaches to all become unlabeled GMO.
(NaturalNews) Genetically modified apples (Golden Delicious and Granny Smith, named "Arctic") have been approved by the USDA. They don't turn brown.

ISIS Report 07/01/15
CaMV 35S Promoter in GM Feed that Sickened Rats Transferred into Rat Blood, Liver, and Brain Cells. Full length research paper.
These purple carnations are GMOs, just two of them are legal in the EU.
---
For American and Canadian (who buy USA food) Citizens:
2014: Responsible technology.org:
To the GMO-free Shopping guide and -site.
To the site of Kids right to know (Rachel Parent, Canada.)
10-10-2014: Food Babe, a Must-Read. CONFIRMED! Lab tests show over 30+ popular food products contain GMOs. Are you eating them?
15-11-22014: GOODBYE STARBUCKS!!! by Neil Young.
I used to line up and get my latte everyday, but yesterday was my last one.
Starbucks has teamed up with Monsanto to sue Vermont, and stop accurate food labeling.
Tell Starbucks to withdraw support for the lawsuit -- we have a right to know what we put in our mouths.
Starbucks doesn't think you have the right to know what's in your coffee . So it's teamed up with Monsanto to sue the small U.S. state of Vermont to stop you from finding out.
Hiding behind the shadowy "Grocery Manufacturers Association," Starbucks is supporting a lawsuit that's aiming to block a landmark law that requires genetically-modified ingredients be labeled. Amazingly, it claims that the law is an assault on corporations' right to free speech. MORE.
11-13-2014. Natural Society:A new correlation study published in the Journal of Organic Systems has linked glyphosate, the primary ingredient in Monsanto's best-selling herbicide, Roundup, to an enormous increase in chronic diseases across the United States. - full paper.
In 2013, 93% of soybeans were GE, most of them glyphosate tolerant (6) In 2013, 90% of cotton was GE, with 82% containing HT trait (7). And 90% of corn was GE with 85% containing HT trait (7). Other common GE crops include sugar beets and canola (rapeseed) of which 95% and 93% of which are GE respectively (8), and all are herbicide tolerant (5c). GE varieties of virus resistant squash and papaya are also grown (8). Some drought resistant crops have also been developed (5c). More from Food Safety and Sustainability Center, October 2014, page. 5.
Avoid At-Risk Ingredients (USA).

If it's not labeled organic, or doesn't have a Non-GMO Project Verified Seal , then avoid processed food products ingredients made with these GM crops: Corn, Soybeans, Canola, Cottonseed and Beet sugar.

Corn

Corn flour, meal, oil, starch, gluten, and syrups
Soy
Soy flour, lecithin, protein, isolate, and isoflavone

Vegetable oil* and vegetable protein*
Canola Canola oil (also called rapeseed oil)

Cotton Cottonseed oil

Sugar Avoid anything not listed as 100% cane sugar since GM beet sugar recently entered the food supply. To avoid it, look for organic and non-GMO sweeteners, candy and chocolate made with 100% cane sugar, evaporated cane juice or organic sugar.

Aspartame The artificial sweetener also known as NutraSweet and Equal, which is derived from GM microorganisms.
Become familiar with our list of invisible GM ingredients .
Also, more than 50% of Hawaiian papaya is GM, and a small amount of zucchini and yellow squash.
From here.
---
More on Roundup: ISIS Report 30/03/15 Elsevier Climb Down over Séralini Retraction but IARC Retraction Next for Monsanto
Elsevier has quietly distanced itself from its misdeed, but Monsanto is outrageously calling for another retraction Prof Peter Saunders.
12-11-14 Daily Mail: Hollywood stars sign letter warning British people against GM foods.
---
GM products are creeping into our Dutch and British shops. You can buy them on internet too without proper labeling see http://www.usfoodz.nl

In the UK and the whole of the EU, foods made with GM ingredients need to say so on the label. This is a legal requirement and is one of the main reasons why there is very little GM on our shelves. However some GM foods, mostly highly processed and often from North America, have been gradually creeping onto the shelves of EU supermarkets and discount retailers. More
Cracker Jacks hell
Posted on December 12, 2012 by Craig Stellpflug NDC
Childhood memory gone GMO : Good old Cracker Jacks is now loaded with bad stuff and is a GMO nightmare. The first ingredient in the label is sugar. Is that sugar from GMO beets? Doesn't matter because the second ingredient is corn syrup and that one is GMO. This makes sugar and syrup the prime ingredients in Cracker Jacks! Well, you still need popcorn (another GMO plagued product from cross-pollination)............ MORE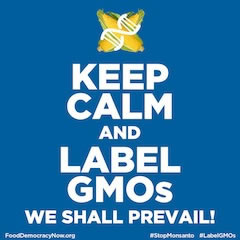 Click on the poster to learn more.
---
Creating Worldpeace? Support the Vedic pandits now!