For the latest news see the Tweets via

@MiepBos
Where to buy GMO-free: The Non-GMO Sourcebook.
Please sign my petition on a GM vet vaccine on little calves.
Please sign my petition on Stop the permission to cultivate GM-potato trial fields in the Netherlands.
Breaking news: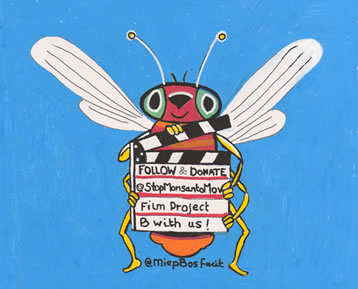 Click on te bee for the Stop Monsanto Movie website
.
May 5th 2012. Treehugger: Vermont Introduces Law Requiring Labels on Genetically Modified Foods.
Proposed legislation in Vermont could soon require foods that contain genetically engineered ingredients to be labeled as such. Known as the Vermont Right to Know Genetically Engineered Food Act , the bill would go into effect in 2014 and apply to food sold in retail stores.
Urgent Alert: Help to STOP Genetically Engineered (GE) Eucalyptus Trees! GE Tree Company ArborGen has been given permission by the USDA to plant 260,000 GE eucalyptus trees across seven states in the U.S. South (Texas, Florida, Georgia, Alabama, Mississippi, Louisiana, and South Carolina). If you live in one of those states and want to get involved in the campaign to stop socially and ecologically destructive GE eucalyptus from being grown there, please contact us . Sign our petition to the USDA to Stop GE eucalyptus trees.
1rst of March 2012: Pressemitteilung/Press Release (German)
Aufatmen bei deutschen Imkern/German bee keepers are happy: Honey may not contain forbidden GMO's its forbidden by the Court of Leipzig. Forbidden Gm-rapeseed must be destroyed in Germany. – Honig bleibt frei von verbotener Gentechnik. Bundesverwaltungsgericht in Leipzig bestätigt: Gentechnisch veränderter Raps muss vernichtet werden.
21-02-2012: Trouthout: Monsanto Found Guilty of Chemical Poisoning in France.
Wednesday 15 February 2012: U.S. schoolchildren now subjected to sack lunch searches by government agents who enforce nutritional insanity.
Genetically modified mosquitoes may soon be released in Florida
Sunday, February 12th, 2012 by: Ethan A. Huff, staff writer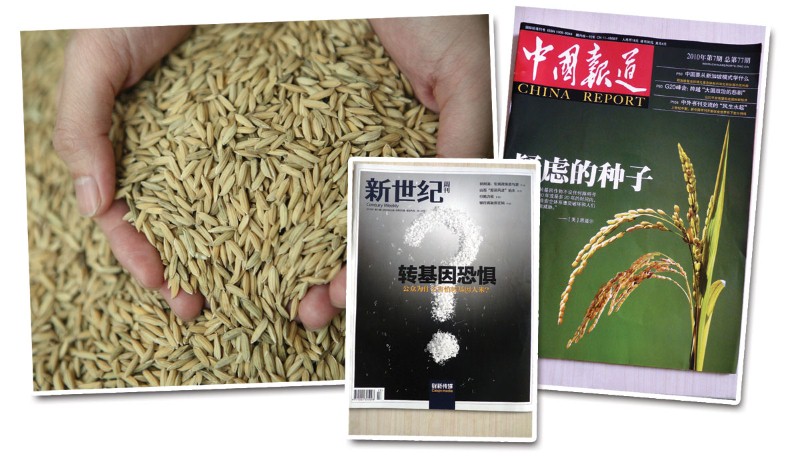 Media in China about GM rice. Foto, Greenpeace.
NEWS FROM GREENPEACE: It took seven years, one bald guy, one determined Swiss woman, and successive teams of young campaigners but finally late September 2011 Beijing said it was suspending the commercialization of genetically-engineered (GE) rice. Here's a historical look at one of their earliest - and most successful - campaigns in East Asia.
Read more >>
25-01-12: In Germany (Umwelt Institut München) the same GM-vaccine test on 3-days-old foals on which we protested, earlier and the Council of State did not decide yet, will be held also by Intervet,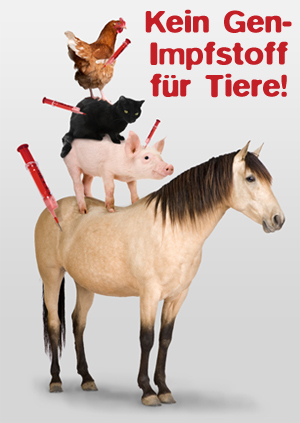 Click on the picture to tell the German Minister Mrs. Aigner to stop this madness.Press Release of the Umwelt Institut München (German language).

17-01-2012: The same GM-vaccine test on 3-days-old foals on which we protested, earlier and the Council of State did not decide yet, will be held in Germany, in Grabow, Gemeinde 19300 Grabow/Ortsteil Heidehof, Landkreis Ludwigslust, Mecklenburg-Vorpommern. but the waste will not be put on the land but will be burned. 120 foals will be used.

16-01-2012: GMWatch: BASF moves GM division out of Europe! BASF has announced on 16 January 2012 that it gives up the development and marketing of new transgenic products intended for the EU.

Biotech giant Monsanto has been declared the Worst Company of 2011 by NaturalSociety for threatening both human health and the environment.

Help Australia to label GM-food!
MADGE: For Immediate Release 4 December 2011
Commonwealth seeks to deny full GM labelling, against the 90%. Read here what's all about and what you can do.

18-11-11:2 new introductions into the EU market of GM maize of Monsanto and 1 application for cultivation of GM maize of Monsanto.

The general public could make comments on the overall EFSA opinion within 30 days of its publication. Comments should be addressed to the European Commission. Once an EFSA opinion is available, the European Commission opens a consultation on this website. After 30 days of publication of the opinion, the European Commission analyses all the comments received and consults EFSA to determine whether they have an impact on its opinion. MORE

Anthony Gucciardi NaturalSociety:
July 26, 2011 Hungary Destroys All Monsanto GMO Corn Fields

Monsanto GM Bt Corn in Peril: Beetle develops Bt-resistance
Rady Ananda, People's Voice, August 24 2011.

Good news!

24 August 2011: The News, Poland, President Bronislaw Komorowski vetoes genetically modified seeds law.

17-08-2011 One Penny Sheet:

Michael Taylor was just appointed senior advisor to the commissioner of the FDA. This is the same man that was in charge of FDA policy when GMO's were allowed into the US food supply without undergoing a single test to determine their safety.

Secret letters about safety and hazards of GMOs revealed.

Join a USA Buying Club for Organic and Non-GMO Foods

Listen to the great speech about GMOs by Jeffrey Smith (USA).

01082011

SCIENTIFIC OPINION
Guidance on the Post-Market Environmental Monitoring (PMEM) of genetically modified plants
EFSA Panel on Genetically Modified Organisms (GMO)
European Food Safety Authority (EFSA), Parma, Italy

ABSTRACT
The European Commission asked the Panel on Genetically Modified Organisms of the European Food
Safety Authority (EFSA GMO Panel) to update its 2006 scientific opinion on Post-Market
Environmental Monitoring (PMEM) of Genetically Modified Plants (GMPs). More.....

Natural news: Court rules organic farmers can sue conventional, GMO farmers whose pesticides 'trespass' and contaminate their fields

Wednesday, August 03, 2011 by: Ethan A. Huff, staff writer


3rd of August: Latest news : Action, last possibility to help keep Poland GMO-free, e-mail the Polish president!

3rd of August 2011:

Aaron J. Gassmann * , Jennifer L. Petzold-Maxwell , Ryan S. Keweshan , Mike W. Dunbar

Department of Entomology, Iowa State University, Ames, Iowa, United States of America

8-07-2011 URGENTHelp the Polish people to stay GMO-free!

This letter is a call to action... we need your urgent support!
Once again the ugly face of GMO is rising above the parapet of parliamentary affairs in Poland and a crucial vote is imminent. more......

7 juli 2011: BASF Said to Consider Genetically Modified Crop Exit in Germany
Sheenagh Matthews and Richard Weiss
Bloomberg, July 5 2011


BASF SE (BAS), the world's biggest chemical maker, may withdraw genetically modified crop research from Germany in response to growing political opposition, three people familiar with discussions said.

The maker of the Amflora scientific potato is considering the future of its research facility in rural Limburgerhof in southwestern Germany, said the people, who asked not to be identified because the plans aren't public. A move to the U.S. is possible for the plant biotechnology operations, which employ 700, said one of the people.

EXTRACT: "GMOs may be just like atomic energy," said Ulrike Hoefken, the Green Party's regional environment minister. "The risks are masked and big benefits are claimed. But it's the general public who is left with the costs for any damage."


05 Jul 2011

Consumer rights victory as US ends opposition to GM labelling guidelines
Twenty year struggle within global food safety body ends with 'consumer rights milestone'
Move clears way for greater monitoring of the effects of GM organisms
Consumers International (CI) and its member organisations celebrated victory today as regulators from more than 100 countries agreed on long overdue guidance on the labelling of genetically modified (GM) food .
5 juli 2010 1.European Parliament strengthens draft laws to ban GM crops - Greenpeace
2.MEPs vote fo stronger GMO rules - FoEE: The European Parliament voted in favour of:
- A stronger legal backing for national bans
- Mandatory liability systems for contamination cases
- Compulsory measures to prevent contamination in all EU countries
- National and regional level assessments of environmental risk – complementary to EU level assessment – with power to ban GM crops.
The decision on whether to give countries more rights to ban GM crops now goes to the European Council which is currently deadlocked on the issue.
29th of June 2011.The city of Nijmegen, NL has yesterday been declared GMO-free by the council! 23 votes in favour, 16 votes against Watch video of the decission. (Dutch) It was a Citizens initiative "Citizens for GMO-free food" (de werkgroep Burgers voor Gentechvrij Voedsel). The city of Nijmegen is the second city which was declared GMO-free, the city of Culemborg was the first. Mayer Mr. de Graaf congratulated the Citizens with their succes. More...
27th of June 2011
:
Also a Dutch GM vaccination study in 4000 little calves. Afterwards they will be killed. You can send the ministery a letter in which you express your opinion, together with your name, address, city and country. Deadline 8th of August 2011.
Info some in English.
22 juni 2011: World Wild Fund thinks GM Soya is good, they get paid by Monsanto.
Scientists reject human trials of GM wheat
Belinda Tasker, National Medical Correspondent
June 27, 2011
AAP (Australian Associated Press Pty Limited) via Sydney Morning Herald

A group of prominent scientists and researchers from around the world has urged Australia not to go ahead with human trials of genetically modified (GM) wheat.

Posted Sat Jun 25, 2011 10:39am AEST
The CSIRO has been given permission to conduct Australia's first trial in which humans will eat genetically modified wheat.
Published: June 16, 2011
In a potential blow to the future of the biotech industry, a handful of House lawmakers voted last night to bar the Food and Drug Administration from approving any bioengineered salmon for mass consumption.
Petition: Act now! White House needs to act on deadly E. coli NOW!
15th of June 2011
Guardian: GM regulators chose ignorance over science A study showing the presence of GM pesticides in the blood points to the remarkable complacency of global safety regulators.
by Earth Open Source (EOS) on Tuesday 14 juni 2011 20:28

NEW in 2011: ROUND UP AND BIRTHDEFECTS.

Dr. Huber Explains Science Behind New Organism and Threat from Monsanto's Roundup, GMOs to Disease and Infertility from Food Democracy Now!

New film: By Bertram Verhaag (Dtsl.) Scientists Under Attack. Fragment: Statements of scientists prove that 95 % of the scientists in the field of genetic engineering are paid by the industry. Only 5 % are independent. The loss of freedom of thought and democracy is obvious. May the public – may we all – still trust the scientists?

E-coli 0157:H7 (the in 2011 in Germany found one is E coli 0104:H4) was already the source of sickness back in 2001 and 2006.

Michael Pollan in 2006 in The New York Times Magazine; The lethal strain of E. coli known as 0157:H7, responsible for this latest outbreak of food poisoning, was unknown before 1982; it is believed to have evolved in the gut of feedlot cattle. These are animals that stand around in their manure all day long, eating a diet of grain that happens to turn a cow's rumen into an ideal habitat for E. coli 0157:H7. (The bug can't survive long in cattle living on grass.) Industrial animal agriculture produces more than a billion tons of manure every year, manure that, besides being full of nasty microbes like E. coli 0157:H7 (not to mention high concentrations of the pharmaceuticals animals must receive so they can tolerate the feedlot lifestyle), often ends up in places it shouldn't be, rather than in pastures, where it would not only be harmless but also actually do some good. To think of animal manure as pollution rather than fertility is a relatively new (and industrial) idea. Cut, more.

4th of June 2011: ISIS Report - March 21 2001 (already!)
The food-borne pathogen E. coliO157:H7 has been sequenced. Dr. Mae-Wan Ho asks whether genetic engineering might have contributed towards its emergence.
1rst of June 2011:
Genetically Engineered Salmon's Empty Promises
It's not's going to feed more people, be cheaper, or cleaner. So what's it about? A power grab
by Paul Greenberg June 1, 2011
25. November 2010, Berliner Zeitung: "Grenze fur Genpflanzen" : "Limits for GM crops" .
Sehe auch (German):
1) "Karlsruhe schützt Verbraucher vor Gentechnik" Suddeutsche Zeitung 25/11/10.
2) "Karlsruhe billigt Gentechnik Gesetz" FAZ 25/11/10
* "Die Veränderung des Erbguts von Pflanzen greift in die elementaren Strukturen des Lebens ein, und das einmal ausgebrachte gentechnisch veränderte Material ist nur schwer oder gar nicht begrenzbar."
November 7th 2010: France is going to label products from animals who aren't fed with GMOs. Germany, Italy and Austria already did that. See here (French text).
Nourri sans utilisation d'OGM : les produits enfin étiquetés




La demande des consommateurs était sans ambiguïté, le Conseil national de la consommation (CNC) a finalement donné un avis favorable à l'étiquetage soulignant l'absence d'OGM dans la nourriture des animaux. La France rejoint ainsi l'Allemagne, l'Autriche et l'Italie qui permettent déjà l'étiquetage «sans OGM».


20th of October 2010: URGENT: YOUR SUPPORT NEEDED for Professor G-E Séralini and colleagues
Court case coming up in Paris, 23 November 2010

GMWatch is joining French activists in appealing for your support for Professor G-E Séralini and his research colleagues, who are based at Criigen, la Fondation Sciences Citoyennes (FSC) and ENSSER (European Network of Scientists for Social and Environmental Responsibility). The public interest research of Séralini and colleagues on GMOs and pesticide/glyphosate toxicity has international significance, especially in India, where it helped in achieving the moratorium for the Bt brinjal, but also in Canada, Europe and the USA.

Now, Séralini and colleagues find themselves under concerted attack from GM promoters, who have resorted to defamation and flawed logic in an attempt to discredit the scientists. Séralini and colleagues have decided that the only way forward is to go to court to defend their professional reputations and their ability to continue to do public interest research.

Please voice your support for Séralini and colleagues and for the cause of open scientific discourse by signing this on-line petition.



This text will be replaced by the player
For more latest news in English click here (news from GMWatch)
GM food toxins found in the blood of 93% of unborn babies
By Sean Poulter
Last updated at 11:07 AM on 20th May 2011The study can be found here.
17 mei 2011 Dr. D. Huber on Glyphosate. 1 and 2. (Explaining letter Vilsack).
27th of October 2010: ISIS Report, Mad Soy Disease Strikes Brazil.
GMwatch:
27 of October 2010: + GM GENES MAY ESCAPE INTO NATURAL ENVIRONMENT VIA BACTERIUM USED IN GM
A bacterium that's used to modify plants' genes can also change the DNA of completely different lifeforms in the wild, new research shows. If the bacteria come into contact with particular fungi at a wound in a plant's outer skin, the fungi can come away with new genes from the bacterium. If these help it survive, they could become a permanent part of its genetic makeup. This is a way genes could potentially escape GMOs and move into other living things - both easily and frequently. See the study.


ISIS Report 06/10/10 Argentinas Roundup Human Tragedy.
14 October 2010: Stichting VoMiGEN geht weiter: Offenes Einschreiben Europäischer Gerichtshof für Menschenrechte wegen die Genetisch Manipulierten Nelken (GMO-carnations) die sind zugelassen in der Niederlande. (Auf Deutsch).

Argentina's Roundup Human Tragedy
########################################################

Ten years of GM soy and glyphosate poisoning have escalated the rates of cancer
and birth defects. Claire Robinson

GM soy a death sentence for humans and the environment

Argentina has become a giant experiment in farming genetically modified (GM)
Roundup Ready (RR) soy, engineered to be tolerant to Roundup, Monsanto's
formulation of the herbicide glyphosate. The Argentine government, eager to pull
the country out of a deep economic recession in the 1990s, restructured its
economy around GM soy grown for export, most of which goes to feed livestock in
Europe. In 2009, GM soy was planted on 19 million hectares - over half of
Argentina's cultivated land - and sprayed with 200 million litres of glyphosate
herbicide [1]. Spraying is often carried out from the air, causing problems of
drift. More.

Click on the logo and sign against a genetically engineered
(GM)-vaccination study in foals from 3 days old untill 6 months. (Deadline 12-01-2011).
1 oktober 2010: Let the EU know that you have objections against two different GM-maizes to be approved and to be placed on the market, deadline 27th of October. See for all info from the EU (clickable ) and our objections here mostly in English. (May be reproduced while mentioning the sources.)
29 september 2010: Avaaz.org: 1 MILLION FOR GM FACTS NOT CROPS today reached! Update 29 Sept : We reached the goal of one million signatures today! Thanks to all that have participated in this extraordinary people's petition! Now it will be delivered to the European Commission and our call for a moratorium will be lodged. More information about the delivery will be posted soon.
Field of screams
Sign up and Support to Gilles-Eric Séralini and his co-authors.
Support letter. The attacks on GE Séralini and his colleagues

Incomprehensibly, the French Association of Plant Biotechnology (AFBV), chaired by Marc Fellous, Professor of Genetics and former president of the Biomolecular Engineering Commission (a governmental commission to assess agricultural GMOs, where Professor Séralini was a member from 1998 to 2007), supported by well-known professors like Claude Allegre and Axel Kahn, stated in a press release dated from December 14, 2009, that "The work of Professor Séralini has been invalidated by the scientific community." These allegations are totally false and have no basis. Not only has all of the work conducted by Professor Séralini and colleagues been published in international journals after rigorous peer review by anonymous referees, but also none of their work has been subject to any science-based or formal means of invalidation.
CUT.

GMO-Free Europe 2010 Conference
16-18 September in Brussels and Ghent.

16th of September 2010: Leaflet handed out by Mr. Robert Verlinden from VoMiGEN, The Netherlands, he also spoke that day to the Conference participants.

Commissioner Dalli admits EU food safety regime must change.
New paper by Carrasco et al showing Roundup linked to birth defects. (PDF)
16 of September 2010: GM SOY Sustainable? Responsible?
by Michael Antoniou, Paulo Brack, Andrés Carrasco, John Fagan, Mohamed Habib,
Paulo Kageyama, Carlo Leifert, Rubens Onofre Nodari, Walter Pengue.
MORE: A summary of scientific evidence showing that genetically modified (GM) soy and the
glyphosate herbicide it is engineered to tolerate are unsustainable from the point
of view of farming, the environment, rural communities, animal and human health, and
economies.
9 September 2010 Dr. Blaylock: Dangers of GMO Pesticides.
Recent studies have found much higher concentrations of weed killers in these crops. This is important because weed killers and other pesticides are associated with a number of very deadly diseases, the main one being cancer. Weed killers, unlike many pesticides, extend to millions of homes, golf courses, and public facilities.
Swedish authorities demand investigations in Germany and the Czech Republic
04 September 2010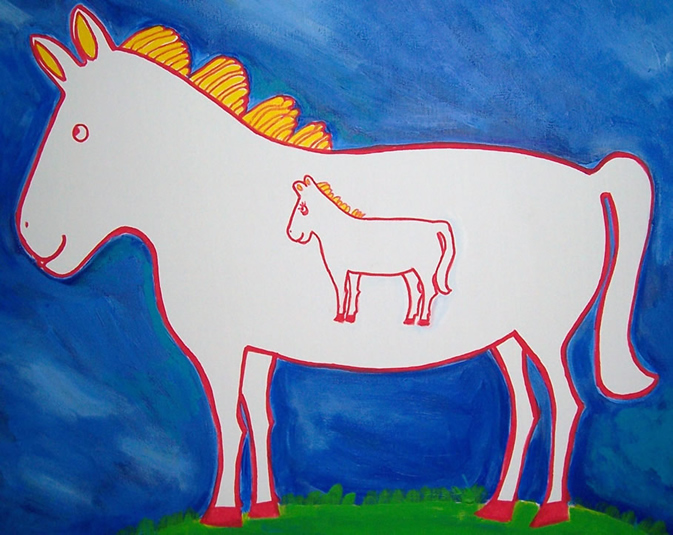 Click here and sign against a genetically engineered (GM)-vaccination study in foals from 3 days old untill 6 months.
30 of August 2010 SIGN OUR ON-LINE PETITION!
We have made a petition to the Minister of Environment on a genetically engineered (GM)-vaccination study in foals from 3 days old untill 6 months.
They use a GM-bacterium. The little horses stay in stables and on grassland and the menure with the GMO will be put on the land. The GMO-free Citizens don't want this and have written this petition, which you can sign.
Translating the fill-in data on this site: "Ik" is "I", "wonende" means the "city you live in","onderteken de petitie "Bezwaar tegen gentech vaccinproef voor veulens van 3 dg. tot 6 mnd. oud." means "Objection to a GMO-vaccionation study for foals of 3 days to 6 months". "Ja, mijn naam en woonplaats mogen publiek zichtbaar zijn onder de petitie" means: when you click the little box: "Yes, my name and place may be shown under this petition".
Paper: A novel method to generate unmarked gene deletions in the intracellular pathogen Rhodococcus equi using 5-fluorocytosine conditional lethality. R. van der Geize 1,* , W. de Jong 1 , G. I. Hessels 1 , A. W. F. Grommen 2 , A. A. C. Jacobs 2 and L. Dijkhuizen 1
Review article: Rhodococcus equi. Wim G. Meijer.
Thank you!
• Video: GM-free food production: a unique selling point for Ireland - the food island: 17 November 2009 press conference on the business case for Ireland's GM-free label, with Richard Corrigan (Michelin star chef and TV host), Darina Allen (Slow Food Ireland, Good Food Ireland, Free Choice Consumer Group, Artisan Food Forum, and the Farmers Market movement), Malcolm Thompson (Irish Cattle and Sheepfarmers Association), Evan Doyle (the Taste Council, Organic Trust and Euro-Toques Ireland), Dr. John Fagan (Cert ID), and Michael O'Callaghan (GM-free Ireland):
GM-free food production: a unique selling point for Ireland - the food island from justmultimedia on Vimeo.
7-06-2010: Genetically modified corn contaminates crops in seven German states
Greenpeace says the corn must be destroyed
A Greenpeace report says seven German states have had seed supplies contaminated by genetically modified corn. Losses for farmers could be in the millions of euros.
GM FOOD: FACTS NOT CROPS
The European Commission has just approved growing genetically modified crops for the first time in 12 years, putting the GM lobby's profits over public concerns -- 60% of Europeans feel we need more information before growing foods that could threaten our health and environment.

A new initiative allows 1 million EU citizens a unique chance to make official requests of the European Commission. Let's build a million voices for a ban on GM foods until the research is done. Sign the petition below and spread the word.
Don't forget to include your address so that all of our signatures count for the citizens' initiative.

To the President of the European Commission José Manuel Barroso:
We call on you to put a moratorium on the introduction of GM crops into Europe and set up an independent, ethical, scientific body to research the impact of GM crops and determine regulation.
PETITION TO THE EUROPEAN PARLIAMENT: EFSA AND THE FOOD
SAFETY RIGHTS OF CITIZENS Name: Brian John
Postal Address: Trefelin, Cilgwyn, Newport, Pembrokeshire SA42 0QN,
Wales, UK
See the video of Jeffrey Smith: Everything you have to know about about Dangerous Genetically Modified Foods.
Everything You HAVE TO KNOW about Dangerous Genetically Modified Foods from Jeffrey Smith on Vimeo.
May 3rd:
Action Alert - Codex Conference
Please send this URGENT message to US Government leaders to protect your right to know which foods are made from genetically modified organisms (GMOs). Send an email today to the Secretaries of State (Clinton), Agriculture (Vilsack), and Health and Human Services (Sebelius)..

Wednesday, April 28, 2010 - The Institute of Near Eastern & African Studies (INEAS) in Mass., USA, and other international organizations and individuals from five continents celebrated the International Seed Day (ISD) on April 26 2010.

23th April 2010

By Dr. Hans Herren and Dr. Marcia Ishii-Eiteman - 04/22/10 06:18 PM ET

20th of April 2010: The Voice of Russia:
Russia says genetically modified foods (soya) are harmful!

20th of April 2010: Source: Friends of the Earth Spain

15,000 people have gathered this morning in Madrid under the slogan "For a Food and GE Free Agriculture."

Farmers, environmentalists and consumers around the country have toured the city demanding the Government to follow the same path followed by countries like France, Germany or Austria, and ban the cultivation of GM maize in Spain.

See the photos here.

Spain is the only EU country that grows GM a large scale. Last year, 76,000 hectares were planted with genetically modified maize in Spain. This cultivation is carried out under an absolute lack of transparency and control, with numerous cases of contamination of crops and foods. Still, the government is ignoring their social and environmental impacts, and health consequences that have led other countries to ban it.
We are in the Spanish half of the EU Presidency and the Government has, if anything, even more responsibility to drive another model of food and agriculture. However, when the European Commission approved a few weeks ago the cultivation of a transgenic potato, Spain was one of the few countries that supported this decision.


20th of April 2010: 15.000 personas se manifiestan en Madrid "Por una Agricultura y una Alimentación Libres de Transgénicos"

7th of April 2010: Breaking News: Organizations in India successfully halt HPV vaccination program.
New York Times, 29th of March 2010: Judge Invalidates Human Gene Patent
A federal judge on Monday struck down patents on two genes linked to breast and ovarian cancer . The decision, if upheld, could throw into doubt the patents covering thousands of human genes and reshape the law of intellectual property! Learn more....
24th of March 2010. Testbiotech: Genetically engineered corn causes new plant pest.
Testbiotech warns that fields will turn into battlefields
Munich / Bremen - Large- scale cultivation of genetically engineered corn is causing
the spread of a new pest in the US Corn Belt. The western bean cutworm infests the
tips of the corncobs. Massive damage is being reported from those regions where the
corn MON810 (sold as YieldGard by company of Monsanto) is grown on large scale.
17th of March 2010 Anti GMO demonstration outside the Polish Parliament!
Sent: Friday, March 12, 2010 2:15 PM
GM-free victory as trials are scrapped.

The world's largest chemicals company BASF has scrapped plans to conduct trials of genetically modified potatoes in the Netherlands.
BASF send only one map where the trails should have been located. So people could not know where both fieldtrails would come.The European GMO-free Citizens did sent a petition to the Ministry of Environment on this. Today spokeswoman Miep Bos got an e-mail from the Ministry BASF had scrapped the two extra trails in Gelderland, the Netherlands.
To: 'Miep Bos' Subject: RE: DGM/SAS IM 07-006/02 en DGM/SAS IM 07-007/02
6th of March 2010. the EU asks your opinion on a GMO-carnation (assessment rapport) with changed colour the Moon Shadow, C/NL/97/13. Consent (Dutch authorities. already in1998!). Genetically modified carnation (Dianthus caryophyllus L.) lines 959A, 988A, 1226A, 1351A, 1363A, 1400A (Unique identifier FLO-11363-1) Comments can be send to this e-mail address untill the 21rst of March 00.00 h.
Belgian farmers are very worried about the permission the EU has given to grow gm-potatoes of BASF in the EU.
February 9th 2010 Greenpeace France: Liste des produits avec ou sans OGM.
February 9th 2010: GMW: India puts moratorium on Bt brinjal, Here's the Indian Environment Minister's report on his decision not to give the go ahead to Bt brinjal.
Subject: Solidarity with India, Jan 30th
Reply-To: "GMWatch" < gmwatch-weekly(at)gmwatch.eu >

NOTE: People anywhere in the world can register to fast tomorrow (Jan 30), or light a candle, in solidarity with Indian resistance to the imposition of GM brinjal (eggplant/aubergine). More info and sign up at http://www.brinjal.org
20 January 2010: Judge asked to halt planting of genetically modified sugarbeet seeds in Oregon.
Important news: 12 december 2009: Research Paper
A Comparison of the Effects of Three GM Corn Varieties on Mammalian
Health 1. CRIIGEN, 40 rue Monceau, 75008 Paris, France
2. University of Rouen LITIS EA 4108, 76821 Mont-Saint-Aignan, France
3. University of Caen, Institute of Biology, Risk Pole CNRS, EA 2608, 14032 Caen, France
Press Release.
December 2009, USA: The Farmer to Farmer Campaign on Genetic Engineering (Farmer to Farmer) is a network of 34 farm organizations from throughout the United States that endorsed the Farmer Declaration on Genetic Engineering released in December 1999. Farmer to Farmer seeks to build a farmer driven campaign focused on concerns around agricultural biotechnology and to provide a national forum for farmer action on these issues. Presents; Out of Hand
American farmers are feeling the effects of a concentrated seed industry. Seed options are diminishing while prices increase at historic rates. A new report by the Farmer to Farmer Campaign, Out of Hand: Farmers Face the Consequences of a Consolidated Seed Industry , uses industry sources, government data, and personal interviews with farmers and seed industry representatives to document the consequences of concentration in the seed industry.
JOE WHITTINGTON AND ANDREW M. HARRIS
BLOOMBERG NEWS, 5 December 2009
Uitspraak: Bayer CropScience veroordeeld tot het betalen van $2 miljoen, vanwege verliezen die twee boeren uit Missouri leden, betreffende een experiment met een rijstsoort van dit bedrijf dat hun gewas besmette.
$2 million verdict against Bayer CropScience
JOE WHITTINGTON AND ANDREW M. HARRIS
BLOOMBERG NEWS, 5 December 2009
Bayer CropScience LP must pay about $2 million for losses sustained by two Missouri farmers when an experimental variety of rice the company was testing cross-bred with their crops, a federal jury ruled.
The American Lawyer: Litigation Daily, December 4 2009.
Fragment: Federal district court judge Catherine Perry is overseeing some 3,000 suits in which rice farmers allege that Bayer CropScience was careless in.....more
5 december 2009 GMWatch: Large concentrations of transgenic DNA in animals from the food web associated with RoundUp Ready corn.
27th of November 2009: Photos and text about the Conference in the Kurhaus Hotel, Scheveningen "GMOs in European Agriculture and Food Production."
SWINE FLU
Latest news:
7 Westferry Circus, Canary Wharf, London E14 4HB, UK
Tel. (44-20) 74 18 84 00 Fax (44-20) 74 18 86 68
E-mail: mail@emea.europa.eu http://www.emea.europa.eu
©European Medicines Agency, 2009. Reproduction is authorised provided the source is acknowledged.
London, 4 December 2009
Doc. Ref. EMEA/780391/2009
Questions and answers on the risk of fever with Pandemrix in young children
The Committee for Medicinal Products for Human Use (CHMP) at the European Medicines Agency has reviewed data on the use of a second dose of the pandemic flu vaccine Pandemrix in children aged from 6 months to 3 years. The Committee noted that this second dose brings a further immune response, but that there is also an increased risk of fever.
Swine flu epidemic escaped from lab, Australian scientists say.
Abstract
Mitochondrial dysfunction, impaired oxidative-reduction activity, degeneration, and death in human neuronal and fetal cells induced by low-level exposure to thimerosal and other metal compounds. Toxicological & Environmental Chemistry, Volume 91, Issue 4 June 2009 , pages 735 - 749
Authors: D. A. Geier a ; P. G. King b ; M. R. Geier c
18 november 2009 Little heart defect and damadge lungs patient dies after vaccination against Mexican flu.
Possible hidden hazards of mass vaccination against new influenza A/H1N1: have the cardiovascular risks been adequately weighed? Sucharit Bhakdi 1 , Karl Lackner 2 and Hans-Wilhelm Doerr 3
9 november 2009 the Lancet : Yearly influenza vaccinations: a double-edged sword?
9 november 2009 Dr. Mae Wan Ho: Cardiovascular Risks from Swine Flu Vaccines.
Nine reasons for you not to get vaccinated against the swine-flu virus A H1N1.
French: Neuf raisins de ne pas vous faire vacciner contre la grippe A H1N1.
A well known coorperation already knew about a pandemie in 2006!
31 oktober 2009 Dr Mercola's Update
First deaths in Sweden from "swine flu" vaccine.
Do NOT Let Your Child And Loved Ones Get Flu GMO-Vaccine ( the H1N1 swine flu ) -- 18 Reasons Why
Posted by: Dr. Mercola
October 06 2009 | 12,000 views
H1N1 Vaccine to German Soldiers; Different Than Citizens.
Van ISIS: ISIS Report 27/07/09 Fast-tracked Swine Flu Vaccine under
Fire
The vaccines far more deadly than the swine flu; mass vaccinations a recipe for disaster.
Dr. Mae-Wan Ho and Prof. Joe Cummins.

This report has been submitted to Sir Liam Donaldson, Chief Medical Officer of the
UK, and to the US Food and Drugs Administration.

Please circulate widely, with all the hyperlinks included, to your elected
representatives, wherever you are.
1/6 BELL TOLLING for the Swine Flu (CAMPANAS por la gripe A) subtitled
TERESA FORCADES, doctora en Salut Pública, hace una reflexión sobre
la historia de la GRIPE A, aportando datos científicos, y enumerando las irregularidades relacionadas con el tema.
UPDATE: Polish Health Minister, a family doctor, tells Parliament she will not allow use of untested swine flu jabs: reveals secret contracts violate the law. Polish, English.
Gary Null Speaking Out at the NYS Assembly Hearing | 10-13-2009 | (part 1 of 3)
Fax to Stop the Vax Project - Urgent Plea to all True Patriots!
FORCED FLU VACCINATION BILL PASSES SENATE (Pandemic Preparedness Bill)
---
Secret FDA Memos Reveal Concerns About Genetically Modified Foods (GMOs)
FDA scientists were questioned about the potential health hazards genetically modified (GM) foods would have. Previously secret documents attained by the Alliance for Bio-Integrity's 1998 lawsuit reveal that our food experts were very concerned that GM foods carried "serious health hazards." They unofficially concluded that GM foods lead to "different risks" for consumers than untreated foods. More...
2nd of October 2009 About the hearing on Moonaqua tm:
The hearing went well. We were with 6 persons, the ministry too and she had one independent male secretary to take the minutes and he recorded it on a tape. I could speak for half an hour, to read out a.o. the 14 pieces (some in English, one in French, the chair said that I should not read the French piece because nobody could understand but would be recorded in the minutes) from signers who have send me a piece for the hearing.
You can read them here. I have asked whether the decision on the petition from the Ministry could be in other languages. But they stressed that it is not possible and not allowed and they asked me to send the coming (in 10 weeks) decision to all signers of the petition. So I have to translate it myself.
But Portuguese, Italian, Spanish and French is not a language I master. In my plea I have referred to the cooperation between Niaba (Dutch union of multinationals like Monsanto, Unilever etc.) and several ministries and their civil servants and that one was present in the room. He told me afterwards, "You did mean me, but I don't feel addressed, we just can speak to them don't we?"
Furthermore the question was: who is an interested person who can go to a higher court to try to stop the introduction into the market. Ordinairy people cannot go anymore to court when they aren't an interested party according to some judges. But there isn't a law yet that describes what a interesting person or - party really is. And the Actio Popularis, the law that gave everyone the opportunity to go to court in case of undesired decisions of the government is been abolished silently and nobody knew what had happend. More introductions into the market of GMOs will come up, but all is a lot of work.
Three other persons also spoke. One older person who was a tulip grower and nowadays is a pensioner who grows organic bulbs, spoke long and more in a spiritual way and after an hour and a half the hearing was done.
6th of September: Petition is over!
Press Release
Portuguese - and other European citizens don't like lilac/blue GMO-carnations!
Recently I wrote a petition against a GMO-carnation with changed colour, named Moonaqua TM of Florigene, as a spokeswoman of the European GMO-free Citizens to the Dutch Ministry of Environment. People asked me to translate it into English.
I also asked several people to translate a short text on the carnation into Portuguese, German, Italian and French. A lot of Portuguese reacted on my call, which was put on my website, to undersign my petition. It appears that the carnation is the symbol of Portugal because of the carnation revolution of 1974. In no time I have found 20 Portuguese sites (scroll down) where my petition was mentioned ( "uma petição sobre cravos OGM com a cor alterada"). See also Jornal de Notícias (at the moment, 1rst of September 2009, visited 1370 times). More reactions came from Brazil, Mauritius, USA, New Zealand, Australia, Canada, South-Africa, Cyprus, the Philippines, UK, Scotland, Spain, Italy, France, Belgium, Germany, Sweden, Poland and the Netherlands. People like dr. Mae-Wan Ho (UK, she has put a link of my petition and a story on it with a call up to sign it on the site of ISIS , ) and Prof. R. Cummins (Canada) of ISIS, Institute of Science in Society signed the petition themselves as well as
Mrs. Jadwiga Lopata, from Poland, winner of the Goldman Prize (eco- Nobelprice) and vice president ICPPC , and Sir Julian Rose president of the International Coalition to Protect the Polish Countryside; more signees are Le Centre d'Information sur l'Environnement France; Scarborough Against Genetic Engineering (SAGE) ; Ludovic Desbrus président de Agri Bio Ardèche (Ardèche France); Sebastian Mezger von RAPUNZEL NATURKOST AG; de OGM dangers organisation from France: and la Confédération Paysanne, sa commission OGM ; and Union of International Associations from Brussels . Several Dutch foundations signed, which are un- subsidised and therefore independent.
See my more extensive petition on this site (Dutch).
August 2009 Do Seed Companies Control GM Crop Research? Scientists must ask corporations for permission
before publishing independent research on genetically modified crops. That restriction must end.
From Scientific American Magazine
Sign our petition on GMO-carnation Moonaqua (TM).
Petition with objections to the intention of placing on the market (no cultivation) a GMO-carnation with altered flower color: Moonaqua™, C/NL/06/01. Deadline 1rst of September 2009.
English petition with list for more signatures (PDF).
English petition (PDF). English
DIRECTIVE 2001/18/EC English
More languages.
April 2009 GMO Moratorium: The way forward for Europe
The participants of the 5th European Conference of GMO-Free Regions "Food
and Democracy" call for an EU-wide moratorium on the authorization and the
commercial planting of genetically modified organisms (GMOs). In the wake of
six EU member states banning the planting of MON810 and in light of the rapid
increase in GMO-free regions in Europe, there has never been a better moment
for a moratorium than now.
14 april 2009 Germany bans Monsanto's GM maize.
Germany is to ban the cultivation of genetically modified (GM) maize - the only GM crop widely grown in Europe.
4 April 2009 Liberty Link of Bayer not welcome in Brazil.
24 March 2009 Hungerstrike of two Polish woman farmers, Danuta and Edyta because of the dangers of GMOs. See the photos here.
You can support them by sending an e-mail to the Polish Prime minister. See here an exemple of a letter.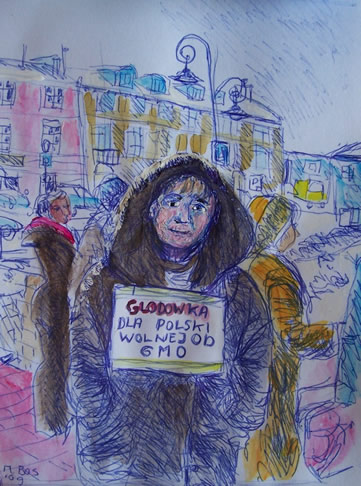 This is Edyta Jaroszewska. Drawn after a photo. The sign says; " Hungerstrike for a GMO-free Poland".
Edyta Jaroszewska, 42 year old organic farmer and chairperson of the Organic Farmers Association, started fasting for a GMO Free Poland. Two days ago Danute Pilarska, another organic farmer and chairperson of The Organic Farmer's Union, joined her. Yesterday, both women, together with other members of the Coalition for a GMO Free Poland, joined a meeting of the Polish government's Agricultural Committee in the Senate in Warsaw. The committee was discussing the future of GMO in Poland. After a few hours of debate Edyta concluded "There's no political will within the Polish government to stop corporations from illegal planting of the GM maize variety MON 810 - and to ensure that Poland is kept GMO free. This opens the possibility of the widespread planting of MON 810 during this year. So we don't have another choice other than to stay here and fight!" Today, the fasting ladies, supported by other members of the Coalition, have been protesting in front of the Ministry of Agriculture in Warsaw.
EU Clashes with U.S. Over GMO Maize Feed Imports Fri Apr 15, 2005 08:35 AM ET
BRUSSELS (Reuters) - Europe and the United States crossed swords on Friday after EU experts blocked imports of U.S. maize animal feed and grains unless there is proof they are free of an illegal genetically modified organism (GMO).
U.S. exports of corn gluten feed and brewers grains, a by-product of ethanol, would have to be certified by an internationally-accredited laboratory to show there is no presence of Bt-10 maize, a GMO that is not authorized in Europe.
The measures will enter into force early next week and be reviewed at the end of October. U.S. exporters send 3.5 million tons of corn gluten feed to EU countries each year, a trade that is worth some 350 million euros ($449 million).
"This is a targeted measure which is necessary to uphold EU law, maintain consumer confidence and ensure that the unauthorized GMO Bt-10 cannot enter the EU," EU Health and Consumer Protection Commissioner Markos Kyprianou said.
---
Controversy over Gene Therapy 'Breakthrough'
A 'precision' gene therapy turns out to have significant off-target effects Dr. Mae-Wan Ho
Collateral damage from 'precision' gene therapy
A gene therapy technique, hailed as 2002's 'breakthrough of the year' in its ability to shut down specifically and precisely any chosen gene, has been found not to be so specific or precise after all. The technique involves RNA interference ("Subverting the genetic text", SiS 24 ), the ability of a short specific duplex sequence of RNA to target the transcript of gene, thereby shutting it down. Unfortunately, there are "off-target" effects on other genes and proteins.
The technique depends on a perfect match between the siRNA (small interfering RNA) introduced and its complementary sequence in the gene transcript. Only sequences of 19-21 base pairs are generally used, as longer sequences induce nonspecific immune reactions.
However, various mismatches between the siRNA and its target appear to be tolerated, so that other transcripts with similar sequences are also affected.
---
The Institute of Science in Society Science Society
Sustainability http://www.i-sis.org.uk

General Enquiries sam@i-sis.org.uk Website/Mailing List
press-release@i-sis.org.uk ISIS Director m.w.ho@i-sis.org.uk


URGENT ALERT! TAKE ACTION NOW!


STOP SMALLPOX GENETIC ENGINEERING!

4 April 2005

Please take action now to stop smallpox genetic engineering! Visit www.smallpoxbiosafety.org to send a letter to the WHO
Director General, urging the World Health Assembly to reject a proposal that would permit the genetic engineering of
smallpox, and to instead ensure that all remaining stocks of the virus are destroyed within two years.

The proposal to genetically engineer smallpox, which would also permit smallpox genes to be inserted into related
poxviruses and the unlimited distribution of small segments of smallpox DNA, poses a large number of public health,
biosafety, and biological weapons risks.

The World Health Assembly will discuss the proposal when it
meets in Geneva, Switzerland from 16-25 May 2005.
Unapproved GM corn found in US food chain 13:04 23 March 2005
A Swiss company accidentally sold unapproved genetically modified seed corn in the US for four years. The mistake resulted in about 133 million kilograms of the corn making its way into the food chain.
Officials for the company, Syngenta, and the US Environmental Protection Agency insist there is no danger to human health. But the EPA and the US Department of Agriculture are investigating to see if any laws or regulations were broken. The EPA confirmed the investigation was underway in a statement to the journal Nature .
Between 2001 and 2004, Syngenta accidentally sold an unapproved corn variety called Bt 10, mistaking it for the approved variety Bt 11. Both varieties produce a bacterial toxin that kills insects, using the same inserted gene and producing the same protein. The only difference is the location of the inserted gene, Syngenta says.
Fragment from New Scientist news service.
---
LATEST GM CROP TRIALS SHOW MORE WILDLIFE DAMAGE

The last of the GM crop trials has confirmed that there are no environmental benefits to be obtained from the growing of GM crops in the UK, and that ongoing wildlife damage would be inevitable if they were to be grown commercially (1).
---
ISIS Press Release 08/03/05 Iraqi Government Urged to Revoke "Cynical and Wicked" Patent Law
Dr. Brian John
"Cynical and wicked" imposition on occupied Iraq
Aid agencies and NGOs across the globe have been reacting with horror to the news that new legislation in Iraq was carefully put in place last year by the United States that will effectively bring the whole of the country's agricultural sector under the control of trans-national corporations. This spells disaster for the Iraqi government and the country's farmers, paving the way for companies like Monsanto and Syngenta to control the entire food chain from planted seed to packaged food products.
The new Iraqi Government is now being urged to revoke Order 81, the offending piece of legislation signed and brought into force by Paul Bremer, the Administrator of the Coalition Provisional Authority, on 26th April 2004.
NGOs have described Order 81 as "cynical and wicked", as the section relating to the registration and protection of plant varieties was slipped in almost as an appendage to an Order dealing with patents, industrial design, disclosure of information and integrated circuits.
The manner in which this Order was imposed on the people of Iraq is an outrage in itself. There was virtually no Iraqi input into the wording of the Order, as the country and its people were on their knees following the Iraq War.
Fragment.
---
ISIS Press Release 07/03/05 Glyphosate Toxic & Roundup Worse
Dr. Mae-Wan Ho and Prof. Joe Cummins call for urgent regulatory review of the most widely used herbicide in the light of new scientific evidence
New research findings are raising serious concerns over the safety of the most commonly used herbicide, and should be sending shockwaves through proponents of genetically modified (GM) crops made tolerant to the herbicide, which now account for 75% of all GM crops in the world.
Worse yet, the most common formulation of the herbicide is even more toxic than the herbicide by itself, and is made by the same biotech giant that created the herbicide tolerant GM crops.
Broad-spectrum herbicide glyphosate (N-(phosphonomethyl)glycine), commonly sold in the commercial formulation Roundup (Monsanto company, St. Louis, Missouri USA) has been frequently used both on crops and non-crops areas world wide since it was introduced in the 1970s. Roundup is a combination of glyphosate with other chemicals including a surfactant (detergent) polyoxyethyleneamine that enhance the spreading of the spray droplets on the leaves of plants. The use of Roundup has gone up especially in countries growing Roundup- tolerant GM crops created by Monsanto.
Glyphosate kills plants by inhibiting the enzyme, 5-enolpyruvoyl- shikimate-3-phosphate synthetase (EPSPS), essential for the formation of aromatic amino acids such as phenylalanine, tyrosine and tryptophan; which leads onto vitamins and many secondary metabolites such as folates, ubiquinones and naphthoquines. It is believed to be rather specific in action and less toxic than other herbicides, because the shikimate pathway is not present in mammals and humans. However, glyphosate acts by preventing the binding of phosphoenol pyruvate to the active site of the enzyme, and phosphoenol pyruvate is a core metabolite present in all organisms; thus it has the potential to affect other metabolic pathways. This is borne out by many reports of toxicities associated with the herbicide reviewed in the Independent Science Panel Report, The Case for a GM-free Sustainable World [1].
An epidemiological study in the Ontario farming populations showed that glyphosate exposure nearly doubled the risk of late spontaneous abortions [2], and Prof. Eric-Giles Seralini and his research team from Caen University in France decided to find out more about the effects of the herbicide on cells from the human placenta.
Fragment.
---
JOHANNESBURG - South Africa is pushing ahead with genetically modified (GMO) commercial crops, but many other African countries shun them.
---
02-02-2005 Popularity of Biotech Foods Beginning to Rot
---
GM Cotton Fiascos Around the World (26-01-2005)
Zie dit artikel voor de vele mislukkingen met GM katoen in o.a.: Indonesië, India, China, Africa, AmerikaoGM cotton not environmentally friendly or safe. Bron http://www.i-sis.org.uk/
---
Angola bans genetically modified imports (24-01-2005)
Luanda - Angola has banned the import of all genetically modified organisms (GMOs) except for food aid destined to feed its hungry, state run news agency Angop reported on Monday.

---
European conference calls for regional governance (24-01-2005)
Berlin , 24 th January 2005 - The Regions of Europe should be given the final say on the growing of genetically modified crops (GMOs) in their area, a major European conference today concluded.
---
Monsanto fined 1.5 million dollar in bribe case.
Friday, January 7, 2005 Posted: 9:20 AM EST (1420 GMT)
Quotation:
NEW YORK (Reuters) -- Monsanto Co. Thursday said it agreed to pay $1.5 million in penalties as part of a settlement with U.S. authorities over improper payments and financial irregularities related to its Indonesian affiliates.
---
Europe Holding Firm Against GMOs (11-01-2005)
Germany passes first anti-GM Law
Strict German law to protect GM-free agriculture followed by majority votes against lifting bans on GM food and feed.
The new law introduces the principle that GM farmers and GM operators are financially liable for economic damage caused if their crops contaminate non-GM products. It takes a proactive stance against GMOs, and protects organic farms and non-GM conventional farms against insidious dominance of GMOs. It also protects ecologically sensitive zones against transgenic contamination. It lays down rules for good professional practice such as minimum separation distances, documentation, and use of GMO fertilizers. And companies are bound by law to inform growers about compliance with the demands of good professional practice by means of an instruction leaflet; and are liable for incorrect product information.

Mae-Wan Ho en Rhea Gala, The Institute of Science in Society
---
Europe votes to keep GM crop bans !!!!!!
---
The City of Lelystad GMO-Free?
Citizen initiative to keep Lelystad GMO-Free.
---
Support from all over the world for our Citizen intiative.
---
Scientists Discover New Role For Tiny RNA In Plant Development
Comment by Miep Bos: "What do we know of DNA? Very, very little, why don't we leave it as it is, and wonder how beautiful and perfect all is made.
---
BBC: Monsanto drops plans for GM wheat!
---
Demonstration -WTO hands of my plate-

26th of April was a Dutch demonstration, of Milieudefensie (Dutch Friends of the Earth) called "WTO hands of my plate" in the Hague. The last photo you can see the representative of the Ambassy of Luxembourg, they are against placing on the market and cultivation of Bt 11 maize, because of health problems that may arise. For more photos click here
Zambia will feed herself from now on.
In the strongest message yet delivered to the world, Zambia's Minister of Agriculture, reaffirms his country's rejection of GM food, and spells out his ambitious plans to make Zambia self-sufficient. Dr. Mae-Wan Ho reports on an exclusive interview.
---
Thousands of people against GMO's in Stuttgart, Germany.
On Sunday 18th of April 2004.
300 Farmers helped them: they blocked the streets with their tractors. As a symbol of the genepollen thousands of yellow balloons floated into the air.(German)
---
In France, there also were protests in many places, because of the new law on GMO-food and feed.
---
Greenpeace steps up global campaign against GE soya and GE food
Last edited: 16-04-2004
Amsterdam/ Brussels Two days before new European Union rules on labelling and traceability of genetically modified organisms (GMOs) come into effect, international environmental group Greenpeace announced that it was stepping up its campaign against the spread of genetically engineered (GE) soya and to mobilise consumers against GE food. Greenpeace believes that the new European Union labelling and traceability rules will ease consumer and market rejection, but strongly criticises the loophole that allows meat and dairy products from animals reared on a GMO diet to be sold without a label to this effect.
---
. Predicted Hazard of Gene Therapy A Reality
See what Dr. Mae-Wan Ho says about this on the website of ISIS.
---
Acrylamide In Cooked Foods: The Glyphosate Connection.
Recent health alert over toxic acrylamide in cooked foods is linked to glyphosate, .Prof. Joe Cummings reveals on the website of ISIS
---
Disclaimer
All of the information contained within this website has been sourced from books, medical journals, articles and websites to present you with what, at the time of writing, we believe is accurate and relevant information. Any opinions expressed are those of the author. Nothing contained herein is a replacement for medical advice from a competent and well-informed medical professional.
---
Creating Worldpeace? Support the Vedic pandits now!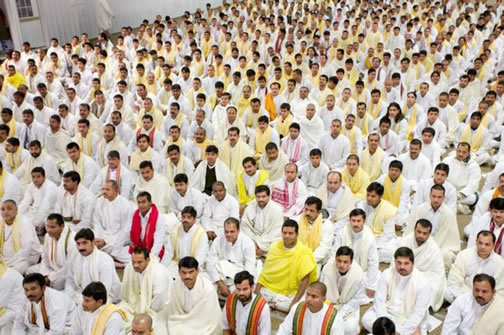 Click on the photo.
---