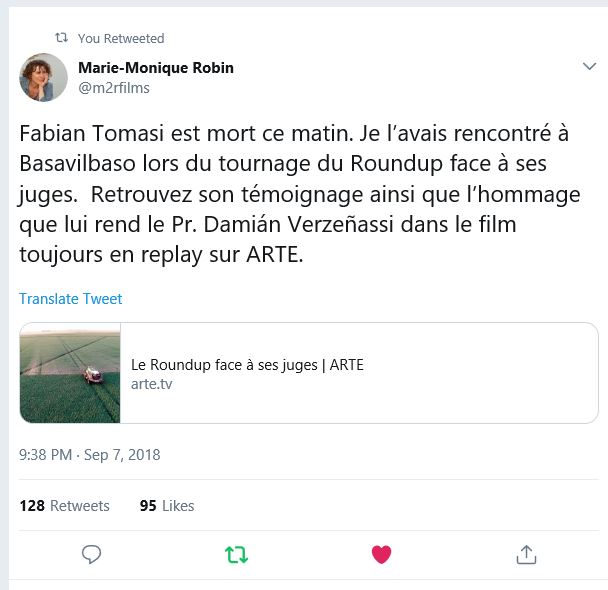 Roundup staat tegenover zijn rechters.
Een indrukwekkende impressie van het Monsanto Tribunaal in Den Haag. Getuigen verklaren ziek geworden te zijn (vaak kanker) van Roundup of hun kinderen hebben geboorteafwijkingen gekregen omdat de moeders Roundup sprayden tijdens de eerste maanden van de zwangerschap of omdat de kinderen het gif in ademden omdat het vlakbij vaak met vliegtuigen verspreid werd. Er stond nergens op de verpakking dat het giftig kon zijn. Robin zocht ze op in hun woonplaats.
In Argentinië werden mensen ziek omdat er sinds 1996 met Roundup gesproeid werd vanwege de gentech sojavelden. Hier voor was toestemming gegeven door het ministerie van Landbouw. Fabian Tomasi is een van de slachtoffers die machines met Roundup vulde, hij was één van de weinigen die hierover openlijke sprak. Hij overleed vanmiddag.
In Shri Lanka zijn veel nierziekten, het water is vervuild met Roundup. Mensen hebben van het giftige water gedronken. Dat komt van de rijstvelden. Er is een Ecocide bezig net als in Argentinië en andere delen van de wereld.
Slotwoord van een slachtoffer. "De hele planeet is in gevaar".
Deze indrukwekkende film van Marie-Monique Robin, maakster van de film en het boek "De wereld volgens Monsanto",  is tijdelijk te zien tot 12 oktober 2018 en daarna te koop.
Je kunt kiezen voor de Duitse taal als je de Franse taal niet machtig bent.