Help Zuid-Afrika door via email (zie onder) bezwaar te maken tegen drie (giftige) gentech maisgewassen bedoeld om op de markt te brengen in Zuid-Afrika. Help SA to object to 3 GM maize crops to be placed on the market in SA. Het zijn:
MON 87427 x MON 89014 x MIR 162 x NK 601 x MON 87419
MON 87427 x MON 89014 x MON 810 x MIR 162 x MON 87411 x MON 87419 en
MON 87427 x MON 87419 x NK 601
De gentech maisgewassen zijn bestand gemaakt tegen de herbiciden glyfosaat, glufosinaat-ammonium en het pesticide Dicamba (zie uitleg onder).
Onze bezwaren/our objections van 18 april 2019.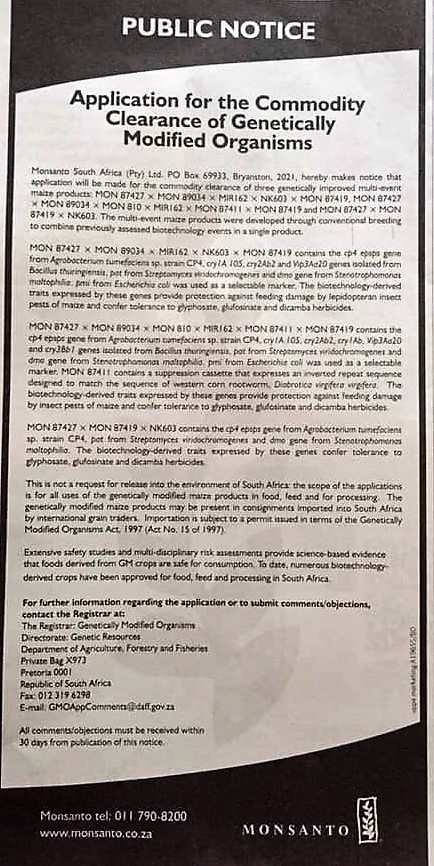 Krantenartikel van Business Day, van 8 april, 30 dagen tijd om te antwoorden via 'GMOAppComments@daff.gov.za'. Hoofdletters gebruiken anders komt het niet aan. Met een CC naar Nogmosa@gmail.com.
Gelieve massaal te reageren.
Doe het krantenknipsel in de bijlage van je email, je kunt hem copiëren van deze pagina, dan weet men waar het precies over gaat. Je kunt eenvoudig schrijven dat het een heel slecht idee is, gewoon in het Nederlands, om deze 3 tegen glyfosaat, glufosinaat-ammonium en Dicamba resistente gentech maisgewassen op de Zuid-Afrikaanse markt toe te laten en dat er verwacht kan worden, dat als dit op de markt komt, er zeer veel mensen ziek kunnen worden.
Mieliepap die dan op je bord komt in Zuid-Afrika, zal dan giftig zijn als wij deze marktoelating niet stoppen!
Dicamba-resistente gewassen[Wikipedia.]
"De Universiteit van Nebraska en Monsanto hebben genetisch gemodificeerdesojabonen en andere tweezaadlobbige gewassen ontwikkeld die dicamba-resistent zijn.[2] Deze Dicamba-Ready-gewassen zouden de volgende generatie van herbicide-resistente gewassen moeten vormen, na de Roundup-Ready (glyfosaat-resistente) gewassen, die hun nut grotendeels verloren toen bleek dat er ook glyfosaat-tolerante en glyfosaat-resistente onkruidgewassen verschenen. Begin 2009 sloot Monsanto een overeenkomst met BASF, die een grote producent is van dicamba, voor de ontwikkeling van deze nieuwe generatie producten op basis van dicamba.[3]"