Dysregulation of Hypothalamic Gene Expression and the Oxytocinergic System by Soybean Oil Diets in Male Mice | Endocrinology | Oxford Academic Accepted manuscript. 01-08-2020.
Soybean oil causes changes in the brain that leads to obesity, diabetes and affects neurological conditions like autism, Alzheimer's disease, anxiety, and depression. Oxfort Academic.
Nederlands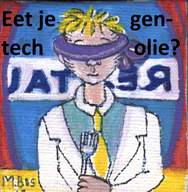 Olie van gentech sojabonen veroorzaakt bij muizen veranderingen in de hersenen die leiden tot overgewicht en beïnvloeden neurologische condities zoals autisme, Alzheimer, angst en depressie.
Deze gentech olie wordt veel gebruikt bij restaurants, visboeren en dergelijke. Soja olie wordt ook wel "slaolie" genoemd. Als het gentech sojaolie betreft, staat het op de verpakking. Dat is verplicht in de EU. Op het menu hoeft in Nederland niet vermeld te worden dat gentech olie wordt gebruikt. In Duitsland wel.
Bron: Oxfort Academic.