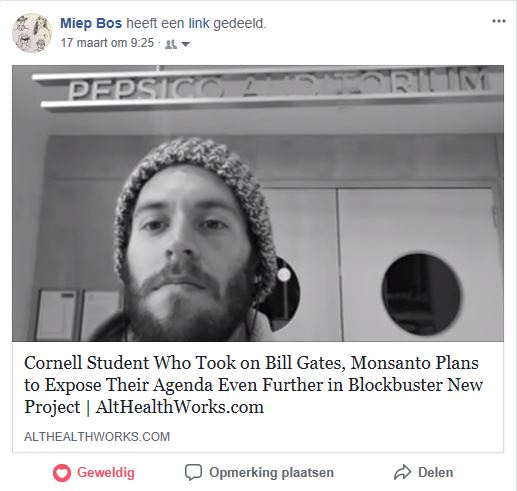 Een student van Cornell Universiteit, Robert Schooler, merkte dat zijn universiteit donaties ontving van Monsanto en van andere multinationals. Hij bracht die kennis de wereld in. Maar Cornell bleef donaties ontvangen nu meer dan $6 million van the Bill & Melinda Gates Foundation, die ook een warm voorstander is van gentech. Zijn nieuwste actie is het maken van een film project.
Quote: "Hey Cornell, remember me? Your beloved hippie student who can't stand the fact that you're so cozy with Monsanto and the Biotech GMO industry?" Schooler asks in a video announcing plans for the aforementioned new film project.
Source: by Nick Meyer | February 1, 2018. Cornell Student Who Took on Bill Gates, Monsanto Plans to Expose Their Agenda Even Further in Blockbuster New Project.
T. Colin Campbell – Nutrition, Science, & Academic Freedom
Gepubliceerd op 22 apr. 2017.
T. Colin Campbell gives his "homecoming" lecture at Cornell University, and describes the challenges he's faced over the course of his 60+ year career.