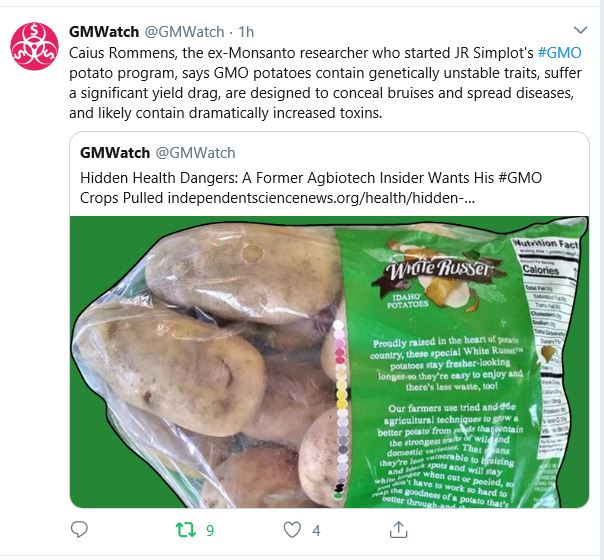 Quote: "The almost daily experience I suppressed was that none of my modifications improved potato's vigor or yield potential. In contrast, most GMO varieties were stunted, chlorotic, mutated, or sterile, and many of them died quickly, like prematurely-born babies."
10-08-2018, Independent Science News for food and agriculture: Hidden Health Dangers: A Former Agbiotech Insider Wants His GMO Crops Pulled. Link or Pdf.
Nederlands:
Een wetenschapper, Caius Rommens, die eerder voor Monsanto werkte, en in 2000 voor  J.R. Simplot Company (aardappelen) ging werken, heeft verklaard dat hij de gentech aardappelen die hij heeft helpen ontwikkelen terug wil trekken. Er mankeert te veel aan en hebben de beloften niet waargemaakt.Vertaald fragment:
"De bijna dagelijkse ondervinding die ik onderdrukte was dat geen van mijn manipulaties de veldpotentie en de kracht van de aardappelen verbeterde. Daarentegen waren de meeste GMO variëteiten niet uitgegroeid, hadden gebrek aan chlorofyl waren gemuteerd of steriel en veel van deze aardappelen stierven snel zoals te vroeggeboren baby´s."
De beschreven eigenschappen van de genetisch gemodificeerde aardappelen, die de producent nu wil terugtrekken uit de markt, waren niet bedoeld. Maar zijn wel levensbedreigend voor de consument en voor de gezondheid van andere aardappelrassen en de ecologie tijdens de groei.  Bestuivende insecten kunnen niet tegen genetisch gemodificeerd stuifmeel.
In Nederland stimuleert WUR nog steeds genetische modificering van gewassen op basis van achterhaalde wetenschap.
Een gen codeert niet voor een eigenschap.
Bovendien is het genoom fluide, niet in steen gebeiteld.
Ook Crisp'r is niet veilig. Niet invasief, maar het gen dat is aan of uitgezet is dat permanent, valt biologisch niet meer terug te schakelen.
Na Crisp'r modificatie van bananenvliegen hebben alle daaruit voortkomende nakomelingen voortaan rode ogen.
Interview met de wetenschapper: The Creator of GMO Potatoes Reveals The Dangerous Truth – Exclusive Interview. Posted on Oct 9 2018 – 11:24 am by Sustainable Pulse.
Lees ook het interview met GMWatch van 11 oktober 2018.