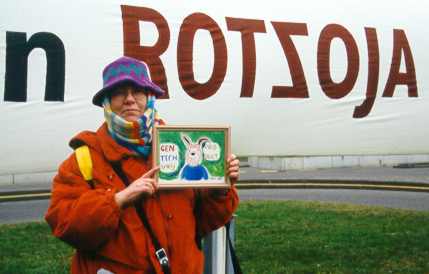 The first GM soya approved and  imported on the EU market was via The United Kingdom but there were no good data on the food safety of the soya. All the data came from Monsanto.  More English text below.
Dit gaat over de eerste gentechsoja die in de UK werd goedgekeurd en daardoor op de EU markt kwam. De naam: Event Code : MON-Ø4Ø32-6
Trade Name: Roundup Ready™ soybean.
De Nederlandse Gezondheidsraad (Health Council of the Netherlands) schreef o.a. in 2000 het volgende aan de minister van WVS:
Onderwerp : Advies over de veiligheid van herbicide-resistente soja  GTS 40-3-2
Uw kenmerk : GZB/VVB 2077665
Ons kenmerk : 2000/03VNV, U1599/JW/cb/622-AB
Bijlagen : 2
Datum : 14 juli 2000
"Dit geldt waarschijnlijk voor meer gewassen die met de geladen deeltjesmethode genetisch gemodificeerd zijn. Het lijkt op basis van de huidige stand van de moleculairbiologische techniek niet mogelijk volledige zekerheid te krijgen dat in dit soort genetisch gemodificeerde gewassen geen onbekend extra eiwit gevormd wordt. Dit kan hoogstens aannemelijk worden…." Meer zie hier.
Er is alleen gekeken naar rapporten die Monsanto in mei en juni 2000 bekend maakte. Er werden voederproeven gedaan die slechts één tot 4 weken  duurden en het percentage sojameel (niet de gehele plant) in hun voer was slechts 25%! De Gezondheidsraad drong aan op voedselproeven bij mensen. Dit gebeurde echter niet in het laboratorium maar de burgers werden proefkonijnen.
Omdat deze gentech soja die bestand is gemaakt tegen Roundup in 1995 in het Verenigd Koninkrijk was goedgekeurd, voor markttoelating voor voer en voedsel, gold deze toelating voor de hele EU.  Deze GM-RR-soja heeft  een hernieuwde toelating gekregen in 2012 en in 2022 zal de toestemming verlengd worden na een verzoek van Monsanto (nu Bayer). Want er staat:
(2) "Levensmiddelen die zijn geproduceerd met genetisch gemodificeerde soja 40-3-2, met inbegrip van levensmiddelenadditieven, voedermiddelen en toevoegingsmiddelen voor diervoeding die zijn geproduceerd met genetisch gemodificeerde soja 40-3-2, werden vóór de inwerkingtreding van Verordening (EG) nr. 1829/2003 in de handel gebracht.
(3) Op grond van artikel 8, lid 1, en artikel 20, lid 1, van Verordening (EG) nr. 1829/2003 mogen producten die vóór de datum van toepassing van de verordening wettig in de handel zijn gebracht, verder in de handel worden gebracht, mits de Commissie hiervan in kennis is gesteld."
Schandalig toch!
English more->>>
This is about the first placing on the EU market of GM Soy, event Code : MON-Ø4Ø32-6
Trade Name: Roundup Ready™ soybean.
The Health Council of the Netherlands (De Nederlandse Gezondheidsraad) wrote in 2000 to the Dutch Secretary of State that there were no food trials with humans only feed trials with animals performed in 1995,  during  1 to 4 weeks with only 25% of soy meal in their feed.The Dutch authorities only looked into the papers that Monsanto had delivered. There were some questions about the papers of Monsanto and the Dutch Council wanted to perform food and feed trials with the whole GM soya plant with humans and animals, but this was never done. The citizens all over the world became Guinea pigs.
2007. Health Council of the Netherlands The safety assessment of novel foods (2:)
Quotes:
"Monsanto does not give an estimate of human consumption of soya or soya protein. The genetically modified soya contains CP4 EPSPS protein, but the dossier does not state quantities; other sources give quantities of up to 300 μg/g…. As there are no data on human exposure in the producer's dossiers, it is impossible to calculate the margin of exposure to total soya protein."  Source.