Has expressed a particular worry over genetically modified crops from the US.
Jamie Oliver is bezorgd dat na de Brexit een vloedgolf aan gentech producten en gewassen het VK binnen zullen stromen vanwege toekomstige handelsonderhandelingen met de USA.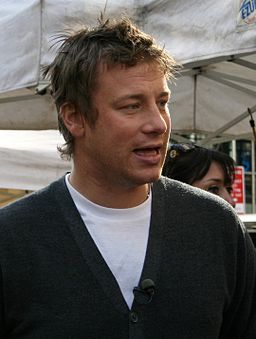 Hij vertelde de Daily Mail dat zulke producten in de EU niet voorkomen. Natuurlijk wel. Wat hij waarschijnlijk bedoelt, is, dat er geen haast gentech gewassen worden geteeld en dat gentechproefvelden nu schaars zijn in het VK en de EU. Plus dat bij meer dan 0,9% er op de etiketten vermeld moet staan dat er gentech ingrediënten in zitten of daarmee zijn gemaakt. Maar Eurocommisaris Junker heeft pas nog met de Amerikaanse president Trump afgesproken dat hij EU gentech soja en medische toepassingen (w.o. gentech medicijnen o.a.) uit de USA toestaat. Gentechsoja voor voedsel en veevoer. De EU zal deze invoeren en op de EU markt brengen.
Invoer van nieuwe gentechsojabonen, ook in de EU, maak bezwaar!
Quote: uit een bezwaar (2de aanvulling) van de Gentechvrije Burgers tegen de invoer van gentech soja in de EU: gezamenlijke verklaring van de VS en de EU na het bezoek van voorzitter Juncker aan het Witte Huis (2018). "Wij zullen ook streven naar minder handelsbarrières en naar meer handel in diensten, chemicaliën, farmaceutische (persoonlijke voetnoot: ook GMOs) en medische (idem) producten en (idem GMO)-sojabonen." Dus het gaat zo-wie-zo door, doch dit is Repressieve Tolerantie en geen democratie meer!
Burgers zijn geen belanghebbenden maar kunnen alleen 1x via een formulier op internet schrijven dat ze er tegen zijn.
Een recent voorbeeld is dus gentech soja, die bestand is gemaakt tegen 3 giftige herbiciden, waarvan men in de EU nu zijn mening kan geven tot 8 augustus, deze wordt toegelaten via Nederland. Echter EU burgers kunnen wel massaal hun stem hier over laten horen. Als je een stichting vertegenwoordigt kun je dan nog een bezwaar sturen naar het ministerie van I&W zodra er een advertentie daarover in een aantal meest gelezen kranten verschijnt. Wordt je bezwaar niet gehonoreerd, dan kun je nog naar de Raad van State. Burgers op zich zijn geen belanghebbenden! En wij zouden het moeten eten! Klik hier voor meer info over de consultatie betreffende de gentechsoja toelating. Laat je stem horen en laat je niet op een dwaalspoor brengen door de wetenschappelijk taal boven bijna ieder invulvakje. Alles kun je kwijt onder de kopjes "Others en Conclusions and recommendations"!
Bron Daily Mail, 27 July 2019.