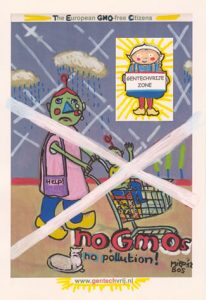 Op 4-5 september 2012 was de GMO-free Europe Conference te Brussel.
Stichting Ekopark en VoMiGen hebben aan deze conferentie deelgenomen.
The 7th European GMO Free Regions Conference welcomed 200 participants from 33 countries in Brussels. Intensive workshops and lectures, along with the traditional GMO-Free party in the "mundo b" on the first day were followed by debates and presentations in the European Parliament on Wednesday September 5th. Key issues on the agenda were the still-unresolved question of national bans for the cultivation of GMO crops and a controversial debate with the European Food Safety Agency's executive Director Catherine Geslain-Lanéelle on the performance of her agency, ten years after its foundation.
Voor meer informatie zie: GMO-free Europe Conference 2012