En een niet gepubliceerde reactie op "Net als Willy Wonka maar dan echt" door Jarl van der Ploeg, Volkskrant van 17 mei 2016.
Geachte Redactie,
Even een korte reactie op "Net als Willy Wonka maar dan echt" (Volkskrant 17-5-2016).
Jamin verkoopt al een tijd American Candy.
De meeste producten uit de USA bevatten echter genetisch gemanipuleerde ingrediënten, die bij Jamin vaak niet als zodanig op de verpakking zijn vermeld. Dit is sinds 2004 wettelijk verplicht. Na een klacht hierover schreef de NVWA het volgende:
"Een inspecteur van de NVWA heeft bij het betreffende bedrijf een inspectie uitgevoerd. Tijdens de inspectie werd vastgesteld dat het bedrijf onvoldoende kon aantonen dat de etiketten van de producten aan de wettelijke eisen voldeden. Hiervoor heeft de NVWA  een passende maatregel genomen".*
Verder zegt de heer Steinkamp van Jamin tegen uw verslaggever: "Wij daarentegen verkopen bewuste suikers".
Ja, maar voor wat betreft de American Candy, zijn dit vaak gentech suikers, die gemaakt zijn van gentech suikerbieten uit de USA. Deze zijn voor 95% genetisch gemanipuleerd.**
Er is echter maar één gentech suiker toegelaten op de EU markt.*** In de praktijk controleert men dit niet.
Verantwoording:
*Citaat van de NVWA uit hun brief dd:  10 december 2015, kenmerk 397491.00.
**GMOs in Food In the U.S., three major commodity crops are raised predominantly from GMO seed:  field corn (92%*), soybeans (94%*), and cotton (94%*).  *percentages are based on U.S. acreage as of 2015 (USDA) Almost 98% of Canadian grown Canola is genetically engineered for herbicide resistance. U.S. sugar beet production is estimated to be over 95% genetically modified for herbicide resistance. GMO sweet corn, papaya, zucchini, and yellow summer squash are also for sale in grocery stores, but in far lesser amounts. Genetically modified alfalfa is grown for use as hay and forage for animals. NEW:  'White Russet' brand potatoes, genetically modified to resist bruising were introduced to some grocery stores in 2015, but are not yet widely available.  Genetically engineered non-browning 'Arctic' apples have been deregulated by the USDA and are expected to be on the market in 2016.
http://responsibletechnology.org/gmo-education/gmos-in-food/
***EU register of GGO's, official site of the EU.
http://ec.europa.eu/food/dyna/gm_register/index_en.cfm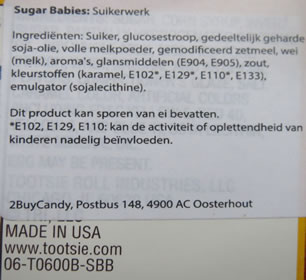 Niet goed gelabeld….